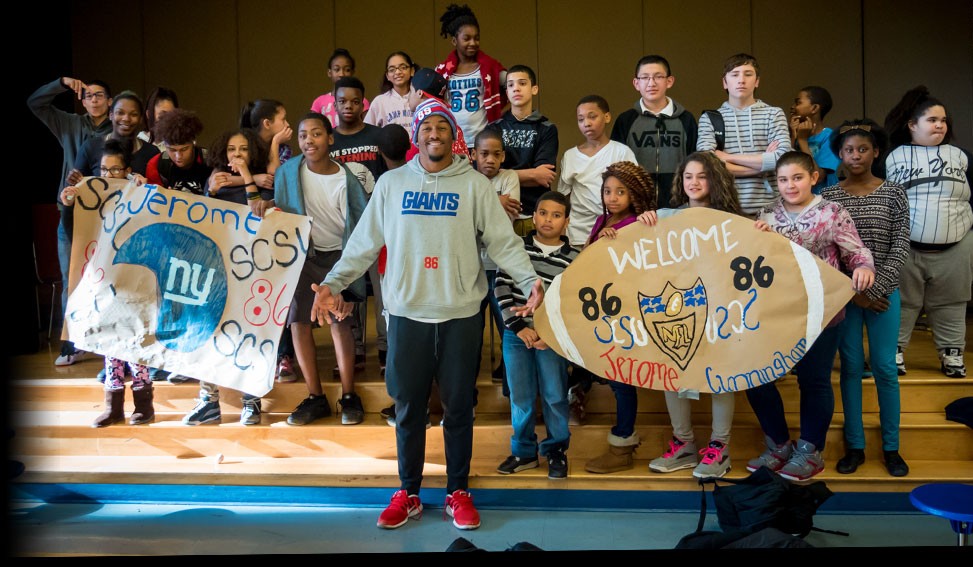 NFL player Jerome Cunningham will be among the Southern students to walk across the stage at Webster Bank Arena in Bridgeport later this month to receive their college diplomas.
Cunningham, who had been a tight end with the New York Giants for the last two years – including as a starter for part of last season – said he originally came to SCSU because it was one of the few schools that offered him a scholarship after high school. Although waived by the Giants a week ago, he was claimed Monday by the New York Jets.
Cunningham, who grew up in Waterbury, will receive a Bachelor of Science degree in recreation and leisure studies with a concentration in sport management. He will participate in the SCSU undergraduate commencement ceremony on May 20.
"I want to be a sports agent and represent myself one day," he said.
Cunningham said he was contacted by the Giants before his first season. "Before the next season, I made sure I took advantage of every opportunity and trained as hard as I could."
He ended up earning a starting tight end spot.
Cunningham said SCSU prepared him well, both academically and athletically. (Former Owls' coach Rich Cavanaugh) prepared me very well. He made sure nothing was given to me. But all that hard work and discipline helped me to never give up."
He said about the only thing SCSU didn't prepare him for on the field was playing in front of a crowd of more than 80,000 NFL fans, compared with a maximum crowd of about 8,000 when he wore the Owls' uniform.
On the academic side, Cunningham said the faculty approached things in a similar manner. "The teachers here are phenomenal," he said. "Nothing was given to you in the classroom. They are making sure that you are not just being passed you through and that you are actually learning."
Cunningham said he is looking forward to being handed his diploma. "It's a great feeling to graduate," he said. "I didn't realize the implications of it until I spoke to my grandmother and I told her I was going to graduate this May. She said I was the first one on my dad's side to actually graduate and I'm going to be the second one on my mom's side. So, it's a huge accomplishment to my family."
Cunningham has been volunteering at Hill Central School, an elementary school, where he previously had done an internship. He hopes to be a role model for the children. "I just enjoy coming back and giving back to people in the community," he said.
Before playing for the Giants, Cunningham was a four-year member of the Owls' football team, starting at tight end for three seasons. He recorded 61 catches for 690 yards and 7 touchdowns during his career.