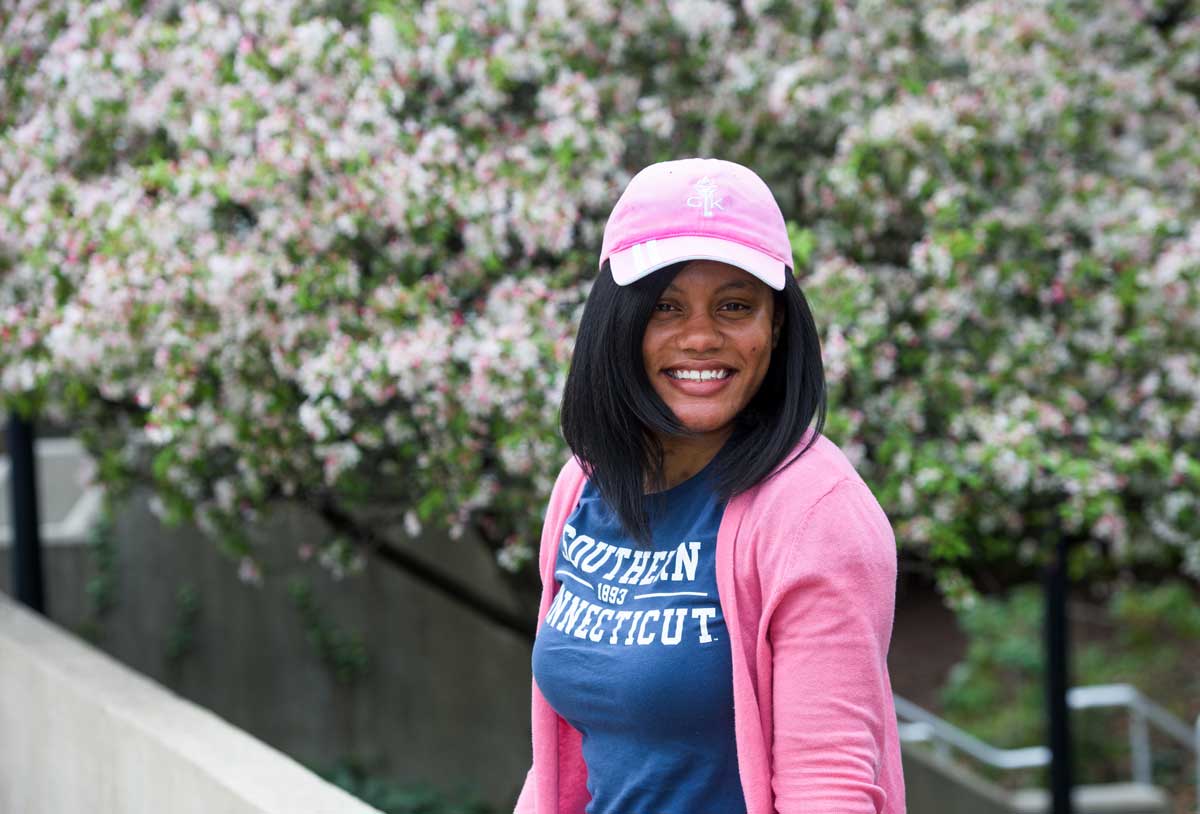 On the joyous morning of May 20, Shaylah McQueen will walk across the stage to receive her diploma at Southern's undergraduate commencement ceremony — an achievement made all the sweeter by the fact that she once considered dropping out of high school.
In the midst of her academic triumph — she will graduate magna cum laude and has received Southern's Jack Georges Memorial Award recognizing an exceptional senior majoring in recreation and leisure studies — McQueen says she'll never forget the moment she almost lost hope. Then a senior at James Hillhouse High School in New Haven, McQueen was sitting in a classroom with other sky-high academic achievers when the conversation took a familiar turn. "I heard them talking about who would be in the top 10 of our high school class," she says. "And no one said my name."
The omission was bewildering. McQueen was an outstanding high school student who excelled in advanced classes, including a college-level media course at Southern. With an overall grade point average well above 4.0, she was a member of the National Honor Society, president of the Spanish Honor Society, and an extremely active community volunteer who also participated in varsity sports and the Drama Club.
McQueen was also a teenage mother who had unexpectedly become pregnant as a high school junior. Many were supportive. She credits the high school's Supporting Parenting Teens Program with helping her stay in school. But she also recalls classmates' taunts, whispers, and stares — and despite McQueen's many accomplishments, the odds were not in her favor. Only 40 percent of teen mothers finish high school and fewer than 2 percent complete college by age 30, according to research released by the National Conference of State Legislatures.
The pressure became overwhelming for McQueen. "I remember going home one day and thinking, 'I am not going back to school. I am done. I can't do it,'" she recalls. The next morning, she felt the same. Then she heard a familiar buzz, her phone signaling an incoming text message. "I looked down and read, "Shaylah, you are valedictorian.'"
More good news followed, with McQueen awarded the prestigious Gates Millennium Scholarship. The award, presented to only 1,000 out of 24,000 exceptional applicants nationwide (4 percent), provides full college tuition, as well as graduate tuition in the fields of computer science, education, engineering, library science, mathematics, public health, or science. The award recognizes exceptional achievement among African American, American Indian/Alaskan Native, Asian American/Pacific Islander, and Hispanic American students.
Armed with the scholarship, McQueen first enrolled at Wilson College in Pennsylvania, which offers a program for single parents. The initiative enabled her to live on campus with her young son, Arlander, and attend school full-time. "It is awesome that he can honestly say, 'Mommy, I went to college,'" says McQueen, with a smile. "I always want to be his advocate and his supporter. . . . The best step you can take as a parent is to be that role model — to live what you are trying to instill in your child."
In 2014, the Gates Millennium Scholar transferred to SCSU. "Southern was always my number one choice," says McQueen. "In high school, I was in the teacher-prep program which is affiliated with the university. I'd taken a class at Southern and loved it. . . . I'd been on campus, met the professors and students, and knew it was an exceptional university."
She notes that majoring in recreation and leisure studies with a concentration in therapeutic recreation — a major she discovered at Southern — has allowed her to integrate her passions. "I've always known I want to mentor, counsel, and teach youth. . . . I've also always loved performance art — drama, creative writing, poetry, you name it," says McQueen, who cites Southern's Lyman Center for the Performing Arts as a favorite spot on campus.
McQueen lauds Southern's faculty for its support, particularly Associate Professor Deborah Smith and Assistant Professor MaryJo Archambault, both from Southern's Department of Recreation and Leisure Studies.
Married and living in New Haven with her now five-year-old son, McQueen credits her mother and husband for helping her make the most of her education. In addition to attending school full time, she works at Montowese Health and Rehabilitation Center as a therapeutic rehabilitation assistant and is a recreation leader at New Haven's Hill Central School (kindergarten through eighth grade), where she previously attended. "I want to be that role model," says McQueen of her young charges. " . . . to let them know that whatever they want to do, the sky's the limit."
Looking forward, she will continue her pursuit of education. Twenty-eight percent of Gates Millennium Scholars transition into graduate school. Having enrolled in Southern's master's degree program in special education, Shaylah McQueen will be happily among them.