[quote_center]Students paint and draw their way through the pandemic, tackling assignments that nod to life today — from masks to 6 feet of separation.[/quote_center]
COVID-19 has dramatically altered life as we know it, including the intermediate drawing and painting courses taught simultaneously and in person by Thuan Vu, professor of art [above in blue]. Like many colleges and universities, Southern launched the fall semester with plans to switch entirely to remote education after the Thanksgiving break. But throughout the unseasonably warm months leading to that date, Vu's students met for almost three hours each Tuesday and Thursday on the second floor of Southern's Earl Hall to learn, create, and social distance.
Many aspects of the courses shifted in step with health and safety guidelines. Throughout Earl Hall — home to Southern's departments of art and music — signs highlight one-way traffic patterns, separate entrances/exits, and reduced room-occupancy rates. Vu's students were assigned to workspaces in three separate but adjacent studio classrooms to ensure social distancing, and all always wore protective masks.
In addition to shaping how the students worked, COVID-19 also informed their assignments. "I can always say, 'Do a portrait.' But there is so much going on right now in the world. Why not be topical, while still leaving the assignments open-ended so students can express what they want to express?" says Vu. And so, through their art, the students were asked to explore 1. masks (be they physical or psychological), 2. 6 feet of separation (a work at least 6 feet long or wide, reflecting social-distancing guidelines) and 3. the year 2020. For the latter, students hand-stretched two 20 X 20-inch canvases. On one, they presented a positive aspect of the year; on the other, a negative. Some of the results are seen here.
Vu is an award-winning, practicing artist — the recipient of a 2020 Artistic Excellence grant from the Connecticut Office of the Arts, one of only two painters to receive the honor. He's taught at Southern since fall 1999, but notes that he and his fellow faculty members are navigating uncharted territory. "I have done this for 21 years, and [in the past] students would have concerns or be facing situations that usually fell into certain categories. But we've never had a worldwide pandemic. We've never had to switch to online teaching in the middle of a semester [like Southern did last spring], turning on a dime," he says.
In contrast, faculty and staff had time to prepare for the 2020-21 academic year. "To teach on-ground is a blessing. They chose to be here," says Vu, gesturing to the students. He stresses the need to be cognizant of students' greater challenges — family and friends sick with COVID-19, personal illnesses, financial issues caused by the pandemic, or a potential need to quarantine.  In response, he has created 10 videos to demonstrate techniques both online and in the classroom, so students can watch him up close and personal while social distancing. Supplies also were ordered so the artists wouldn't need to make additional trips. Above all, Vu insists that health concerns are first and foremost.
On a sunny day in October, he considered several of the 6-feet projects being drawn and painted: "Some people are drawing trains in the desert. Others are creating mythic graphic works that are super detailed or propaganda movie posters. And one is making an autobiographical portrait about being the son of a fisherman. Everyone has a take on it, because they are living through it. We want to hear their voices coming out in the work, and we do — and I love it all."
Jaime Roy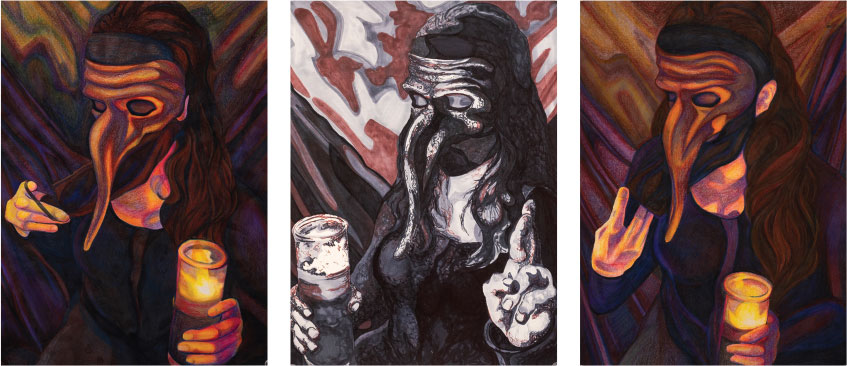 When the COVID-19 pandemic surged last spring, Jaime Roy, a senior majoring in studio art, was taking the art history course, "Global Arts of the Renaissance." At the time, it seemed apropos to be studying art and the plague. Her mask paintings are inspired by what she learned. In particular, Roy recalls a painting the professor shared of bodies being placed in a mass grave. "One of the people carrying the bodies had a little slip of paper tucked in his hat, a prayer that was supposed to protect him from the plague. But if you looked closely, you could see a sore on his face, a sign that he was already infected," says Roy.

"This is my hand and my boyfriend's hand," says Roy of her 6-feet project. "I used to see him every single day. Now, when I do get to see him, I don't know when the next time will be. It could be two weeks. Or, it could be a month. Especially with the lockdown, we had no idea. So, that is what this is about."
Joshua Fitzpatrick, '20

Family is a central theme in the projects created by Joshua Fitzpatrick, '20, who is one of seven siblings. "I have never drawn any of them, so I thought it would be a fun way to approach the [mask] project" says Fitzpatrick, then a senior majoring in studio art with a concentration in graphic design. While his siblings' faces are depicted realistically, he rendered the masks in a flattened style without shadowing, adding a pop of color on images that graphically depict one of many aspects of the wearers' personalities — from a love of star gazing to an analytical nature. For his youngest sibling, 15-year-old Hazel, a heart depicts the artist's high regard and acknowledgement of the challenges facing teens, especially during the pandemic. "She is such an amazing person, so much better than anything she could possibly show on social media," he says.

The inspiration for his 6-feet project came from a visit home and a momentary pause he took before hugging his mother goodbye. "I guess everyone understands where that pause came from. But it made me think about the people who normally see their friends all of the time, but haven't been able to visit for a while. I haven't seen my friends in months," he says. His project is 10-feet across — so the figures at each end are truly 6-feet apart. In the center of the drawing, figures embrace. "They just want to be close to each other, and, obviously, COVID got in the way of it," he says.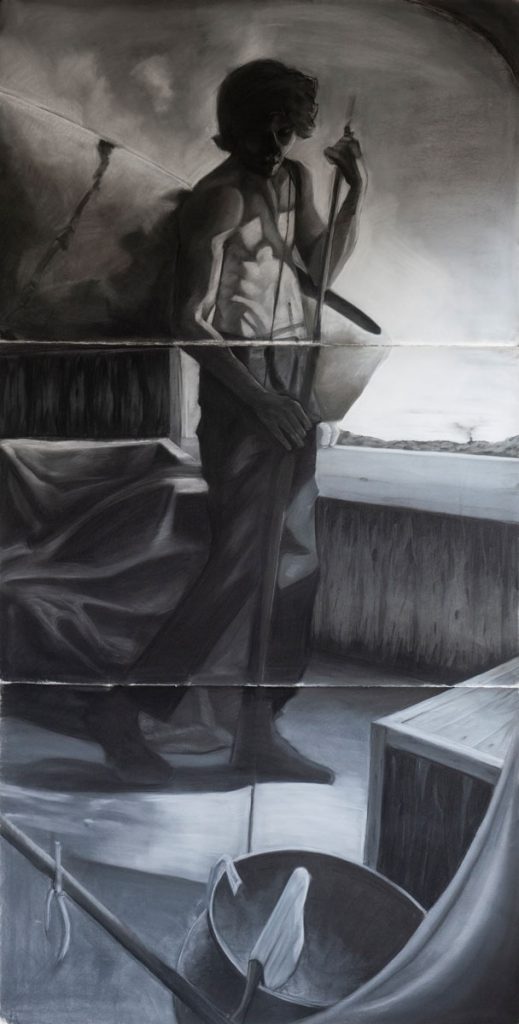 Brandon Lee
Sophomore Brandon Lee has weathered his share of recent challenges. The week prior to beginning freshman classes at the Lyme Academy of Fine Arts, he learned that its partnership with the University of New Haven was ending at the close of the 2018-19 academic year — effectively shuttering the degree-granting program he was enrolled in at the Lyme campus. And so, as a sophomore, he finds himself at Southern. It's been a fine move artistically, says Lee. In the midst of the pandemic, on-campus, in-person courses bring peace and relief. "It's a shared experience, everyone committed to the same common goal of completing works. It definitely gives you motivation," says Lee. He notes that his 6-feet drawing [right] — among the largest he's ever done — is his favorite from the course — a self-portrait based on a narrative he imagined about a fisherman's son.
Shaina Alexander
Senior studio art major Shaina Alexander is a transfer student who came to Southern with credits from Middlesex Community College and Montserrat College of Art. "She embraced the idea of having a little more humoristic aspect to her work," says Vu, with a smile.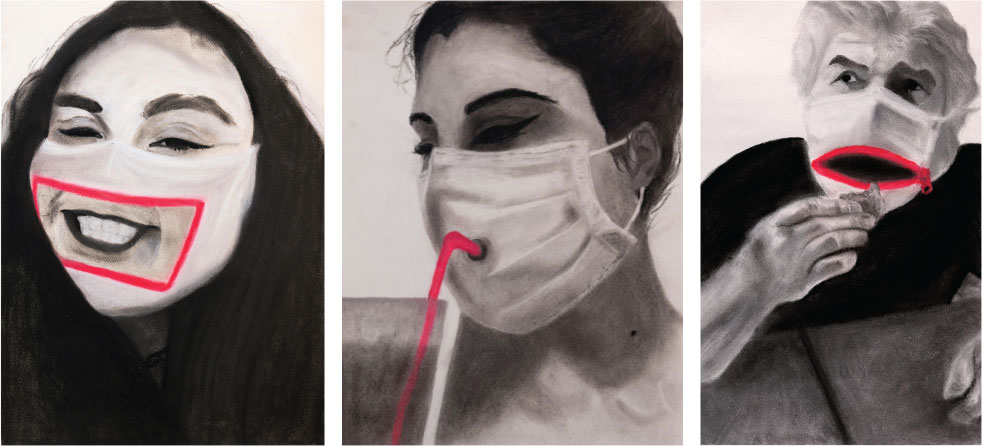 "So, I thought, why don't I do strange masks that I've seen," she says. Included are a self-portrait and drawings of her cousin and father, all donning intricate masks complete with zippers, an opening for straws, or a clear space to reveal the wearer's mouth.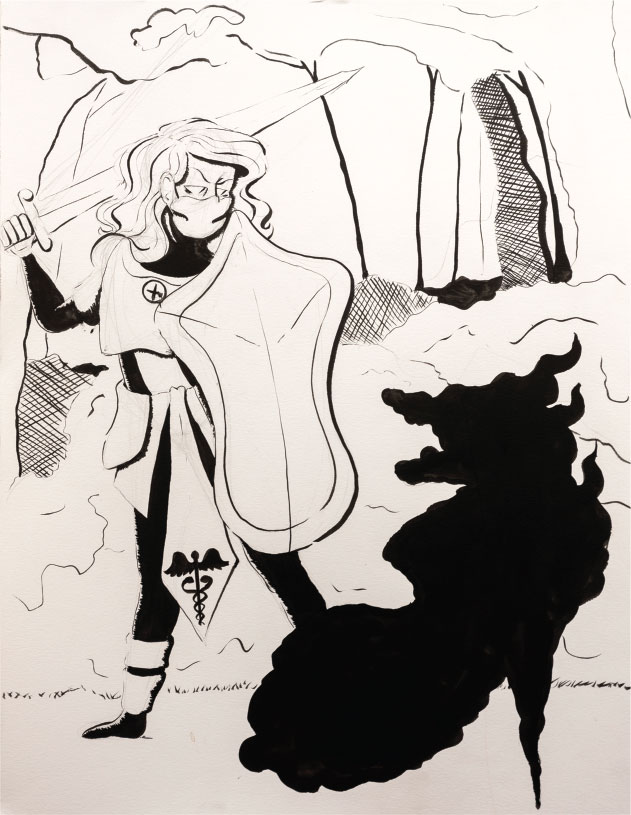 Emelia Luz
Emelia Luz, who transferred to Southern from the Maine College of Art, appreciates Professor Vu's willingness to embrace whimsy in her drawings.
In search of inspiration for her mask project, the sophomore turned to the nation's health care workers. Her initial muse: a parent who works as an emergency room nurse. "I wanted to show how basically we see health care workers as warriors," she says of her cartoon-inspired images of health care heroes fighting the COVID-19 virus. "And I do love playing with a little bit of fantasy in my pieces," she says.
Thomas DeFranco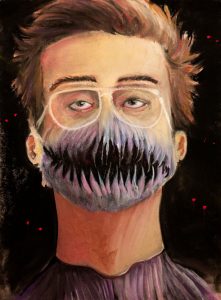 "My series is about how masks change us — who we appear to be to ourselves and the world," says senior Thomas DeFranco, a studio art major with a concentration in graphic design. "For this [self-portrait], I thought about how we perceive ourselves under the mask. Nobody sees under the mask anymore — the fear associated with the sickness and the threat of death."
For the 6-feet project [right], DeFranco was inspired by the three parts of Italian-writer Dante Alighieri's 14th-century epic poem the Divine Comedy: Inferno (Hell), Purgatorio (Purgatory), and Paradiso (Paradise). DeFranco's work reflects the etching style often used to illustrate Dante's masterpiece, "with some personal twists," he says.
Nathan Shilling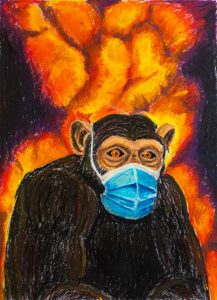 A self-described "hands-on learner," Nathan Shilling says he'll enroll in on-campus course options whenever possible.  He's an interdisciplinary studies major, with concentrations in biology and studio art. Commenting on one of his mask drawings, he notes: "Originally, I didn't want to have a definable figure. Just a mask. But then I figured with the political climate [in October before the election], everything is devolving right now, so I drew a chimp."
Isabelle Reina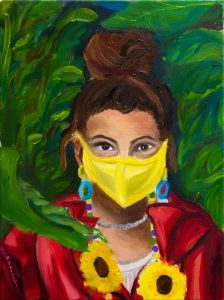 Isabelle Reina, a senior art education major, is student teaching this spring. But she first experienced the power of art education at age 15, while working at Cindy Stevens Fine Art in Clinton, Conn. "I was inspired by all of the positive things [my boss] was doing for the community — working with children, adults, people facing addiction. I saw how a creative outlet helps to positively impact lives," says Reina. She strove to relay that positive spirit in Vu's class. Her mask projects portray close friends, her brother's girlfriend [right], and her new dog, Max, a husky puppy, who joined the family when he was 4-months old, right before Southern closed its physical campus and switched entirely to remote education for the spring 2020 semester. Max was a joy and a challenge for Reina, who was tackling upper-level, online courses. "He's ripping up the masks [in the painting]. Because he's a dog — and that's his thing," says Reina, with a laugh. She was thrilled to return to Earl Hall when campus reopened for the fall 2020 semester. "I love working in a classroom setting," she says.

Samantha Melendez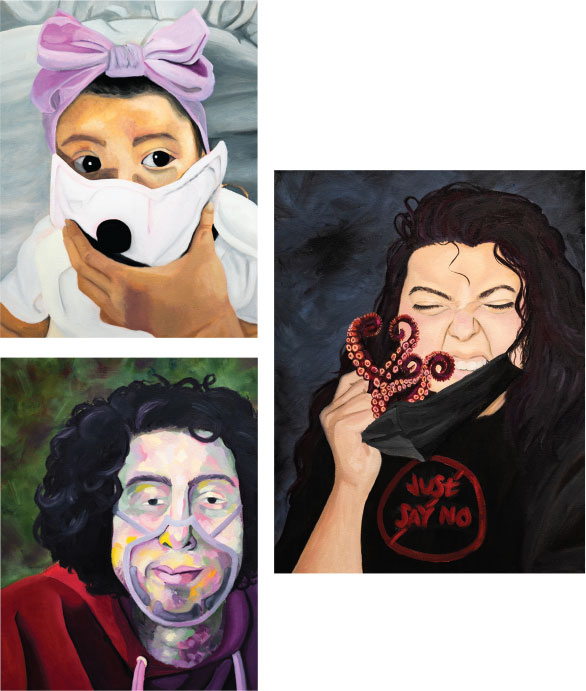 Her loved ones figure prominently in the three mask paintings created by Samantha Melendez [right]. She typically uses a more realistic style, but with Vu's guidance explored the use of color for a portrait of her boyfriend. A second imagine shows her baby sister, who was born last year, bringing great joy to the family — as well as the worries and challenges of protecting a baby. "I think it's because I am already in my 20s, and she is so small. I tend to have this almost motherly love toward her," says Melendez. Another portrait depicts a young woman pulling an octopus from her mask — and was created after Melendez learned that a beloved family member had been raped. "I made this intentionally," she says of the image of a young woman wearing a shirt printed with the phrase: Just Say No. "A lot of people say, 'If you don't want to have sex with someone, just say no.' . . . But that's not always the answer. Sometimes you are forced to do things. They are out of your control."
Ryana Kelsey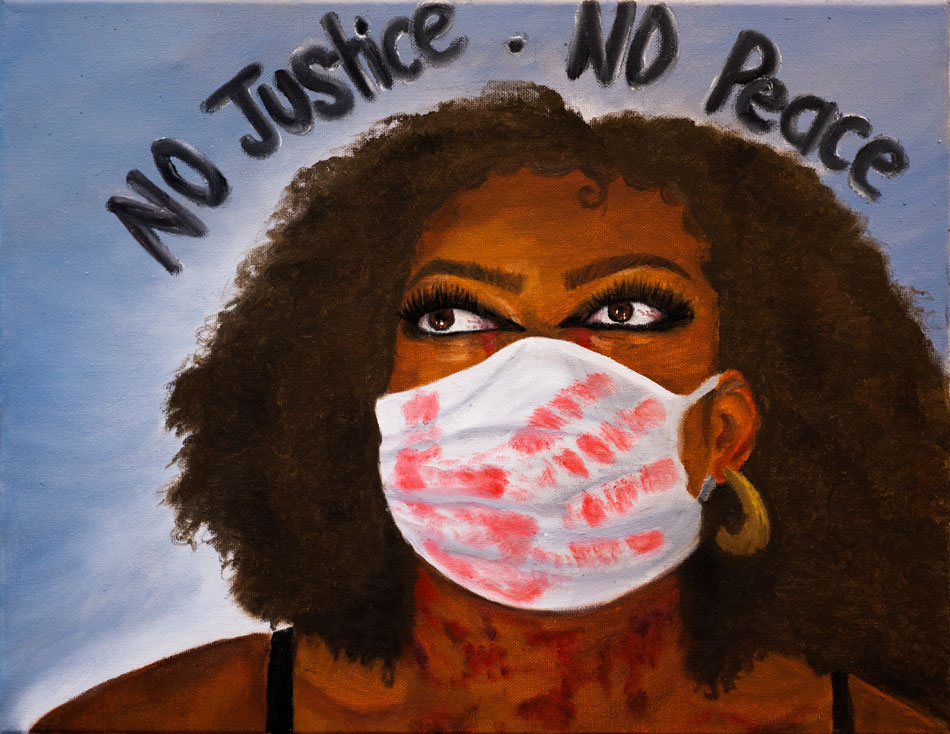 Senior Ryana Kelsey is a general studies major, enrolled in a flexible program that allows students to delve into broad academic themes: business, humanities, social sciences, or STEM (science, technology, engineering, and mathematics). Kelsey's interests pointed her toward the social sciences concentration. She took both online and in-person classes for the fall 2020 semester, among them, courses from the departments of anthropology, psychology, women's and gender studies, and art — including intermediate painting with Professor Vu. Her portraits reference both COVID-19 and social justice  — deeply connected issues based on racial health disparities and the high percentage of Black Americans to get the disease.
Kyra Catubig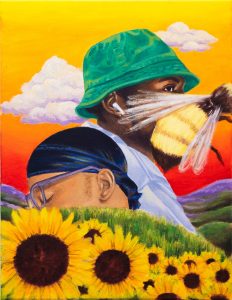 With Professor Vu's urging, Kyra Catubig moved on from a self-portrait to create a more surreal image for her second mask project. The painting includes two of her friends, who were originally drawn in separate sketches. Sunflowers and bees nod to one of Catubig's favorite album covers: Flower Boy by Tyler, the Creator. A studio art major with a concentration in graphic design, Catubig is a resident adviser and desk attendant at Chase Hall, and also works for Southern's Office of Orientation, Transition, and Family Engagement. Looking forward, she is considering graduate school, most likely, to pursue a degree in counseling. Meanwhile, she welcomes the opportunity to connect in class. "Honestly, it feels really good. I look forward to going to those classes," she says.
Samantha Pansa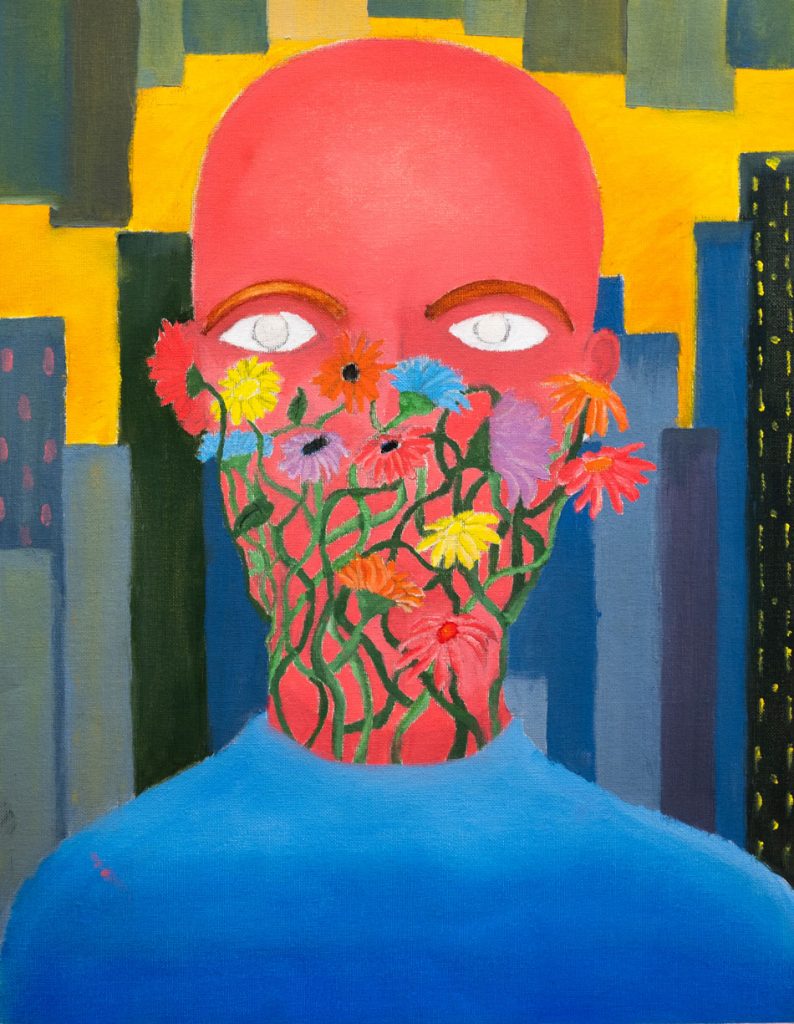 "Being around other creative people really encourages you to push your boundaries. I would never have moved toward [so much] color if I wasn't surrounded by people who were experimenting with their own art," says Samantha Pansa, a senior studio art major, with a concentration in photography and a minor in art history. Pansa focused her mask projects on the environment, referencing the California wildfires, pollution, and threats to the oceans in her surrealistic paintings. Initially a journalism major, she changed course after studying photojournalism. "I realized I liked the camera aspect much more than the journalism," she says.
MEET THE ARTISTS