Understanding the Plight of Detained Migrant Children
According to the American Academy of Pediatrics, migrant children who are detained at the U.S. border "face almost universal traumatic histories." Award-winning poet-activist Seth Michelson has given some of those child asylees a voice in his bi-lingual collection of their poems, Dreaming America: Voices of Undocumented Youth in Maximum Security Detention. This April, through the Latin American and Caribbean Studies (LACS) Committee's social justice program, Michelson will share his experiences with the campus community.
During Michelson's three-day virtual visit, he will meet with classes, conduct a poetry workshop for creative writing students, talk with Latinx community leaders, and present a lecture for the entire community. On Wednesday, April 7, he will deliver a live keynote address, "Dreaming America," followed by Q&A from 12-2:30 p.m., and from 5:30-7:30 p.m. will engage with community members in "A Conversation with Seth Michelson on Meaningful Advocacy and Activism." Both events are free and open to the public.
"We have robust activities," says committee co-chair William Faraclas, professor of public health, and director, LACS. "We have a session with organizations that serve immigrant populations, and a workshop on meaningful advocacy and activism to help attendees think more broadly about potential for activism."
In November 2019, the LACS Committee brought to campus Sonia Nazario, journalist and New York Times best-selling author of Enrique's Journey: The Story of a Boy's Dangerous Odyssey to Reunite with His Mother. Similarly, this year's event aims to heighten Southern's commitment to social justice and its institutional values.
"Many students wanted to do something after last year's event," Carmen Coury, an assistant professor of Latin American history and committee co-chair. "I suggested Seth to the LACS committee because he takes his poetry to people who need a voice and that can be inspiring to students. We all have different skills and gifts, and they can be used to make a difference."
Faraclas adds that Michelson's visit also provides an opportunity to educate students and the community about immigration.
"I think there's a lot of confusion in our country about immigration," Faraclas says. "Just about 2 percent of the population consists of native people, and 98 percent is a result of immigration. We are all immigrants and yet a significant part of society has a cautious or hostile reaction to immigrants.
"We need to understand how we share a place in the world and how our relationship is a two-way street," he says. "In our LACS program, we want students to understand that complicated relationship. We need to consider facts and have a conversation. Perhaps we can begin to talk together about how we can create policies that work for everyone."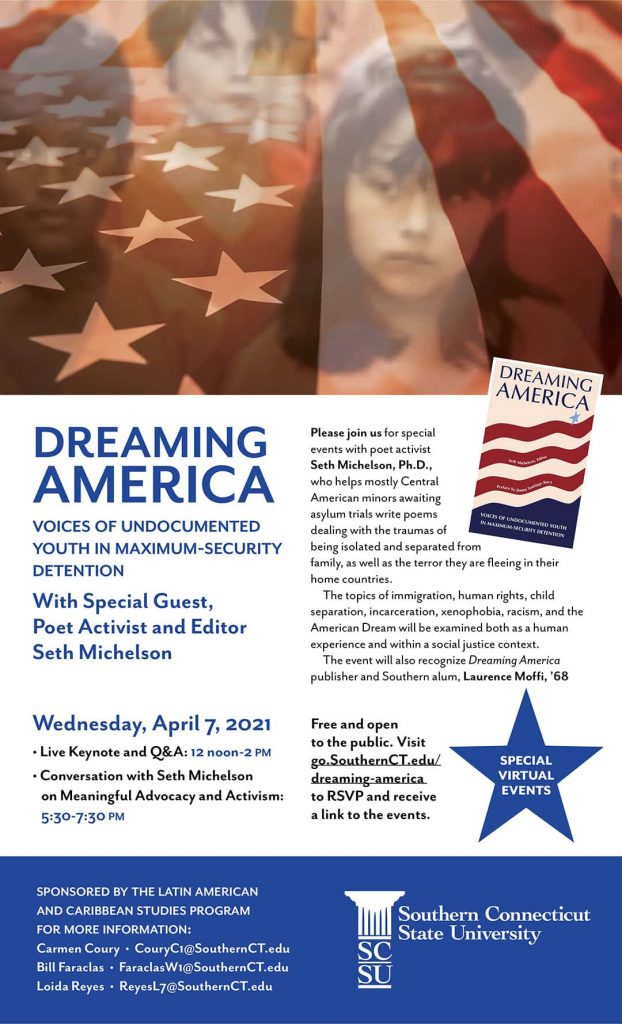 Michelson isn't the person only to "visit" campus for the event.
Southern will welcome back Laurence Moffi, '61, founder and publisher of Settlement House, the non-profit publisher of Dreaming America. Settlement House "takes its name from the settlement houses of the late 19th and 20th centuries that provided community through their social and cultural support and services to the urban poor and immigrant populations." True to its namesake, the publisher is donating the proceeds of the book to a legal defense fund for incarcerated child asylees.
Loida Reyes, committee co-chair and assistant professor of social work, plans to invite a speaker from the state Department of Children and Families (DCF) to her Children and Families in Child Welfare class to talk about "how unaccompanied children have been sent back to their home country or are staying with an American guardian," and current DCF policies in Connecticut.
"I worked for DCF before I came to Southern so I bring first-hand knowledge to this issue," Reyes says. "How do we prepare families for what may happen if they are undocumented? Do they have plans in place for their children? These issues are prominent. Policies continue to change. I want my students to think about how as up-and-coming practitioners, how are they doing to integrate this experience into their work.
"It's not enough to just have compassion and just to want to help children and families but I really want to emphasize and assist my students with how, especially in ways that don't cause further damage."
The hope, too, is that the event helps to foster respect for the dignity of all human beings.
"It's important that students understand why thousands of immigrants are leaving Central America," Coury says. "These people are not just numbers. [Michelson's book] helps create compassion and a desire to understand the situation."