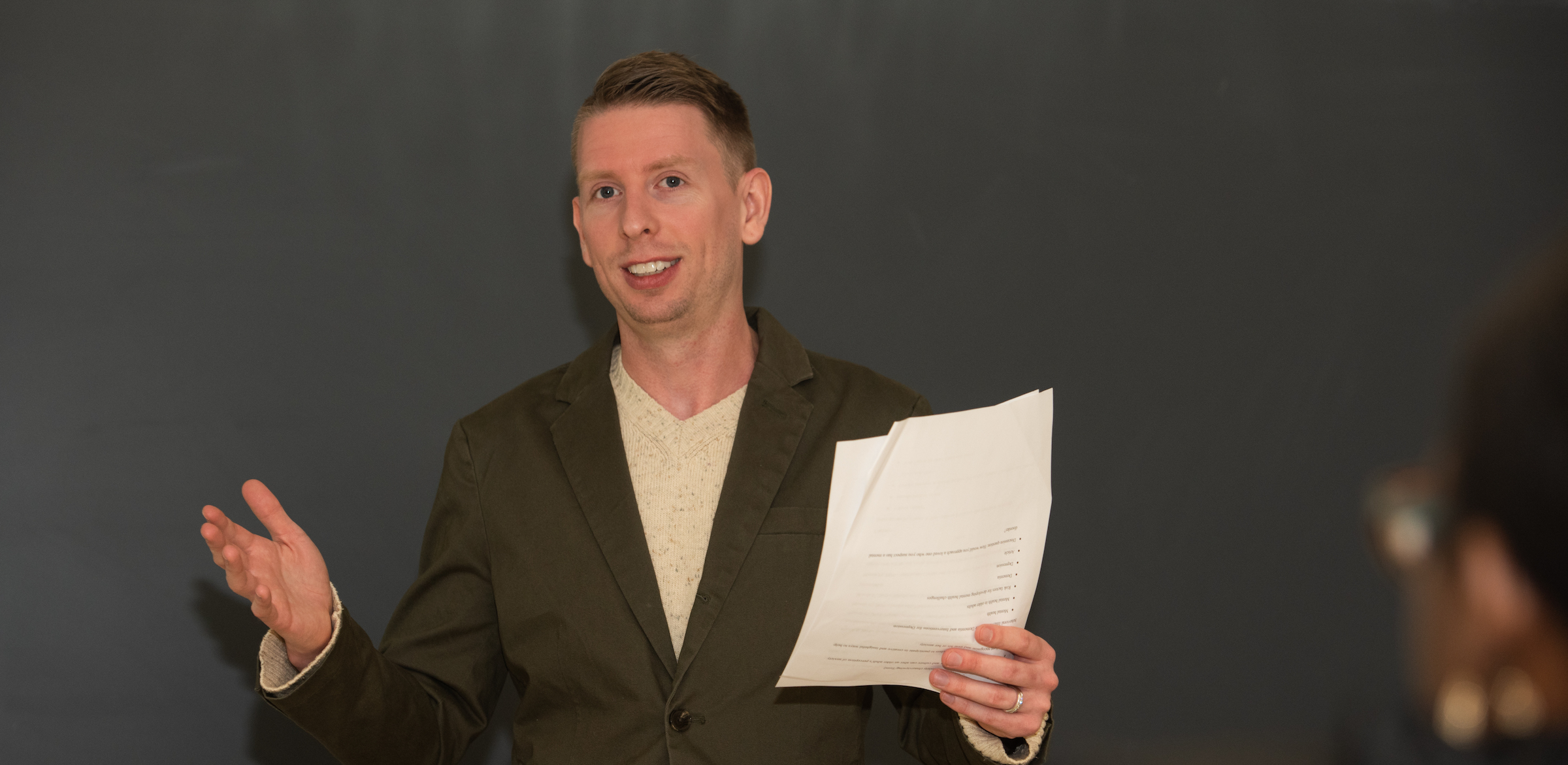 Celebration of Excellence: J. Philip Smith Award for Outstanding Teaching
2019 Recipient: Dr. Kyle O'Brien, Assistant Professor of Social Work
About the award
The J. Philip Smith Award for Outstanding Teaching is presented to one full-time faculty and one part-time faculty member for exemplary teaching. This is one of SCSU's highest honors, as faculty are recognized at the undergraduate commencement and receive an honorarium of $2500. Full-time and part-time faculty at all ranks who are currently employed at SCSU are eligible.
About the recipient
Dr. Kyle O'Brien's teaching style of participation, discovery and discussion has brought classroom exercises to life for a multitude of students. According to one student, "his passion for social work shows through in each and every one of his lessons."
Called "skillful and engaging" by a colleague, Dr. O'Brien brings a wealth of expertise to the classroom thanks to his education, his multidisciplinary background as an occupational therapist, his extensive knowledge of the health field, and his collaborative endeavors. He took a lead role in recruiting students to participate in the palliative care workshop collaboration with Yale University School of Medicine, and as a result, it has become an annual event. He contributed to a number of curriculum initiatives that benefit students. He also initiated the submission of a Faculty Development grant aimed at resolving conflictual conversations in the classroom; the grant brought a panel of social work faculty experts to campus to provide training.
Dr. O'Brien's purposeful encouragement has impacted students both in the classroom and beyond. As one student noted, "This was the first time a professor impacted my view of life outside of the classroom, by teaching me the value and power of providing empathy toward others." In short, he truly embodies the core values of social work.
Dr. O'Brien received a Doctor of Philosophy in Social Work, a Certificate of Integrated Primary and Behavioral Health Care, and a Master of Social Work from New York University; a Doctor of Health Science from Nova Southeastern University; a Master of Science in Occupational Therapy from Sacred Heart University; a Connecticut Certificate of Gerontology and Certificate in Substance Abuse Counseling from Gateway Community College; and a Bachelor of Social Work from Southern Connecticut State University.