The American Council on Education (ACE) has selected Stephen Hegedus, dean of the School of Education at Southern Connecticut State University, as one of 45 emerging college and university leaders for the 2018-19 class of the ACE Fellows Program, the longest-running leadership development program in the United States.
Established in 1965, the ACE Fellows Program is designed to strengthen institutions and leadership in American higher education by identifying and preparing faculty and staff for senior administration positions through an intensive nominator-driven, cohort-based mentorship model.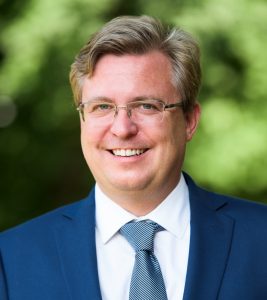 "Southern was proud to nominate Dean Hegedus for this prestigious fellowship," said SCSU President Joe Bertolino. "During nearly four years leading our School of Education, Stephen has demonstrated leadership and vision and a true commitment to providing expanded educational opportunities to historically disadvantaged populations."
Among recent initiatives, Hegedus has led a scholarship-based collaborative effort with the region's school districts to increase the number of minority teachers in elementary and secondary education. He has also been one of the prime movers in the construction of the new Strong Communications Magnet and K-4 Lab School on Southern's campus – a signature academic partnership with the city of New Haven and its school system.
More than 2,000 higher education leaders have participated in the ACE Fellows Program over the past five decades, with more than 80 percent of Fellows having gone on to serve as senior leaders of colleges and universities.
"For more than a half-century, the ACE Fellows Program has been a powerful engine fueling the expansion of a talented and diverse higher education leadership pipeline," said ACE President Ted Mitchell. "We are excited to welcome this new class of Fellows and look forward to each enjoying a transformative experience that will help advance individual leadership readiness while also enriching the capacity of institutions to innovate and thrive."
Celebrating its centennial in 2018, ACE is the major coordinating body for all the nation's higher education institutions, representing nearly 1,800 college and university presidents and related associations. It provides leadership on key higher education issues and influences public policy through advocacy.
Hegedus' ACE fellowship will begin in August and he will be on leave from Southern during the fall semester, returning mid-January. During the placement, he will observe and work with the president and other senior officers at his host institution, attend decision-making meetings, and focus on issues of interest.
"When he returns, Dean Hegedus will bring back valuable experiences in innovative programming and institutional advancement that will help further our mission both in the School of Education and campus-wide," President Bertolino said.
Before joining Southern, Hegedus was a professor of mathematics and mathematics education at the University of Massachusetts (UMass), Dartmouth, where he was the founding director of the Kaput Center for Research and Innovation in Science, Technology, Engineering, and Mathematics (STEM) Education. Named the UMass Dartmouth Scholar of the Year in 2009, he previously held appointments as a research fellow, educational consultant, and lecturer at the University of Oxford in England.
Southern has been training teachers since its origins in 1893, and it consistently produces the largest numbers of teachers, principals, and school administrators in Connecticut through its School of Education.