Over 50 members of the campus community were honored at a recent campus celebration to mark Southern's official designation as a Breastfeeding-Friendly Campus by the Connecticut Breastfeeding Coalition (CBC) — the first college or university to receive this designation in the state and in the nation. These community members, who have volunteered to serve as "Breastfeeding Champions," are a critical component of the breastfeeding-friendly initiative. At the celebration, Public Health Professor and Director of Faculty Development Michele Vancour and President Joe Bertolino were presented with a certificate by Chandra M. Kelsey, Vancour's CBC co-chair — an award, the CBC says, that "distinguishes SCSU for their work of making the campus accessible and providing lactation space to students, faculty, and visitors. Their unique approach to recruiting breastfeeding champions and alternate spaces alongside information and on-site professional lactation support set a new standard for providing necessary support on campus."
This step is important for Southern because it is building an awareness that mothers who breastfeed their babies need access to safe, clean, and private spaces to express milk, says Kelsey. "Mothers who return to work or to school should be encouraged and supported both in their pursuits as well as their desire to provide food for their baby. A majority of students are not mothers, but bringing awareness to the need and the space changes social norms. Personally, I see it as a way to empower women."
State law protects the rights of women who wish to breastfeed or express breast milk at their place of employment, during breaks and in private spaces designated for these purposes. But students are not protected by the workplace law, Vancour points out. "The culture is different for students from employees," she says. "As a result of unequal access to supports, students are forced to leave school, miss classes, or pump milk in unsafe environments like bathrooms and cars." The Breastfeeding-Friendly Campus initiative broadens support to include students and even visitors to campus who may wish to breastfeed or express breast milk.
The designation certainly "sends a signal about what kind of campus we are," says Terricita Sass, associate vice president for enrollment management, who is a volunteer Breastfeeding Champion.
Kelsey agrees, adding, "Southern is off to a great start towards being a family-friendly environment for students and faculty by going a step beyond offering a basic lactation space. What they have done is to create a culture of support with faculty volunteering to be breastfeeding champions. These champions serve to bridge the gap when accessing the space is too far from their next class or next meeting. They work within their departments to identify a space that can be used on a temporary basis as well as be a point person if a mother needed more resources. This is not only an important piece, community support, for breastfeeding moms, it also benefits the university as a work place (reduced absenteeism, health care savings, employee satisfaction, retention, and productivity)."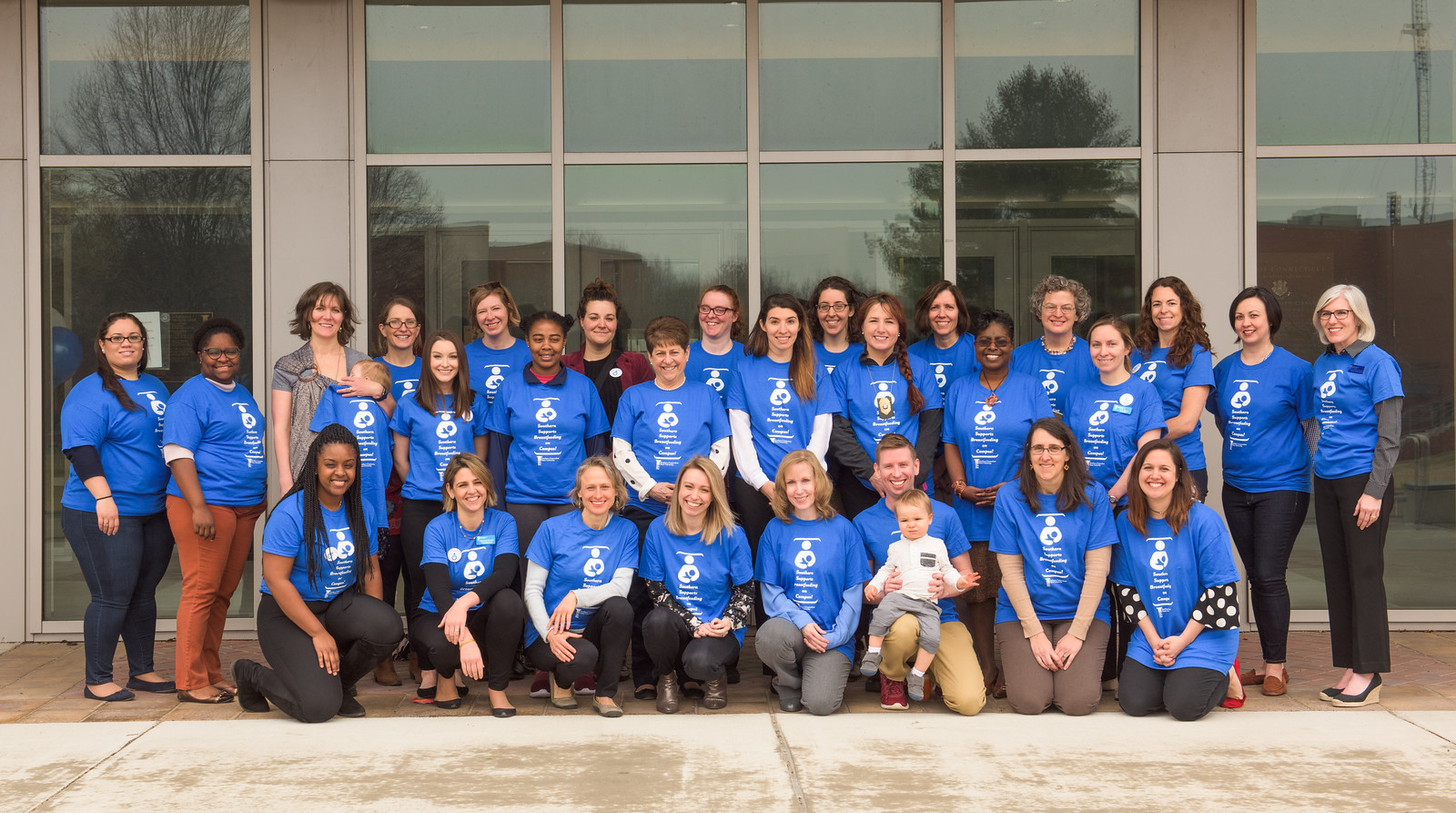 Vancour believes that Southern can serve as a model for other campuses around the country and in fact has been contacted by individuals at other universities who are working towards attaining the Breastfeeding-Friendly designation.
The Connecticut Breastfeeding Coalition (CBC) is organized around the six sectors identified in the 2011 Surgeon General's Call to Action to Support Breastfeeding (SGCTA). Each Sector has a committee that is led by a board member-liaison and is responsible for implementing actions in response to the SGCTA. Each committee is tasked with contributing to the discussion and advancement of breastfeeding goals within the state. The CBC's overall mission is to "improve Connecticut's health by working collaboratively to protect, promote, and support breastfeeding."
Read an article in the Washington Post about Southern's designation as a Breastfeeding-Friendly Campus.