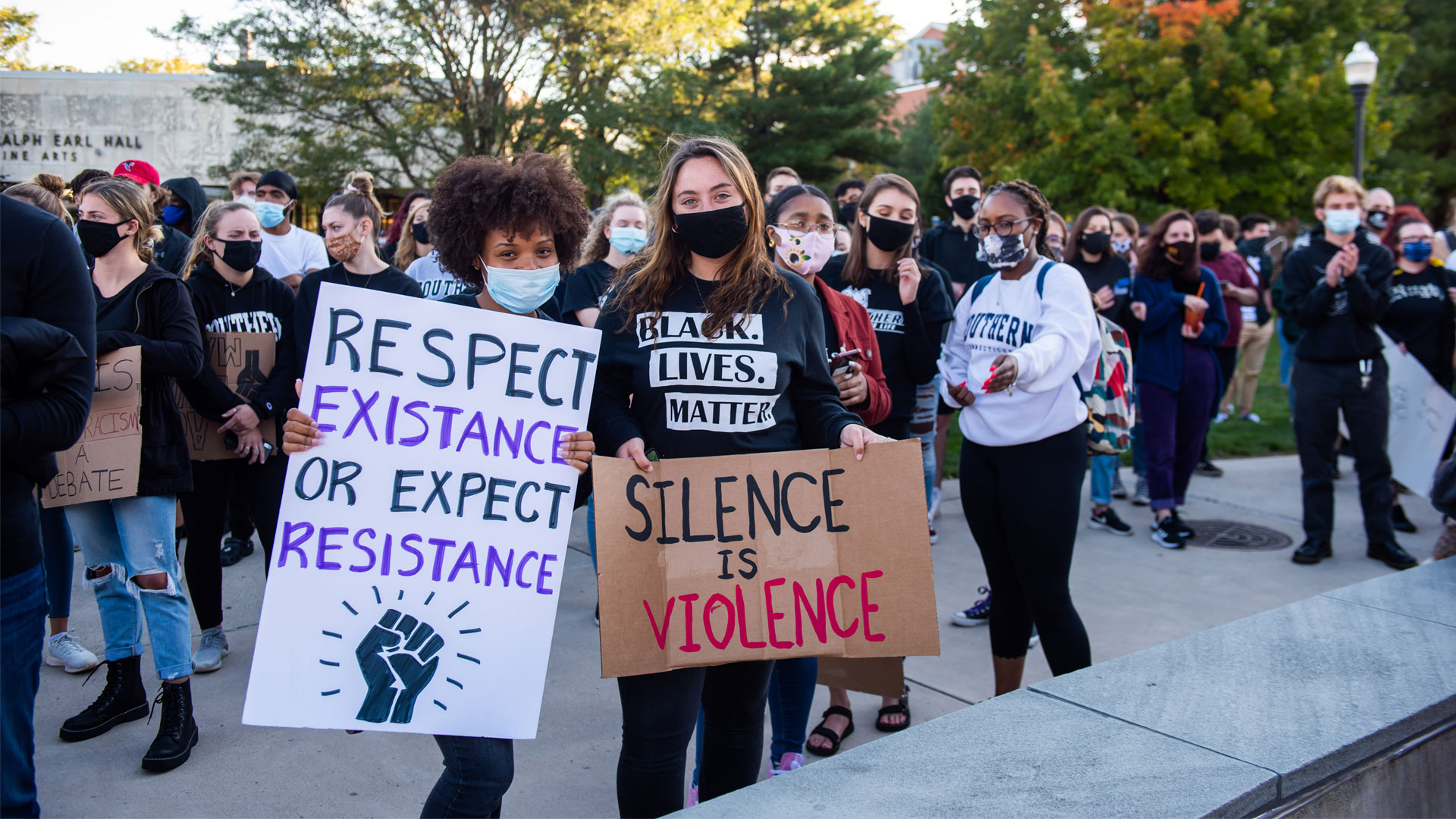 When President Joe Bertolino came to New Haven in 2016, he pledged to make Southern a social justice university by ensuring that all members of its extended community were treated with dignity, respect, kindness, compassion, and civility — inspired by the tradition of Cura Personalis (care for the entire person) that he had learned during his Jesuit education at the University of Scranton in Pennsylvania.
Four years later, this goal — and the actions and conversations it sparked — remain at the forefront, further informed by an international outcry for racial justice in the wake of the killing of George Floyd in Minneapolis last May. COVID-19 has also graphically illuminated racial and economic disparities. How does a campus community committed to social justice move forward?
In July, Diane Ariza joined Southern as vice president for diversity, equity, and inclusion  — a new senior-leadership position. The move echoes a national trend: the number of chief diversity officers is on the rise on college campuses and in the business community. But while many developed the position in response to a major incident, this was not the case at Southern. Instead, strategic leadership was sought to bring the university to the next level of commitment and change.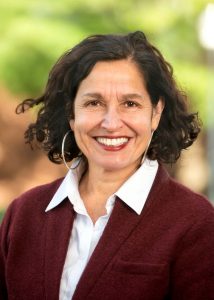 Ariza was raised in a bi-racial, bi-cultural community in Puerto Rico. She brings decades of experience to Southern, including, most recently, social justice-related leadership positions at Nazareth College in Rochester, N.Y., and Quinnipiac University in Hamden. She began her Southern tenure by talking to hundreds of students, faculty, staff, and alumni. Within months, she developed a three-year strategic plan: Advancing Southern Towards a Social Justice and Antiracist University: Priorities and Recommendations (2020-2023).
"In recent years there has been some great work done at Southern promoting antiracism and social justice that I haven't seen in other places," Ariza says. "But we will not solve systemic racism and inequality overnight, so we must find ways to take meaningful action by contributing however we can and moving forward as a community."
Working with Ariza, students are continuing to drive Southern's social justice mission throughout the 2020-21 academic year. The Student Activism Committee, often working alongside the Student Government Association and multicultural student groups, held many events — including an on-campus Black Lives Matter (BLM) March (Sept. 30), a Voter Teach-In (Oct. 26), and the State of Social Justice at SCSU Town Hall (Nov. 18).
For the BLM march, hundreds gathered at Buley Library, then traveled on to the residence life quad. The event included speakers, art, and music, and culminated with a vigil commemorating Black lives lost to police brutality and racial injustice. "The community came out and they came out in force. . . . If you wanted an example of a peaceful, intelligent, informative, teachable rally — that focused on action and the future while simultaneously acknowledging the pain of the present and the past — Southern was it. . . . I couldn't have been prouder," said Bertolino, commenting on the event during a Diversity in Higher Education podcast.
The State of Social Justice at SCSU Town Hall, moderated by Ariza and held online, was also a semester highlight. The event outlined ongoing goals and progress made on multiple fronts, including campus diversity. (Watch at news.SouthernCT.edu/socialjusticerecap.) In recent years, Southern's student body has come to increasingly reflect the community at large: about 38 percent of students are BIPOC (Black, Indigenous, and people of color) and, last year, more than 50 percent of the incoming class were students of color, says Robert Prezant, provost and vice president for academic affairs.
The developments were too numerous to highlight exhaustively during the town hall or in this article. But they cross all areas of campus, from curriculum development to residence life. Additional training programs are preparing staff and faculty to support all students, including those who are first-generation and BIPOC. Services offered through the Multicultural Center have been expanded, and a new initiative — Athletes Fighting Injustice — was launched this summer.
In terms of academic developments, a new minor — Racial and Intersectional Justice Studies — will be launched. And Enrollment Management is working to enhance access to higher education, even for high school students not planning to attend Southern. Staff offer programs on topics like paying for college and completing the application for federal student aid. (Southern's Financial Literacy and Advising program is listed among the top 10 in the nation.)
Jules Tetreault, associate vice president and dean of student affairs, emphasized the importance of understanding the complexity of many students' lives — most notably, a lack of access to basic needs such as shelter and food. In October, the university opened an on-campus Food Pantry along with a related Social Services Center to help students access vital resources.
Of course, a commitment to social justice is not a new endeavor for the university. COVID-19 altered plans for Social Justice Month, which is historically held on campus in November. For the first time, the event was offered online and given an overarching theme: Changing the paradigm from ally to antiracist. Southern also annually offers social justice grants, ranging from $500 to $2,500, to members of the campus community for projects/initiatives that forward a climate of inclusion and challenge injustice. And the Top Owls Social Justice Awards honor those who have taken a stand.
Still, much remains to be done. Among the many goals cited during the State of Social Justice meeting:
Attracting and retaining a more diverse faculty. Approximately 23 percent of full-time faculty are BIPOC, compared to about 19 percent in 2005.
Determining how to best support housing-insecure college students and high schoolers who want to go to college.
Leveraging existing and external support to meet students' pressing needs with limited resources.The list goes on — and the work continues. •
ADDITIONAL RESOURCES
SouthernCT.edu/dei The Division for Diversity, Equity, and Inclusion shares a wealth of information online, including social justice priorities, suggestions for getting involved, and resources, a podcast, and more.
Real Talk: A Diversity in Higher Education Podcast In Season Two, student activist Jamil Harp and Professor KC Councilor break down communication barriers and get to the heart of equity and inclusion conversations on college campuses.
History Department Teach-in Series Watch the series — which addresses topics ranging from militarization to incarceration to the psychology of racism.
Crucial Conversations: A Southern video series addressing important topics in two parts — Race in America part 1  and part 2.