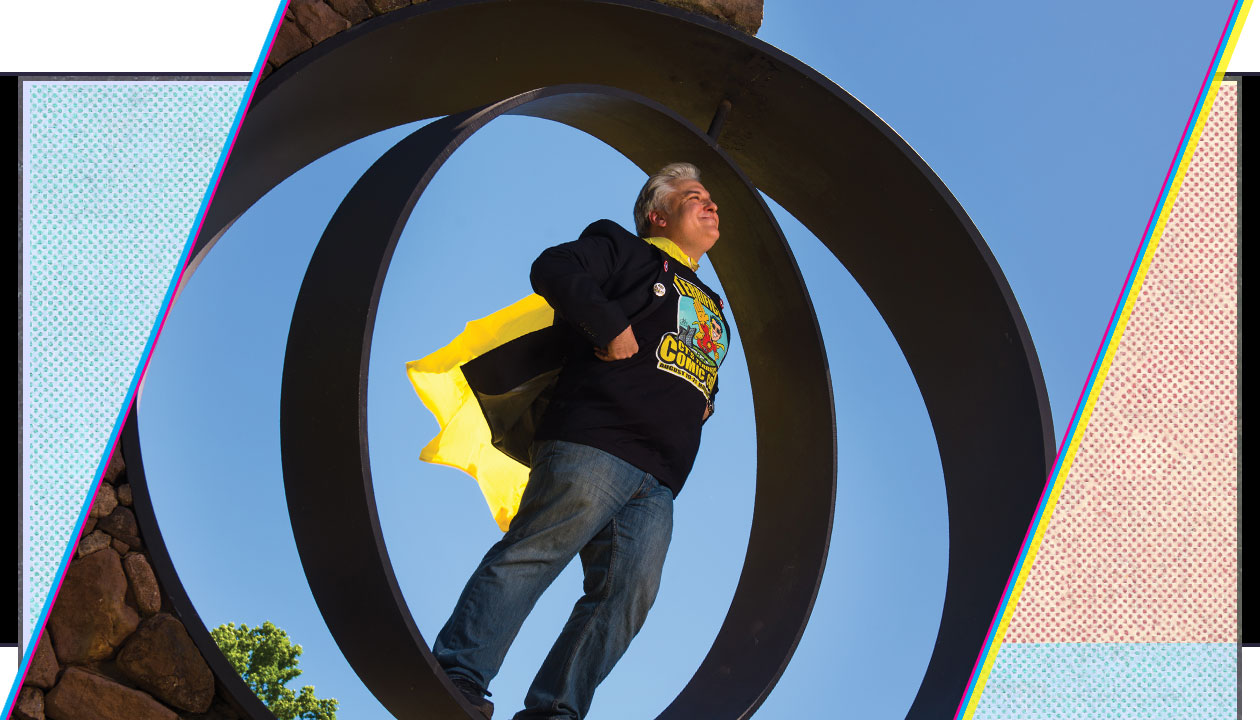 TerrifiCon™ founder brings the world of comic books to his fellow fans — because with great power, comes great responsibility.
A young Mitch Hallock, '89, was sitting in his dad's parked car on the day destiny came calling. It was the early 1970s and the 5-year-old had been left alone, happily perched on the bench-style front seat while his dad ran into the neighborhood pharmacy to buy a pack of cigarettes.
Hallock will celebrate his 50th birthday this summer. But he still recalls the moment with picture-perfect clarity: "I was looking at my dad through the store window. There was a spinner rack next to the register, and I saw him picking out a few comics —  a Batman, a Shadow, a Spiderman. He came back to the car and handed them to me. 'I had these when I was a kid,' he said. My grandmother had tossed them out when he joined the service. 'Don't ever throw them away,' he told me."
Hallock stops for a moment and laughs: "He didn't realize I was this obsessive-compulsive kid who would take his advice way too seriously."
Decades later, comics remain Hallock's passion as well as his livelihood. After working as an art director and in marketing, the self-described "fanboy" went on to launch TerrifiCon™, an annual Connecticut-based comic con — or comic convention — that showcases comic books and their creators, as well as films, television programs, pop-culture, and gaming.
This year, some 25,000 fans are expected to attend TerrifiCon™, held Aug. 19-21 at the Mohegan Sun Convention Center in Uncasville, Conn. The event sold out in 2015, and based on industry trends, the future is promising. In 2014, comic book sales in North America (print and digital) were about $935 million, according to Comichron and ICV2, which tabulate industry statistics.
The popularity of comic book-related films and television shows is at an all-time high as well. "Marvel's The Avengers," the top comic book-film adaptation to date, had worldwide ticket sales of more than $1.4 billion, according to Box Office Mojo (BOM). Equally telling, at press time, BOM listed more than 35 comic book film adaptations in development.
"In the early 2000s, the film industry realized that special effects had reached a point where we could capture what we could draw. We could show all of these great stories on film," says Hallock.
His own story is intrinsically tied to Southern. Hallock majored in art, working as a staff cartoonist for the student newspaper, and as an actor and publicity director for the university's Crescent Players. He met his future wife, Sharon, while working on a production.
Hallock also connected with other classmates who would later work in the comic book industry. He took art classes with Ron Garney, now an acclaimed comic book artist and writer known for his work on JLA (Justice League of America), The Amazing Spider-Man, Silver Surfer, Hulk, Daredevil, and Captain America. And in student theatrical productions, Hallock also crossed paths with Michael Jai White. White, now an accomplished professional actor and martial artist, played the title role in "Spawn," becoming the first African American to star as a superhero in a major motion picture. Hallock has run into both former classmates at industry events. Following, he shares memories from these impromptu mini reunions and a few pivotal life moments — including being fired from Southern's student newspaper.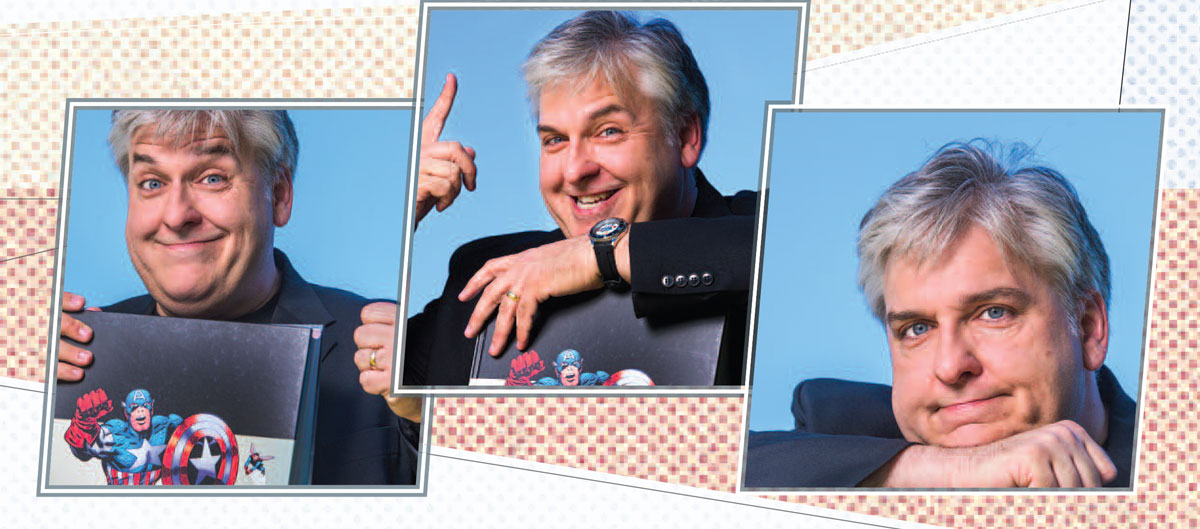 Hallock has loved comics for as long as he can remember. His earliest memories include drawing Fred Flintstone on the wall of his home. He was 3.
"My mom wrote to Stan Lee when I was about 5 — and he wrote back. [The legendary Lee worked with several artists to create Spider-Man, the Hulk, the Fantastic Four, Iron Man, Thor, the X-Men, and more.] He told me to work hard and to keep practicing. We hung that card on my wall, and I would look at it every day."
Comics remained a childhood passion. 
"Marvel's arch nemesis is DC Comics. Mine was [my friend] Al — my big competition. We starting writing and drawing our own comic books. At school, we would sit in the back of the room, take out our spiral-bound notebooks, and draw. . . . We kept up with it into high school until we developed some other interests. It helped with we went to an all-boys Catholic high school. The nuns hated those notebooks."
Following in the footsteps of his aunt and older sister, Hallock came to Southern.
"I was going to go to an art school, but my dad was a marine, a no-nonsense kid of guy: 'You can't just draw pictures. You need to get a degree.' So I enrolled at Southern, which ended up being a great decision for me."
He was an active member of the Crescent Players.
"There used to be a public access television studio nearby. I would go to the Theatre Department, and when the actors showed up, I'd tell them, 'I can get you on TV.' . . . They'd come down, and we would do these sketches. I tease my kids. I tell them, 'I was the internet before there was an internet.'"
Hallock continued to love comics.
"I was the cartoonist at Southern News, and I would get fired every year. They'd tell me I was getting too weird . . . that I needed to tone it down, which is the wrong thing to say to the kid who's been in Catholic school since he was 6. [laughing] I had to break free! So I would get fired. Then I'd come up with a new strip, and I'd send it in under a different name. I think I was Hal Mitchell at one point . . . "
Hallock kept drawing.
"I got fired again. But I was working late night at a copy shop in New Haven, and I would draw, then turn out thousands of comics. My friend delivered Southern News to all the dorms, and I would put my comics right next to the paper."
He found work in a creative field.  
"After college I got a job at a studio in Branford. I was 23, working as an assistant art director when my boss was fired. It was 1989 — I was making $17,000 a year — and the owner said he'd give me a raise if I could do the work for six months."
Hallock also kept thinking about comics.
"So I was working on a catalog for office supplies and I thought, hmm, what will work? What do I know? The answer was comic books. . . . I came up with a story about a guy who has to make a presentation at work. He's a complete wreck. Then he hears a voice from the heavens that tells him to use these products. . . . So I made the pitch to do a comic — and they liked it. Which is great. But now I'm a complete wreck — because I don't know how real comics are made."
So he reached out to a stranger.
"I called Marvel in New York and eventually got through to the secretary. I explained everything and she says, 'I know what to do.'. . . and connects me to John Romita! [Romita is perhaps best known for his work on The Amazing Spider-Man.] I've always wanted to draw like this man. I couldn't even speak . . . But eventually I explained everything to him. He told me to sit down — and for 45 minutes, John Romita walked me through the process of making a comic. So I did the catalog. It's a hit. Sales are up. It's written up in the industry magazine . . . and I get a raise. Now they're paying me $30,000."
He later rocked his dream interview.
"I had the opportunity to interview with Marvel. I met with the head of the marketing department — and I got it. They offered me $23,000 to work in New York City. I was married, making $40,000 a year, living and working in Connecticut. So I stayed. I regretted it somewhat at the time, but soon after there were massive layoffs [in the comic book field]."
He continues to love comics — and his alma mater.
"I had class with [alumnus] Ron Garney, an amazing artist with Marvel. He used to be a bartender in New Haven many years ago. At the time, Batman 1989 was premiering and there was a costume contest. I dressed up as the joker. Many years later, we ran into each other at a comic con, and realized I'd ordered a drink from him — dressed like the joker. He's an amazing artist.
A lot of incredible talent comes through Southern. Among those talents is Michael Jai White, who has starred in numerous films, and portrays Marcus Williams on the TBS/OWN comedy-­drama television series, "Tyler Perry's For Better or Worse."
"I met Michael Jai White at that same convention in New York City. He was promoting 'Black Dynamite,' a hysterical movie, which he [co-]wrote and starred in. . . . He looked familiar, so I asked him if he had gone to Southern? He said yes — and then it hit me. So I asked him, 'Were you Larry the Lobster?' It was a crazy play we did about a lobster about to be boiled. . . . I was working stage crew. He was Larry. . . . Does anyone have a photo of Michael Jai White playing Larry? Because if they do, I want it to blackmail him."
Hallock continued to love comic cons.
"It's Woodstock for geeks and nerds — but without any of the bad stuff."
So he founded TerrifiCon — and is living the dream.
"I have to downplay it somewhat, but I am still that 8-year-old kid who wants to grow up and work at Marvel. Take Neal Adams. [Adams created some of the iconic modern imagery for DC Comics' Superman, Batman, and Green Arrow.] If there was a Mount Rushmore of comics, he would be one of the four heads. I will always see him as legendary — and I have the opportunity to sit and talk to him. And I get to bring him to TerrifiCon™ — so others who feel exactly the same way get to see him, too."
He says he'll always be a fan — and here's one reason why.
"We weren't the wealthiest people in the world, and it wasn't always easy. That's one of the things about comic book heroes. They're from poor families. They have problems. Peter Parker is living with his aunt who is sick. He's a scrawny guy, not popular. Then he gets bit by a radioactive spider, and he becomes Spiderman. It's inspiring. It gives kids a reason to stay on the right path. It gives you hope."
And he'll never tire of meeting his fellow fans at TerrifiCon™.
"It's the coming together of like-minded people — those former 10-year-olds who were sitting in the back of the room drawing comics. You grow up, go to this event, and realize you are not alone. . . . I find that a lot of kids who loved comics grew up to be police officers and firefighters. They come to help society in very important ways. . . . When you talk to them at a comic con, you immediately see that 9-year-old boy or the 10-year-old girl. But the hero is there too."
For more, go to terrificon.com.