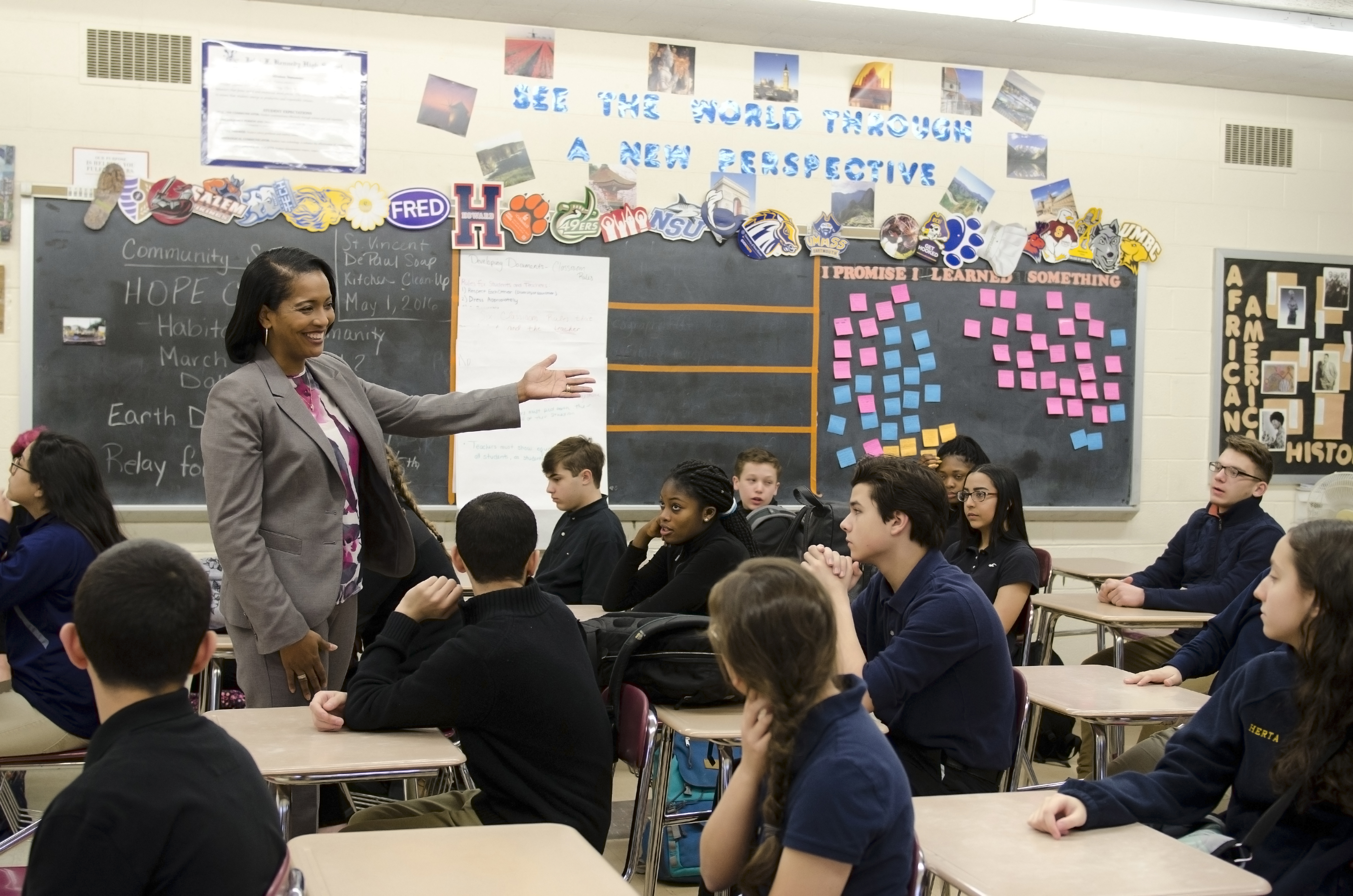 View a photo album from Jahana Hayes' September 2016 visit to Southern.
The Council of Chief State School Officers today announced that Southern alumna Jahana Hayes, '05, a history teacher at John F. Kennedy High School in Waterbury, Conn., is the 2016 National Teacher of the Year.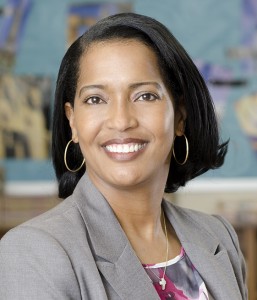 Hayes' route to teaching began as a student. The first in her family to graduate from college, she was inspired by her teachers who urged her to dream bigger and who believed that she was college material, despite a challenging upbringing. She earned an associate degree from Naugatuck Valley Community College, a bachelor of science from Southern, a master of arts from Saint Joseph University, and a certification from the University of Bridgeport.
A veteran history teacher, Hayes also sees herself as an advisor, counselor, confidant and protector. She endeavors to fill the role her own teachers had in her life, guiding students to be their best selves and encouraging them to take ownership of their communities.
"As a teacher, I strive to facilitate learning in a way that engages students by connecting on a personal level and stimulating academic growth, while simultaneously producing contentious and productive members of society," she says.
For Hayes, being a teacher is a privilege and an opportunity to transform lives and foster a sense of social responsibility in the next generation. As the 2016 National Teacher of the Year and a spokesperson for the teaching profession, Hayes hopes to motivate more people to become educators and continue to carry out this important work.
"I am honored to be the 2016 National Teacher of the Year," Hayes says. "In the course of the next year, I hope to stoke a national conversation about education that is inclusive of everyone. I want to engage people who have not traditionally been part of the conversation to join in this important effort to prepare well-rounded students for success in life."
The National Teacher of the Year program, run by the Council of Chief State School Officers (CCSSO) and presented by Voya Financial, Inc., identifies exceptional teachers in the country, recognizes their effective work in the classroom, engages them in a year of professional learning, amplifies their voices, and empowers them to participate in policy discussions at the state and national levels.
As the 2016 National Teacher of the Year, Hayes will spend a year traveling the nation to represent educators and advocate on behalf of teachers. She looks forward to sharing her belief in the importance of service-learning, and in making the teaching profession more attractive and appealing to young people across all demographics.
Every year, exemplary teachers from each state, the U.S. extra-state territories, the District of Columbia, and the Department of Defense Education Activity are selected as State Teachers of the Year. From that group, the National Teacher of the Year is chosen by a panel representing 15 renowned education organizations, which collectively represent more than 7 million educators.
"The Selection Committee selected Jahana Hayes as the 2016 National Teacher of the Year because we believe her message of service-learning resonates in the education discussion today," the committee stated. "In addition, we believe she has a strong story that speaks to educators and will bring an important perspective to the public discourse over the next year."
"Teachers like Jahana Hayes are leading the way to a brighter future for America. What an exceptional educator — we are all proud," says Connecticut Gov. Dannel P. Malloy. "Extraordinary academic rigor, high expectations, and unwavering commitment to service outside the classroom are the characteristics that Jahana brings to Waterbury students each and every day. She is truly preparing the next generation of global citizens. I want to congratulate Jahana and thank her for making a difference in the lives of so many Connecticut children and families."
"Jahana Hayes inspires her students to believe in their ability to change the world. She ignites a love of learning and builds their self-confidence. This well-deserved distinction provides Jahana the platform and opportunity to share her gifts, passion, and talent with students and educators across the nation. Without question, Jahana will inspire others to believe in the power of teachers to change the world through education," says Connecticut Department of Education Commissioner Dianna R. Wentzell. "Connecticut is so proud of Jahana. She is a true role model for educators across the nation who seek to deliver on the promise of an outstanding education for every student."
"To be the National Teacher of the Year requires not only pedagogical precision, but also the ability to connect to the hearts and minds of a school community," says Waterbury Superintendent Kathleen M. Ouellette. "Jahana's own life experience, her passion for education, and the inspirational manner in which she impacts her students, all contribute greatly to her success. Jahana has masterfully refined a focused, pragmatic, yet heartfelt approach to an evolving global vision of education, bringing her to this pinnacle – the 2016 National Teacher of the Year! We in Waterbury, Connecticut, are very proud!"
Hayes and the other 55 State Teachers of the Year have been invited to an event on Tuesday, May 3, at the White House, where they will be honored by President Barack Obama.