In spring 2016, the first group of students will cross the Atlantic to study abroad under a new agreement formalized Dec. 3 by Southern and Liverpool John Moores University.
This "Trans-Atlantic Alliance" will offer students the chance to take classes in both New Haven and Liverpool, England, as well as benefit from dual-taught undergraduate and graduate-level programs, delivered by LJMU and SCSU faculty members through video link and guest lectures.
SCSU President Mary Papazian and Edward Harcourt, LJMU's Pro-Vice-Chancellor for External Engagement, formally signed the agreement in the foyer of Southern's new science building.
"(LJMU) is an institution very much like ours," Papazian told the New Haven Register. "This allows us to look at problems around sustainability, public health, health care management, business, creative writing from a variety of perspectives."
Papazian predicted the partnership would be "a robust exchange, so many of our students have that chance to have that global experience."
"It's a great place, a safe place for our students to experience the world," she said of the historic port city, home to the Beatles, the Cunard steamship line and Liverpool F.C., one of the world's most well-known professional soccer clubs.
LJMU traces its roots back nearly 200 years to 1823 and the opening of the Liverpool Mechanics' Institute. Over the decades, the institute merged with other institutions to become Liverpool Polytechnic; traditionally providing training, education and research to the maritime industry, before earning university status in 1992. Now ranked among the top 400 universities world-wide, LJMU offers 250 degree courses to 25,000 students drawn from more than 100 countries.
This spring, four SCSU undergraduates with academic interests in business, wellness, geography and global health will be leaving for Liverpool to study abroad for a semester. They include senior Shayne O'Brien (pictured with President Papazian and Pro-Vice-Chancellor Harcourt), who plans a career as a glaciologist. Additionally, Mark McRiley, a graduate student from public health, also will be attending LJMU in 2016 to earn his Ph.D. on full scholarship. Several students from LJMU are also expected to be attending Southern.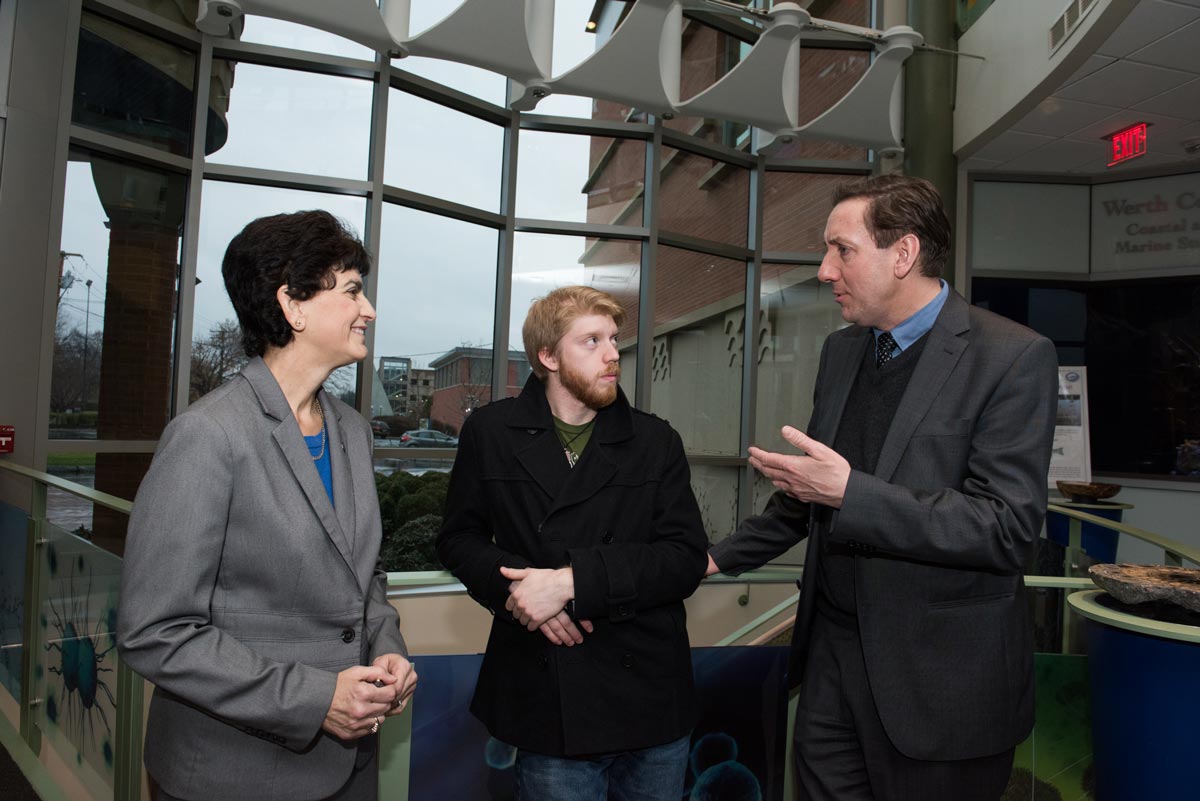 Harcourt told the Register that the Alliance was a "game-changer for both institutions.
"We're very similar, very connected to our local regions," he said. "What we looked for is aligning comparable interests and strengths."
Liverpool also has smaller-scale partnerships with colleges in China and Malaysia, Harcourt said, but with Southern, "the big prize longer-term is, could we get to the point where we're presenting a joint prospectus of master's programs," which would be unique and enticing to students in overseas markets.
On the home front, several academic departments have hosted classes or colleagues from Liverpool via videoconference or in person. In November, the nursing departments from the respective institutions participated in a symposium in which Assistant Professor Christine Denhup presented her research on parental bereavement following the death of a child, an area of mutual interest for both groups.
In late November, John Morrissey, senior lecturer in environmental geography, natural sciences and psychology at LJMU, spoke about "Enabling Sustainability Transitions in the Coastal Zone," during Southern's Department of Environment, Geography and Marine Sciences' Geography Awareness Week.
And in October, the visit of former Major League Baseball Commissioner Fay Vincent for the Dr. Joseph Panza Sport Management Lecture was broadcast live to LJMU so that sport management students there could participate and ask questions of the speaker.
More collaborations are forthcoming. During the most recent visit of the LJMU delegation, Tim Nichol, dean of the Liverpool Business School, met with SCSU School of Business colleagues (below) to discuss a wide range of potential initiatives. These include collaborative research and teaching, an MBA program in comparative healthcare offered by both institutions and a shared DBA that could be offered internationally.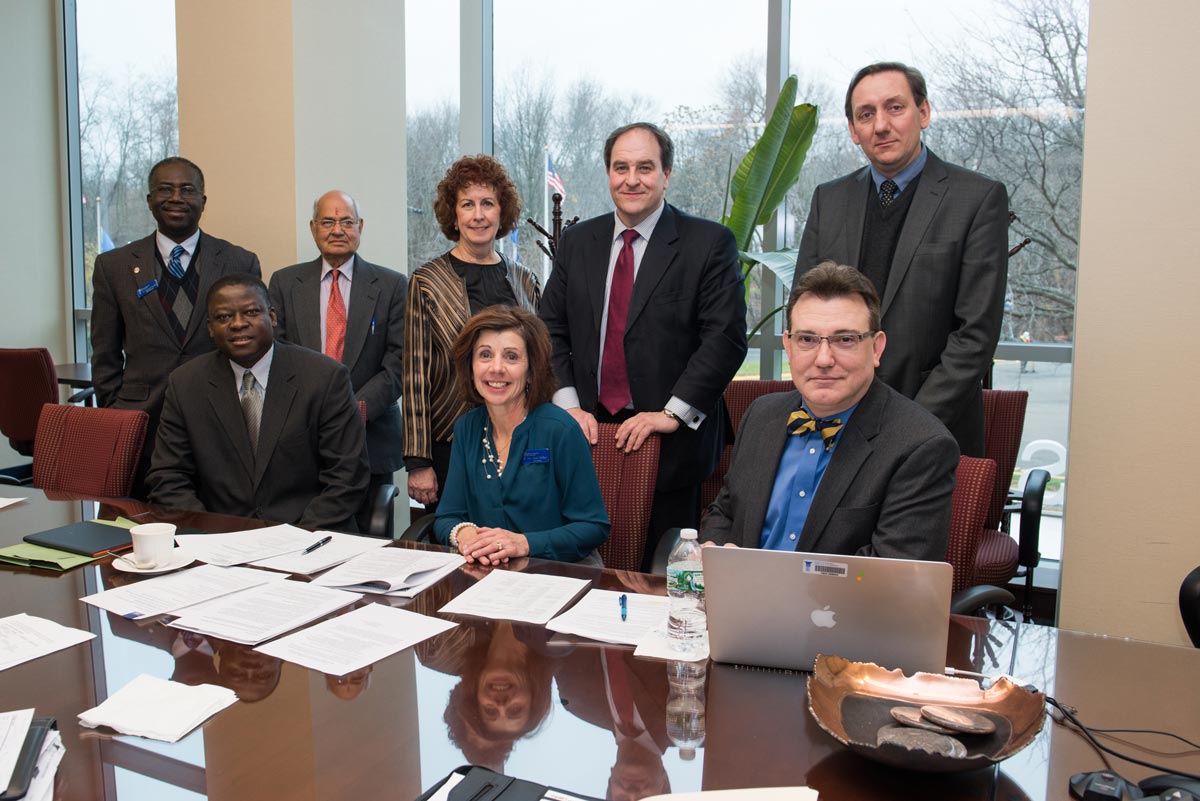 James Tait, professor of science education and environmental studies, is proposing a doctoral research project examining evidence of prehistoric hurricanes in the marshes of Hammonasset Beach State Park in Madison, Conn., with a goal of plotting how the intensity of these storms have changed over thousands of years.
Tait has done extensive work researching and proposing solutions to beach erosion along Connecticut's Long Island Sound shoreline in the wake of recent hurricanes. With SCSU geography colleague Elyse Zavar and faculty from LJMU, Tait recently visited Formby Point, home of the United Kingdom's largest collection of sand dunes, an area that faces similar issues in the wake of violent storms.