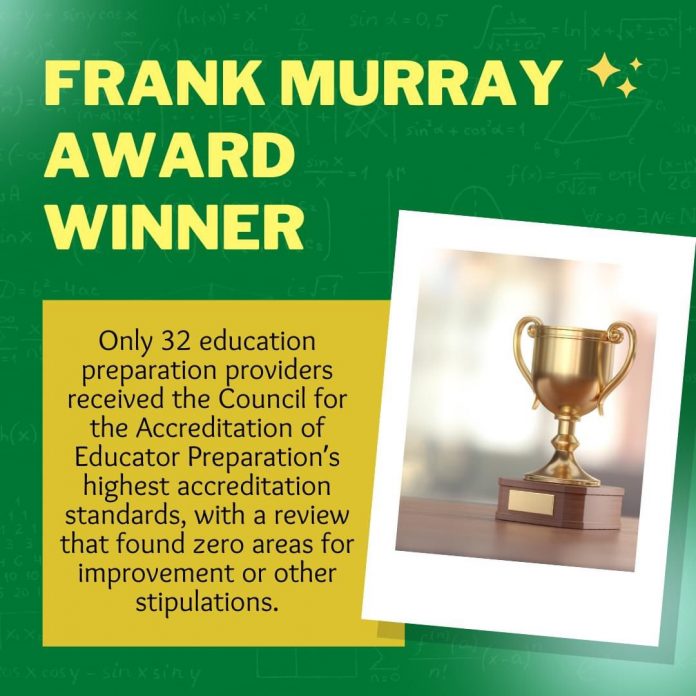 The Council for the Accreditation of Educator Preparation (CAEP) announced that the Southern Connecticut State University Education Preparation Program is one of 32 providers from 16 states, Puerto Rico and Jordan to receive recognition for their leadership and commitment to continuous improvement. The recipients of the 2022 Frank Murray Leadership Recognition for Continuous Improvement provided evidence and data trends to achieve accreditation with no stipulations or areas for improvement.
"This is a great honor as only 32 institutions have received this award for achieving full accreditation with no conditions or areas for improvement," said Southern College of Education Dean Stephen Hegedus. "The Education Preparation Program consists of 58 programs at the initial and advanced levels and are run by departments from the College of Education, the College of Arts & Sciences, and the College of Health & Human Services."
Recipients of the 2022 Frank Murray Leadership Recognition for Continuous Improvement are selected from the educator preparation providers (EPPs) that were granted accreditation by CAEP at the initial level from the previous year, who provided a full complement of evidence with demonstrated data trends and no stipulations or areas for improvement. Providers selected for recognition advance equity and excellence in educator preparation through the purposeful use of self-study procedures and evidence-based reporting that assure quality and support continuous improvement to strengthen P-12 learning. These EPPs use inquiry and assessments to establish quality assurance systems to drive improvement.
CAEP accreditation serves the dual purposes of accountability and continuous improvement. 471 educator preparation providers in 45 states, the District of Columbia, Puerto Rico, Jordan, and the United Arab Emirates have been accredited under the CAEP Standards. The CAEP accreditation process evaluates the performance of providers and focuses particularly on whether candidates will be prepared, by completion, for the challenging responsibilities that educators face in America's classrooms. Approximately, 600 educator preparation providers participate in the CAEP Accreditation system, including many previously accredited through former standards.