Southern Connecticut State University's social media platforms have earned a top rank amongst Division II schools in the United States, according to the 2023 Higher Education Social Media Engagement Report by RivalIQ.
The Owls earned the #10 spot amongst all Division II institutions and ranked #5 and #7 for Instagram and TikTok content, respectively.
"In the early days of our social media program, we worked hard to produce a handful of relevant, high-quality posts each week for the big three – Facebook, LinkedIn, and Twitter," said Allison O'Leary, assistant director of integrated communications & marketing for social media. "Over the last 10 years, the landscape has completely diversified, requiring several more sub-strategies to accommodate different channels, audiences, and platforms."
According to their website, RivalIQ surveys all DI and DII colleges and universities on social media between June 1 and May 31 each year on Facebook, Instagram, TikTok, and Twitter. The top-ranked colleges and universities have high engagement rates with average or better audience size and posting volumes, it says.
On Instagram, Southern earned an above-average 5.71% engagement rate, nearly doubling the D2 median. Across all platforms, Southern registered a notably higher posting frequency, averaging 8.2 posts per week.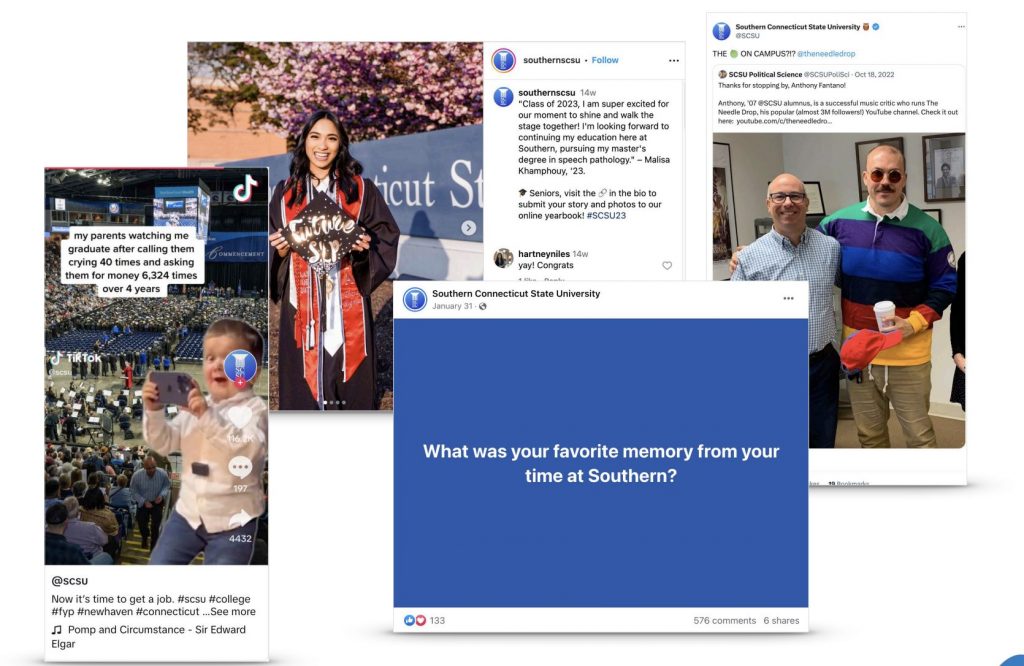 According to Patrick Dilger, director of integrated communications & marketing, the growth in social media is owing to the university's investment in full-time positions to support content creation and online engagement within the department.
"With the way these online trends spring up so quickly, it's important to have someone available who can jump in and create something in the moment," said Dilger. "Whether it's a university event, surprise guest, or a lively caricature of student life on TikTok, it keeps the university present in a way that feels fresh and spontaneous."
In addition to driving content for the university's primary platforms, the social media team also connects and coordinates brand presence on sub-accounts managed by departments and groups throughout the university.
"What started as an add-on responsibility to a few of our job descriptions has evolved into a team of dedicated employees and content contributors who not only understand Southern, but who also care about how others see and understand Southern," said O'Leary.
The active, collaboration-based approach has helped the team triple the average engagement of their competitors.
"From celebrating its graduates to question-based prompts, to user-generated content, the Owls had no shortage of opportunities to put its people before obligatory brand messaging," writes Rival IQ.
"Our social media strategy is dedicated to building quality connections with our followers, in particular by allowing students to be active participants across platforms," said Jason Edwards, social media coordinator. "Instagram takeovers, alumni spotlights, and short-form videos have helped successfully deliver daily content and we receive great feedback from our fans."
If you don't already, be sure to connect with Southern on Instagram, Facebook, TikTok, X, Linked In, and Threads. You can follow the rest of the university's extended network of social media accounts here.