Starting at a chilly 10 a.m. on September 15, about 400 guests from on and off campus celebrated the official unveiling of Southern's new School of Business with a speaking program and reception and a keynote address and performance headlined by Jeffrey "Skunk" Baxter, Grammy Award winner and an expert on innovative thinking.
Located on the corner of Wintergreen and Farnham Avenues, the four-story, 60,000-square-foot structure will provide a launching pad for expanding the school's offerings and developing new partnerships with the business community. It opened for classes in fall 2023.
In addition to amplifying offerings and partnerships, the new School of Business building serves as Connecticut's first net-zero structure in terms of carbon footprint – powered by energy from nearby solar panels. The building is heated and cooled by geothermal wells.
"Dean Boronico has the exciting task of leading the business school into a bright new future and I am confident that this new building will be a springboard to continued success," said President Dwayne Smith in his remarks to the assembled guests.
In addition to Smith, speakers who welcomed guests and extolled the benefits of the new building included Connecticut Governor Ned Lamont, CSCU Chancellor Terrence Cheng, School of Business Dean Jess Boronico, and DAS Commissioner Michelle Gilman. In addition, three donors to the School of Business delivered remarks: Larry Bingaman, president and CEO, South Central Connecticut Regional Water Authority; Lindy Lee Gold, senior development specialist, State of Connecticut; and Anthony Verlezza, '74, principal, Integrated Supply Chain Solutions Business Advisory Services. The program was emceed by Skubie Mageza, on-air host at ESPN, and Wajiha Ali, a student worker in the Lindy Lee Gold Leadership Suite and Dean's Office in the School of Business.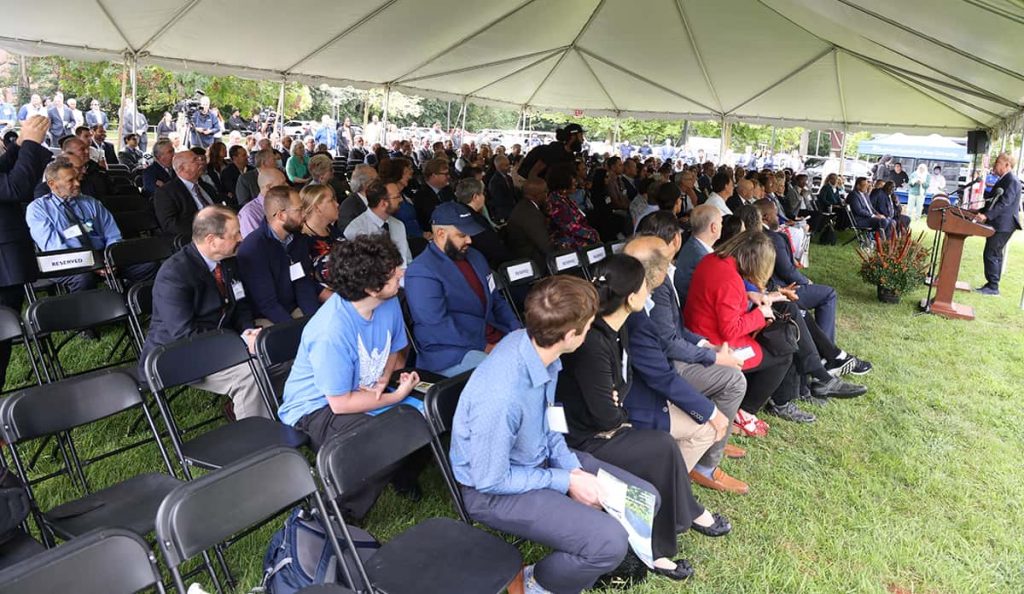 Following the morning speaking program, a ribbon-cutting ceremony took place in front of the new building, followed by a reception and Baxter's presentation.
Baxter has had a long and successful career (18 Gold and Platinum albums, two Grammys) in the music and entertainment field as a founding member of the group Steely Dan; a Grammy-winning guitarist with the Doobie Brothers; as a record producer for such artists as Carl Wilson, Nazareth, and The Stray Cats; and studio musician for hundreds of recordings.
Baxter brings his creativity and passion for music to his work today, generating and crafting an unconventional set of ideas, concepts and methodologies that have been recognized as highly effective game-changers for the business and student groups that he advises.
He is a Senior Fellow and member of the Board of Regents at the Potomac Institute for Policy Studies, a member of the Director's Strategic Red Team at MIT/ Lincoln Laboratories, a consultant for the Global Security Sector of the Lawrence Livermore National Laboratory, and a Senior Thinker for the Institute for Human & Machine Cognition, as well as holding consulting agreements with SAIC, Northrop-Grumman, Parsons, RadiantBlue Technologies and PricewaterhouseCoopers.
President Smith was not alone in expressing a bright vision of the School of Business' future and how it will springboard student careers. Many of the guests in attendance spoke of the great things they see coming from business students in the future and what it means for Southern.
"To me, this building shows Southern's dedication to growth and improvement for students," said Clarizza De La Paz of New Haven Hotel.
"This building means progress, connections, newness, and so many potential networking opportunities for students," said Rachel Cunningham-Exavier of the Office of Career and Professional Development.
"This building definitely means bringing to life their visions of more opportunities and accessibility for students. And I think that's Southern's purpose," said Valerie King of the Board for the Housatonic Community College Scholarship Foundation.
Business students in attendance also spoke of their hopes for the new building.
"Having this space makes me feel special as a business student. It's really exciting to have a nicer and upgraded work environment," said Shahiyda Plair, a Business Management major. Preston Baldovin, a Business Finance major, agreed: "The new building is going to be great at providing opportunities for students," he said. "It's very spacious, very welcoming, and just so student-centered."
The new School of Business includes nine general classrooms, as well as several specialized classrooms and lecture halls. It also features:
a behavioral lab area with an observation room
a community room that can seat 100 people
a large classroom and administrative suite for the MBA program
an area designated for financial market and data analytics.
Asked what he thought of the day's celebration, Southern's mascot, Otus, said, "It was a Hoot!"