Join the Multicultural Center for an evening honoring grit, perseverance, and success on Tuesday, Nov. 29 at 7:30 p.m. in the Michael J. Adanti Student Center Ballroom.
Come engage and network with distinguished panelists, enjoy cultural cuisine, dance, and celebrate student achievements!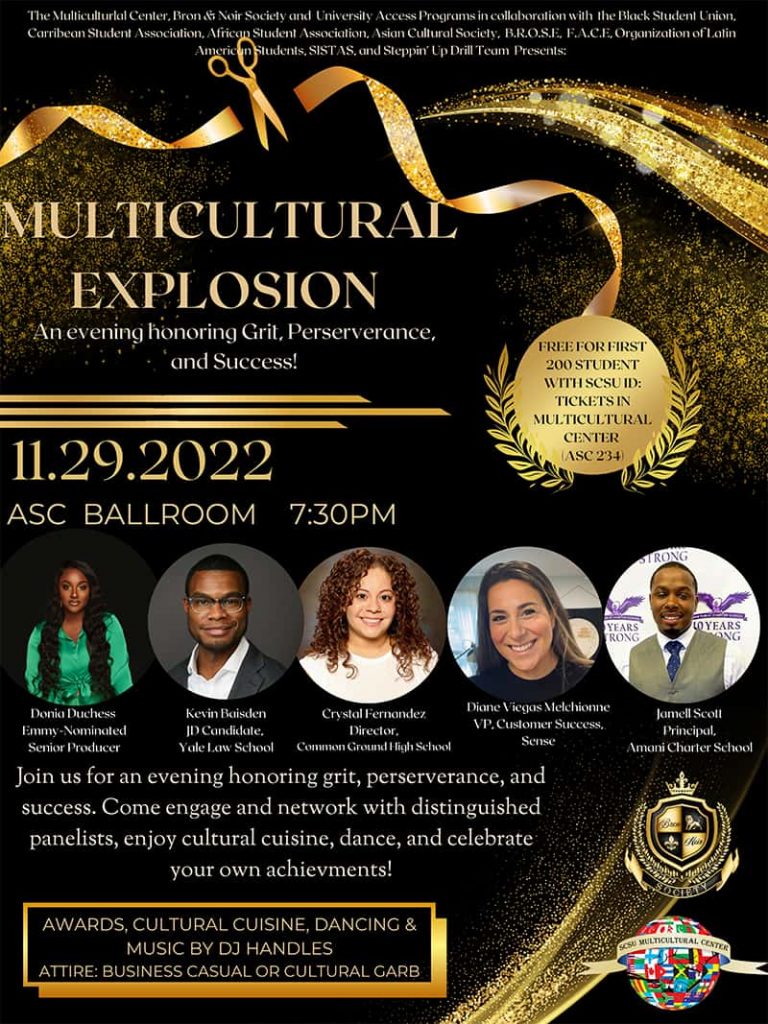 Panel Discussion Moderator:
Denval Lawrence – Adjunct Professor, SCSU School of Business; Solutions Architect, Yale University; Founder Bron & Noir Society: Connecticut Men of Color Flash Mob
Panelists:
Crystal Fernandez – Director, Green Jobs Corps for Common Grounds High School
Bronx native Crystal Fernández came to New Haven in 2001 during her early teens. She is a Common Ground Alum (Class of 2005), CG leader (2019), and CG parent (Class of 2025). Crystal is an active sister of Lambda Theta Alpha Latin Sorority, Inc., the 1st nationally recognized Latina Sorority. Crystal has 14 years of experience in non-profit community-based organizations with a focus on youth leadership, workforce development, and coaching. She holds a B. A. in General Studies with a concentration in African American, Latino, and Urban Studies and Public Administration from Charter Oak State College.
Crystal is a co-founder of Friends of Kimberly Park; a community greenspace in the Hill neighborhood. Most recently, Crystal was promoted to Director, Green Jobs Corps. She credits her village for her success and describes herself as a radical change maker. Crystal is passionate about her work and does it all while raising her four children ages 14, 9, 8, and 4 as a single parent.
Jamell Scott – Principal, Amani Public Charter School
Jamell Scott was born in Tarrytown, NY, and spent most of his childhood in Yonkers, NY. He is a multi-sport athlete who enjoys basketball, baseball, boxing, and football. Jamell is the Principal at Amani Public Charter School in Mount Vernon, NY. As the instructional and culture leader at Amani, he serves as the cultural justice for the community while ensuring rigorous and engaging teaching happens daily. He plays an important leadership role in the school amongst faculty and scholars. In the role of Principal, Jamell is shaping his vision for today's youth and significantly impacting many lives within his community.
During his twelve years at Amani, Jamell has held many positions, including P.E. Instructor, Dean, Director of School Culture, and his heart, Athletic Director. In this role, he worked from scratch to build an extracurricular and intramural athletic program that engages scholars in athletic activities while developing student athletes for future generations.
In addition to all of the above, Jamell is a graduate of the State University of New York at Cortland with a Bachelor's and Master's Degree in Sports Pedagogy. He also holds a Master's Degree in School Building and School District Leadership from the College of Saint Rose. He is a father of four adorable children and husband to his college sweetheart of 15 years. Jamell is a lifelong learner and works tirelessly to help bring change to the lives of the young people he interacts with daily. 
Diane Viegas Melchionne – Former Vice President of Client Success for Indeed; Current Executive & Tech Advisor
Diane was born and raised in Stamford, Connecticut. She spent over 14 years helping to build Indeed.com and helping people get jobs around the world. She joined as an individual contributor as she was finishing up her final semester of college and grew into an executive leading an organization of about 1,000 people as she held various roles such as Director and Senior Director of Client Services for the America's and International regions of Indeed, SVP of Client Services, and VP of Client Success International & America's.
Diane is currently running for Board of Education to give back to the very school system and community that provided her with so many exceptional experiences.
Diane is an avid believer that we have one life to live here on earth and it's up to us as individuals to make it something special. She is passionate about using her time to do things that interests & challenges herself, helps people, and can impactful change. She is always up to be challenged and is in the process of completing a mental toughness program called 75 hard.
Kevin Baisden – JD Candidate, Yale Law School
Kevin Baisden is a first-year JD Candidate at Yale Law School. Prior to law school, Kevin was an SEO Law Fellow/Summer Associate at Cleary Gottlieb Steen & Hamilton Law Firm. He has also worked as a Research Analyst at an asset management fund covering natural resources, real estate, and infrastructure investments.
Additionally, Kevin has spent some time in the financial technology sector and participated in the 2019 Beyond the Bars fellowship cohort at the Columbia University Center for Justice. He is a 2019 graduate of Columbia University where he studied Economics-Philosophy. During his time as a Columbia student, Kevin worked at several investment firms including hedge funds and asset owners where he focused on impact and socially responsible investing.
Aside from his experience in the business world, he has authored several academic papers and has been awarded research prizes for his work in social philosophy and economics.
Donia "Duchess" Dupervil, '12 – Emmy-Nominated Senior Producer, Host, Model, Actress, and Motivational Speaker
Donia "Duchess" Dupervil is a Haitian-American, Emmy-Nominated Producer. What sets her apart as a Producer, aside from her talent, creativity and drive, is her understanding of what it is like to be on the other side of the camera. Many know her from hosting countless "Steals on The Real" segments, Song Pop Live, and People TV. Others know her VIRAL celebrity interviews and Tik Toks that have garnered MILLIONS of views as well as her red carpet appearances. As a Producer, Actress, and Motivational Speaker, Donia is known in the industry as "hardworking, outgoing, and a fearless one to watch."
Donia is a graduate of Southern Connecticut State University where she obtained a Bachelors degree in Communications, Advertising and Promotion. Above all of her career titles, she enjoys motherhood and can often be seen on social media with her adorable and charismatic son.
––––––––––––––––––
The event is free to the first 200 SCSU students who register with their student ID. Tickets are available in the Multicultural Center. (ASC 234).
Sponsored by: The Multicultural Center, Bron & Noir Society and University Access Programs in collaboration with the Black Student Union, Caribbean Student Association, African Student Association, Asian Cultural Society, B.R.O.S.E, F.A.C.E, Organization of Latin American Students, SISTAS, and Steppin' Up Drill Team