Prospect, Conn., resident Brianna Vallejo will walk in Southern's undergraduate commencement ceremony on May 20, but the physical education major is already making her mark — recognized alongside top students by one of the field's leading professional organizations.
The Society of Health and Physical Educators (SHAPE) America presented Vallejo with a "Major of the Year" award on April 26 at the organization's national conference in New Orleans. The award celebrates the nation's outstanding undergraduate students in the health, physical education, recreation, and dance professions. Vallejo is one of about 110 students to receive the award nationally and one of only two in Connecticut; the other awardee attends Central Connecticut State University.
When it comes to academic achievement, Vallejo is in a league of her own. She is graduating summa cum laude (with highest distinction) and has a 3.98 GPA (out of 4.0), as of the close of the fall 2021 semester.
"Brianna is an example of what all physical education majors should aspire to be," says Daniel Swartz, a professor in the Department of Health and Movement Sciences. "She is an active and enthusiastic participant in every class and is involved with so many things on and off campus that will help make her a better physical education teacher throughout her career."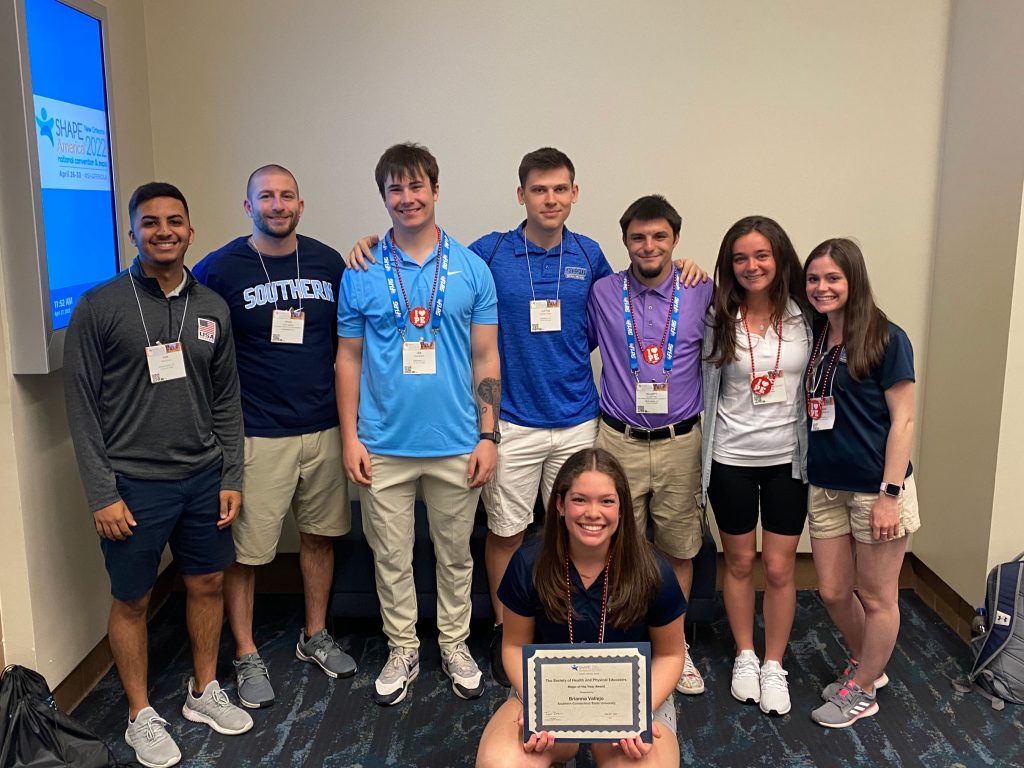 Vallejo spent much of the current academic year completing her student-teaching requirement, working with students at Rocky Hill Elementary School (grades three to five) in Wallingford, Conn., and North Branford Intermediate School (grades six to eight). "Students were finally getting back into the schools/gyms and using equipment during my fall and spring semesters. I experienced both the mask mandate and the release of the mask mandate at my placements," she says. Among the additional COVID-19 related responsibilities: sanitizing students' hands before and after class, making sure students' masks were pulled up over their noses/mouths, and taking mask breaks.
Vallejo's commitment to the profession cuts across campus, the state, and the region. She is a two-term president of the SCSU Physical Education Club as well as a student representative on the executive board of the Connecticut Association of Health, Physical Education, Recreation, and Dance (CTAHPERD). CTAHPERD awarded her its Gibson-Laemel Scholarship. The talented student also is active with the SHAPE America Eastern District Physical Education Club and was named the SCSU Outstanding Future Professional.
She came to Southern at the recommendation of a friend who was majoring in physical education. "I knew that Southern was a wonderful teaching institution with many physical education teachers coming from the university. The program's reputation was strong, and there was an emphasis on cross endorsement for school health education," a requirement for many physical education jobs, she notes.
Vallejo initially minored in school health education. But at the close of her junior year, she learned of a new university program: the B.S. Physical Education to M.S. School Health Education Accelerated Pathway. Students in this competitive academic offering have the opportunity to complete both their bachelor's and graduate degrees in five years. Vallejo enrolled and, next year, will continue her Southern education as a graduate student.
Her decision to major in physical education comes naturally. "I find so much joy in being able to help individuals understand and learn from their experiences," she says. "I also enjoy being active, playing a variety of sports since growing up. So, I figured combining the two things I really enjoy would provide me with the best of both worlds, and it has proven me right."