Long Island Sound is a little greener, a little cleaner, and a little quieter, thanks to Michael Pascucilla, '92, who oversaw the development of the world's first full-size solar- and electric-powered pump-out boat. The utility craft, which removes sewage from other boats, finished its first season in the Branford River and Branford Harbor last summer.
Christened the Solar Shark, the boat is being heralded as a model response to the climate crisis. Its carbon footprint is one-tenth that of gasoline-powered counterparts, prompting Rosa DeLauro, U.S. Representative for Connecticut's third district, to call the Solar Shark "a great achievement" — and it's an idea unlikely to have seen the light of day if Pascucilla hadn't taken Professor Emeritus of Public Health Gary Gesmonde's "Diet and Nutrition" course as a college sophomore.
Fascinated to learn how food could be considered medicine and changing eating habits could cure illnesses, Pascucilla registered for more nutrition and public health courses. He ditched his plans to become an accountant, majored in public health, and went on to complete a master's degree in public health at the University of Connecticut. After stints with state and federal government offices, he has been the chief executive officer/health director of the East Shore District Health Department since 2010, serving the communities of Branford, East Haven, and North Branford. "It's not just a job or a career," he says. "It's a calling."
Several Southern professors were influential in encouraging Pascucilla to answer that call. The beloved late faculty members Danny Gonsalves and A. Kay Keiser both provided the structure he needed as an under- graduate. Professor of Public Health William Faraclas gave counsel, discussing various career options and connecting him with his first internship with the public health office in West Haven.
"He was the voice of reason," Pascucilla says of Faraclas. "He gave me that direction."
Pascucilla pays it forward by teaching courses in wellness and environmental health at Southern and serving on the advisory board for the university's Department of Public Health. He also lectures on epidemiology at Yale University.
The solar/electric pump-out boat began with an epiphany almost five years ago. Pascucilla's office had been looking for ways to save taxpayer money and be more environmentally friendly at a time when one of its two pump-out boats needed to be replaced. Having just received a grant for an electric-hybrid vehicle, he thought, "Why not use the same technology for a pump-out boat?"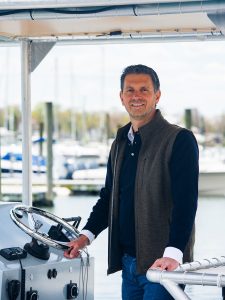 A boater himself — he lives by the water with his wife and their two young sons — Pascucilla had witnessed firsthand the effects of climate change in his neighborhood, with roads flooded by rising tides. He'd also seen the global impact on the news: fires, floods, and storms. The pump-out boat project gave him the opportunity to do his part in response.
He pitched the idea to state officials, wrote some grants, and secured $150,000 in funding through the Federal Clean Vessel Act through the Connecticut Department of Energy and Environmental Protection (CDEEP). Pascucilla credits the CDEEP's Kathryn Brown for championing the idea. He raised an additional $50,000 through fundraising efforts, assisted, in part, by his Southern students. Yale University students assisted with research.
Pascucilla admits to being intimidated by the responsibility of developing the new concept. "It was a little scary given the amount of money at stake," he says.
It got scarier when the initial bid for a solar/electric boat that could perform like a conventional gas- powered design — able to reach speeds of 40 miles per hour — came in at over half a million dollars, more than double the budget. Forced back to the drawing board, Pascucilla and his team realized they could aim for less power since the boat would travel primarily on rivers or no-wake areas. They also swapped out the fiberglass hull for an aluminum one. It took two years, but they eventually came up with a viable design that had a 400-gallon holding tank and two four-horsepower Torqeedo engines powered by rechargeable batteries and a canopy of solar panels. With the batteries providing the main source of power and the solar panels a trickle charge, the boat is able to run for up to 10-12 hours at zero emissions.
From May through September 2019, the boat serviced five communities in the Long Island Sound, which is a no-discharge area, meaning boaters must have the waste on their boats pumped out, similar to the way a truck empties a residential septic tank. Boaters can schedule appointments at one of two marinas where the pump-out boat docks.
The electric/solar boat costs less to operate and maintain than a traditional gas-powered pump-out boat. Pascucilla and Sean Grace, chairman of Southern's Department of Biology and co-director of the university's Werth Center for Coastal and Marine Studies, are studying the benefits to aquamarine life of reduced noise from the quieter pump-out boat. [Read more on Grace's other research projects.]
Pascucilla has been presenting data on the boat's features at national and international conferences. "We're hoping to see [that] the boat not only helps with air and water pollutions, but also with noise pollution for humans and marine life," Pascucilla says.
He and his team are working on the problems of how to dispose of the batteries and reduce development costs. Pascucilla is optimistic about finding solutions for both. In time, he believes the operational savings of electric/solar boats will offset higher production costs, especially if they are manufactured in volume,  which he sees as the future of recreational and commercial boats. "In time, you're going to see boats like this everywhere," he says.
That will be an important step toward addressing the climate crisis — with the Solar Shark leading the way in reducing carbon emissions, keeping coastal waters clean, and lowering noise. "We need to be better stewards of our planet," Pascucilla says. "It all connects back to the environment. What affects the environment affects our health." ■