To hear Marla McLeod, '14, describe her passion for her former major, geographic information science (GIS), one can't help but imagine her happily surveying the earth's surface, gathering information and studying its infinite connections for years to come. But life had different plans for this artist, who was recently named by the Boston Globe as one of "5 Outstanding Art-School Grads for 2020."
"I really loved geography," McLeod says. "[With GIS] you can follow different veins and be creative and share perspective. The information builds, and you see how to build connections the more you bring in. It was the study of everything, everywhere."
It wasn't until she transferred from community college to Southern in 2012 and took a painting course that she found herself impassioned by the same principles — studying a subject, building up depths of color, sharing perspective – and started questioning her career path.
"I took an art class with Rachael Vaters-Carr, and in that class she told me I was really good at it. And when she told me that, I was a little skeptical," McLeod says. "In Professor Thuan Vu's painting course, I was trying to figure out how to paint! What kind of painting did I want to do? He suggested I try working from my own photography, and I took a picture of my friend in drag taking his makeup off, and I felt like, 'Wow, I think I can paint!' The colors came alive. And that's how I got into it."
After graduating from Southern with a degree in studio art, she took two years off to practice her technique. In 2018, she was accepted into the School of the Museum of Fine Arts at Tufts University (she graduates this August) and, in 2019, was the recipient of Tuft's Tisch Library Research Grant, for which she spent the summer "researching Black identity in America and representation and combining the research with fashion found in the drag culture."
The culmination of the research for her exhibition "RePresent" were her sculptures "Anonymous Woman" and "Baldwin," which were presented at Black Portraitures 2019 at NYU. McLeod removed things from her sculptures  — skin, hair, features — that have to do with individuality and characteristics in culture and visual cues about who they are as an individual.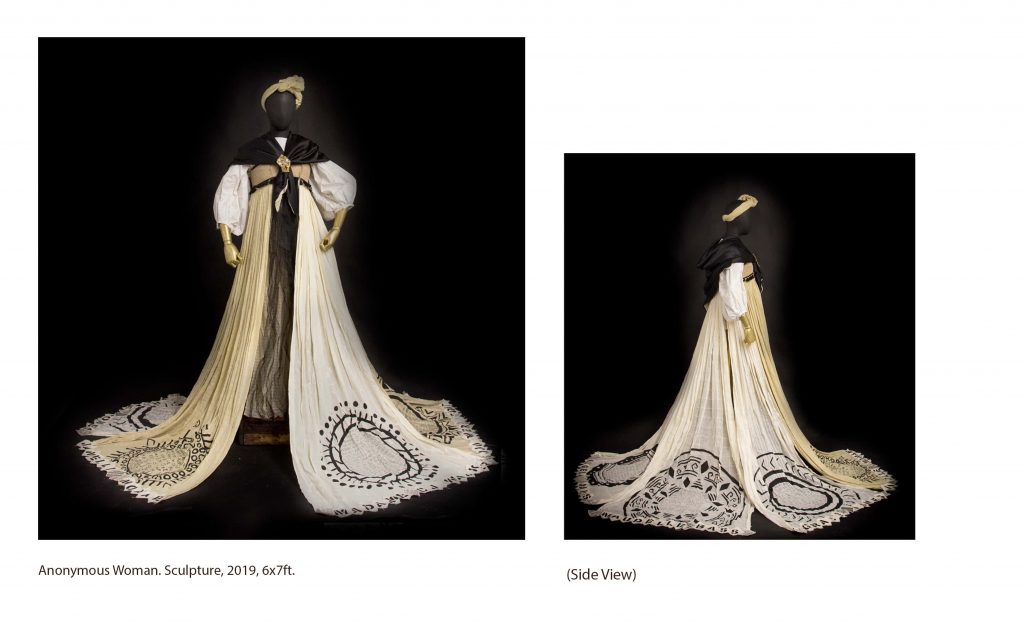 According to McLeod, "One sculpture represents the black woman in America, the visual references to negative imagery like the mammy are overlayed and altered with symbols and references to Black pride. The second sculpture represents the black man in America, the intimidating hooded figure is overlayed and altered down, adding lavish details that give the figure a sense of royalty."
For her MFA thesis, McLeod continued her study of Black women from her undergraduate thesis at Southern.
"I began to understand how much I don't understand about African American history," McLeod says, "so I had to go back and research and learn and dig into the topic this time with five large portraits."
In her oil paintings, backed with textiles inspired by Mali mud cloths to give a sense of African tribal patterning, McLeod asked herself: "You're depicting black people, are you just putting them on display? Each woman, they're only wearing black, and the viewer must decide what they're putting on to that body. As I'm creating, the women are happy to be photographed, they are happy with something that's being created of them, they're proud. When I get done painting, I worry if I'm getting it right and then from there, it's wondering if people will be satisfied. I feel like it's extremely relevant at this point."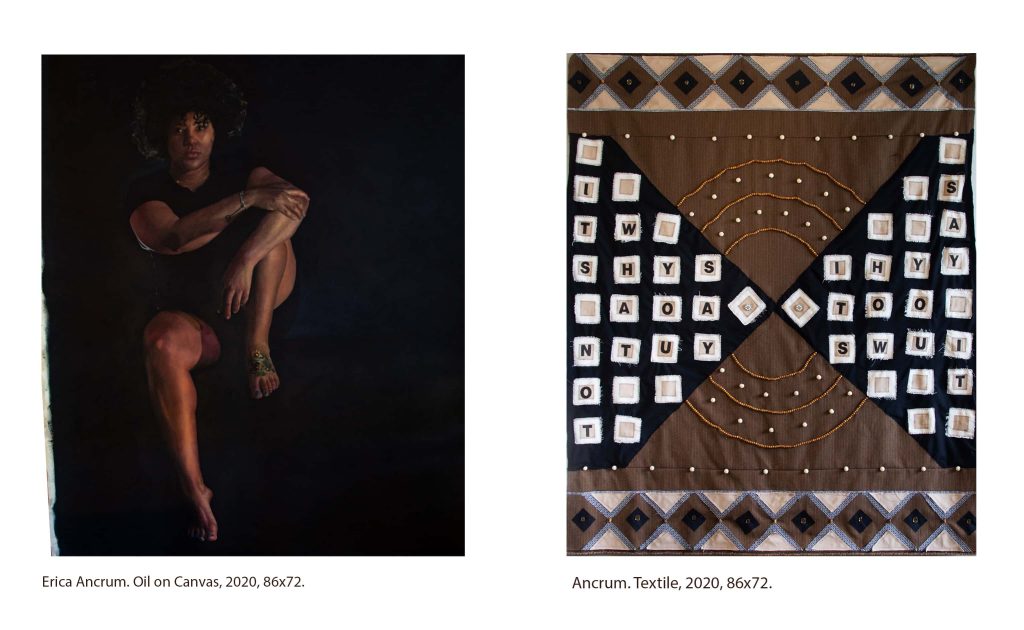 The large-scale, realistic portraits were displayed this spring at the Tufts University Art Galleries.
As a Black artist, McLeod feels it is important to contribute to the conversation about race "because as I continue my studies it remains to be a considerable factor in what I read about African American history, and it continues to play a considerable factor in my own life. It is at the core of where we are socially in America at this moment. It's important for me to contribute."
Art Professor Vu agrees: "Marla is a great example of how committing to the process of art-making, self-investigation and hard work can really pay off. She learned not only the technical skills of drawing and painting, but, more importantly, she found the desire to go deeper and make work that was truly meaningful to her. By doing so, she is contributing her personal voice as a woman of color to a public audience that desperately needs to become more aware of stories from diverse perspectives. I am so happy for all her success and am so proud to have been able to assist her in her growth."
Despite the accolades and recognition, is McLeod at peace with the fact that she left GIS for art?
"Art majors are for impractical people, either your art sells or it doesn't," she says. "For me, it's been, 'How much do I enjoy doing my work, will one person look at it?' I had to get past that naysaying idea about an art career and once you go into it, you will find avenues that are extremely practical. There are teaching jobs, museum fields, and more. People don't realize how much the artistic field affects every other field."
As fate would have it, McLeod will bring her unique perspective back to Southern this fall as an adjunct professor, teaching Art 150 Introductory Drawing. In the position, she'll be able to share her knowledge and perspective with students; as she puts it: "I had a great support system at Southern and hopefully now I'll be doing what professors did for me."
Marla McLeod's work has been presented at Southern Connecticut State University; the School of the Museum of Fine Art; Ely House, CT; City Lights Gallery, CT; Dana Hall School, MA, and ESPN, amongst others. She was the 2014 recipient of the Robert EW Eisele Fine Arts award, and 2019 Will and Elena Barnet Painting Award.