Southern's Buley Library will now be the repository for the papers and related materials of three New Haven mayors, thanks to a fund established by alumnus and attorney Neil Thomas Proto, '67.
Southern had recently acquired the papers of former New Haven Mayor John DeStefano Jr., who served from 1994-2014. The Neil Thomas Proto Mayoral Papers Fund will now see that the university houses documents dedicated to former mayors Biagio DiLieto (1980-1990) and John Daniels (1990-1994).
Included in the Mayoral Papers will be correspondence, special project materials, proclamations, and memoranda such as newspaper articles, photographs, and campaign literature from each mayor's tenure. The archive will also chronicle the mayors' early lives and feature supporting items from individuals who served or associated with DiLieto and Daniels during their time in office.
"As New Haven's public university and consistent with its historically thoughtful relationship with the city, Southern is a natural home for this important archival collection,'' said Proto, who last year established a Scholar and Civic Fund in Law and Social Justice at the university. "I knew both mayors. They made valuable contributions to the civic good and political life of the city long before and during their mayoralty. Their lives warrant this active effort to preserve and chronicle who they were."
The fund will also support a public exhibition of the three collections of Mayoral Papers, sponsored and organized by Southern, and scheduled to be held in 2020.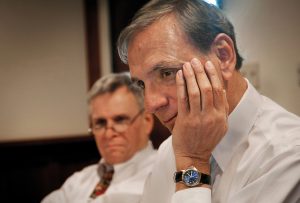 "The exhibit will provide a wonderful insight into the processes of city government and how critical decisions were made,'' said SCSU President Joe Bertolino. "Neil Proto's generosity has helped create an archive of historical and societal significance for the City of New Haven."
Clara Ogbaa, director of Buley Library, has been charged with management of the Mayoral Papers project, aided by librarian Jacqueline Toce and SCSU political science faculty members Jonathan Wharton and Theresa Marchant-Shapiro.
A retired partner with Washington, D.C., law firms, Proto has made his mark in numerous professional fields since graduating from Southern with a degree in political science and history and subsequently earning a master's degree in international affairs and a Juris Doctor degree at George Washington University.
His public service in the United States Department of Justice, counsel to a presidential committee on nuclear power plant safety, and private practice in law includes 45 years of experience in land use, environmental, and federal litigation, as well as teaching assignments at Yale and Georgetown universities.
Widely held as a leading environmental litigator, Proto has represented Native Hawaiians, fought against the construction of highways on civil rights grounds, the unnecessary use of natural resources, and harm to Indian reservations. He also chaired two New Haven mayoral inaugurations and represented the city in its successful battle to stop regional shopping malls.