Senior Princess Bart-Addison was born and raised in the Bronx. But she grew up hearing stories about the Republic of Ghana — her parents' homeland — and, while English is her first language, she also speaks Twi (Akan), one of the more than 250 languages and dialects spoken in the country. In 2018, she paid her first visit to Ghana, traveling alongside her mother who'd left the country more than two and a half decades earlier and was returning for the first time.
Bart-Addison recalls the trip as life-changing; the people electrifying. Children walked throughout the streets selling items to passersby. A young woman carried her child on her back, deftly balancing large packages on her head as she walked through the streets. "Everyone is doing something. There is so much determination," says Bart-Addison. Inspired, she visited an elementary school in Ghana — and, upon returning to the U.S., helped her sister, a high school senior, collect much-needed supplies to send to the students.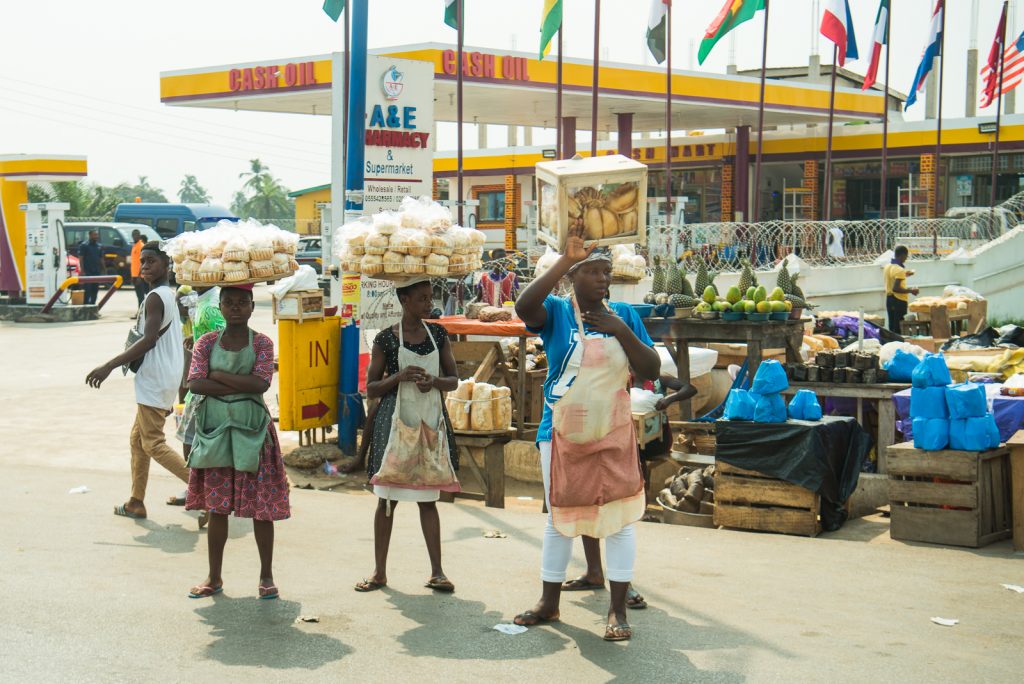 In January 2019, Bart-Addison returned to Ghana, traveling with the university's chapter of Global Brigades — a secular, student-led service organization. Global Brigades has university chapters throughout the world with an overarching goal: to empower volunteers to help resolve global health and economic disparities in communities around the globe.
Founded in 2016, Southern's chapter has quickly attracted members. Bart-Addison was one of 21 Southern students to join the brigade along with a faculty member. "I was so excited to be going back to Ghana. The first time was a vacation. This time was for service. It was a different feeling," she says.
Southern participated in a "public health brigade," traveling to the community of Ekumpoano in Ghana to help local masons build biodigester tanks for use with pour-flush toilets. The work is critically needed. Nationally, 22.9 percent of people in Ghana do not have access to any sanitation facilities (open defecation is the norm) and only 15 percent use improved, unshared sanitation facilities, according to UNICEF.
Global Brigades launched its first public health initiative in Ghana in January 2019, so the Southern students joined the effort on the ground floor. For Bart-Addison, the prospect was simultaneously exhilarating and intimidating. "There was a group before us, so we saw what they had built [a completed biodigester tank]. I remember thinking, 'How are we going to do this?" she says.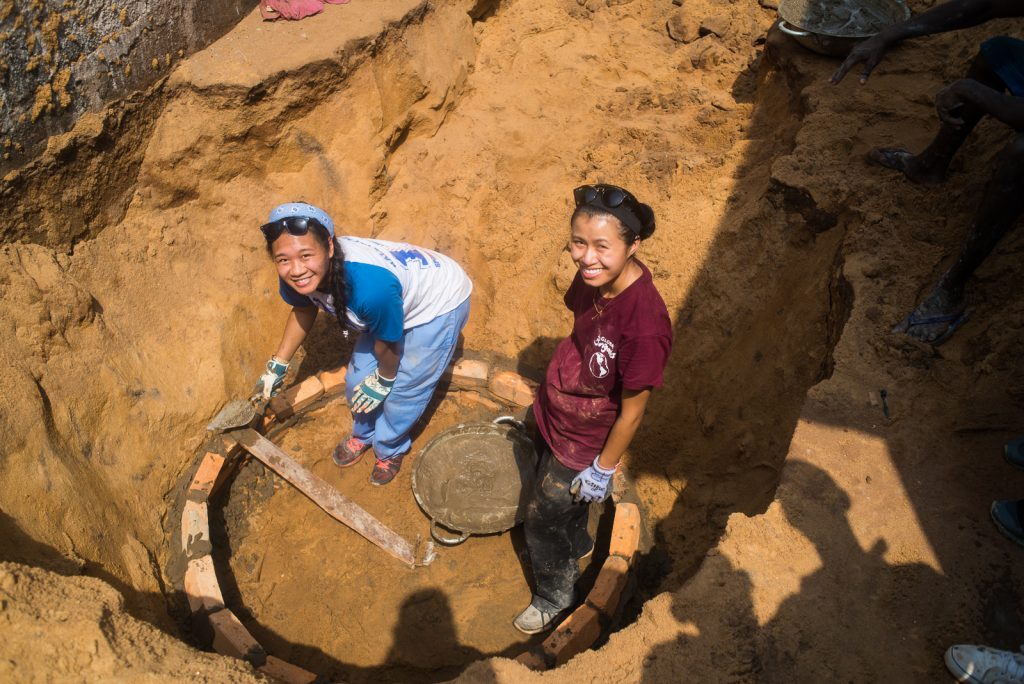 The group began by meeting with families in the community. "We went to their homes to introduce ourselves . . . to ask them about their problems, and learn about their families and their needs," says Bart-Addison. The next day, the students divided into groups of four or five, and were paired with a local mason. The construction techniques were vastly different than in the U.S. "We have machines to mix the cement. Over there, they pour the cement on the floor, add the water, and then turn it with a shovel," says Bart-Addison, who was able to assist her group as a translator.
The students stayed in a modernized hotel, traveling by bus each day to the community. With temperatures rising through the 90s, they worked from early morning through the late afternoon, using cement, cinder blocks, bricks, and sand to help construct the biodigester tanks. "There was so much sand and dirt in our shoes and on our clothes. And we were so tired immediately after, but on the bus ride back we always had enough energy to sing and talk," she says.
Southern's team built five biodigesters. After completing the project, they provided lessons on how to correctly use the systems. They also taught a children's class on hygiene, demonstrating proper hand-washing techniques with a song. "One of my friends wrote it in their language. It was really nice. The children sat in a circle and sang it to us," says Bart-Addison.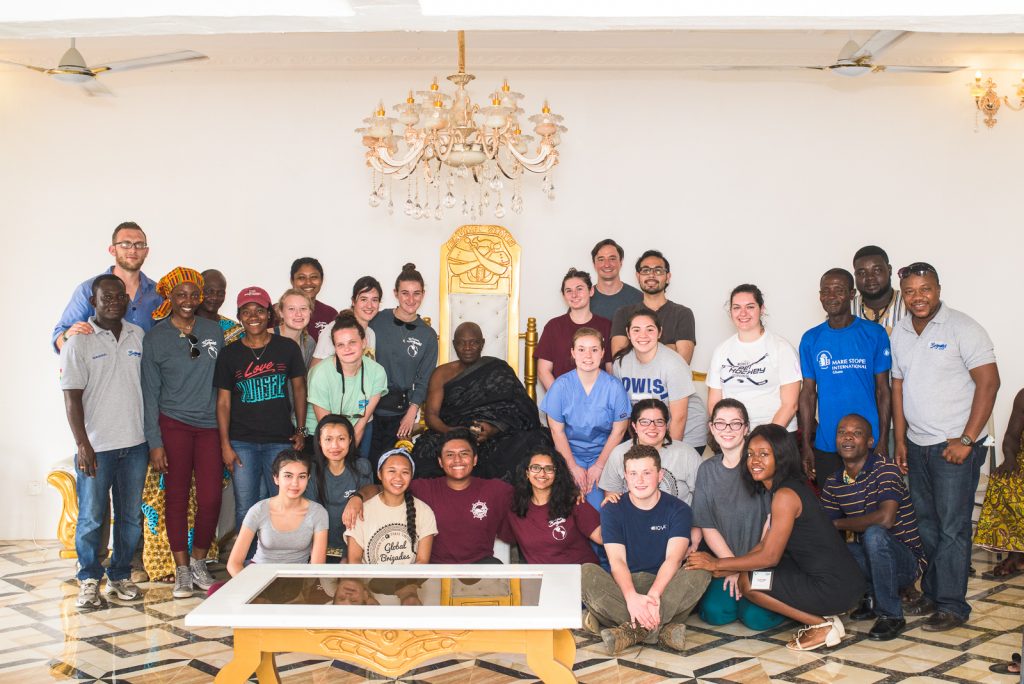 This connection with the community was a high point for Bart-Addison. The group enjoyed trips to several historical and cultural sites — and was invited to meet with the chief at his palace. He thanked the students profusely, invited them back, and even exchanged cellphone numbers.
Completing the project brought an amazing sense of accomplishment and gratitude. "It definitely gives you a great sense of appreciation. I have a toilet that flushes — and I don't think anything of it. But to them, this is probably the best thing that has happened in a very long time. . . . It will make a difference in their lives.They will remember it," says Bart-Addison, with a smile.
As will she. An interdisciplinary studies major with concentrations in forensic science, sociology, and social science and medicine, Bart-Addison plans to work with at-risk youth. She's spent the past three summers as a counselor at Epworth United Methodist Church Day Camp in the Bronx — and also volunteers with KHAIR (pronounced "care"), which serves at-risk youth from New Haven through mentoring and workshops on topics like financial literacy and dressing for success. On campus, she's a vital member of the True Blue Owls team, working within the Division of Institutional Advancement to highlight the importance of giving.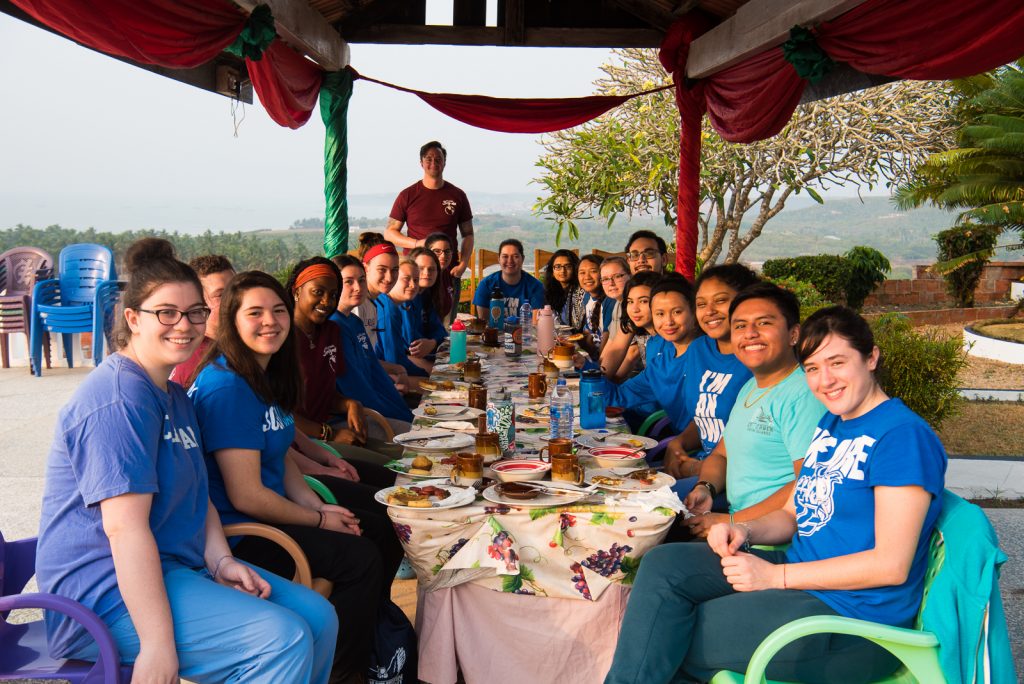 Bart-Addison graduates in May and is looking into service work opportunities. Meanwhile, her Global Brigades teammates have stayed in touch — in person and through social media. "We'll put pictures up. If someone is listening to a song we heard in Ghana, they'll share it with everyone — and it always brings me right back," she says.
Photos by Southern student Brokk Tollefson, a sociology major and journalism minor, who will graduate in May 24, 2019.
See an album of photos from Ghana.