Clara Ogbaa was recently named the university's new Director of Library Services. Ogbaa has been the Director of Library Services at Gateway Community College since 2008 and the Interim Director of Education Technology at Gateway since 2016. Under her leadership and management, the GCC Library experienced tremendous growth and a complete transformation of library services and resources for students. Ogbaa oversaw the successful consolidation of the GCC Long Wharf and North Haven campus libraries' services and collections and moved them into the new state of-the-art downtown college facility. The consolidation improved services and facilities, increased students' information literacy and increased the educational technology skills of students and faculty. As Gateway's representative on the CSCU Council of Library Directors, she was highly involved in the 2017 implementation of the new system-wide library platform;  Ogbaa will remain on the Council, now as Southern's representative.
Ogbaa has presented locally, nationally, and internationally on information literacy and emerging technologies. She is a member of the American Library Association, the Association for College and Research Libraries, and the Connecticut Library Association.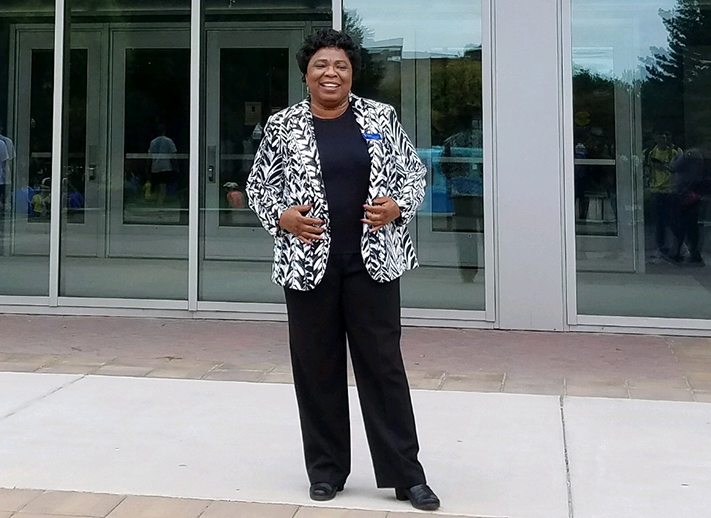 Prior to her work at Gateway, Ogbaa was Administrative Librarian at Texas State University (2004-2008), and Coordinator of Library Instruction here at Southern (1998-2004). Ogbaa holds her Ed.D. in Educational Leadership from University of Bridgeport, and her master's in library and information science and bachelor's in English from University of Texas at Austin.
Ogbaa, speaking about joining the Buley Library team, says that she is delighted to come back to Southern as library director and believes this opportunity at Buley will be an amazing experience. "I am excited about the myriad of opportunities created by extensive study areas, computer stations, makerspace — tools that can help our students think, create, explore, innovate, collaborate, and fulfill their dreams.
"With our beautiful newly renovated library, our library stands as a rich resource for learning, research, and scholarship on campus.  With a team of dedicated, knowledgeable library faculty and staff working well together the library will provide effective services and programs that will positively impact student achievement and success in a welcoming learning and social environment. Some of my goals are to maximize our new space, to effectively collaborate with all the shared resources in the building, and to provide effective access to information sources and services."
Thanks to Rebecca Hedreen, Library Coordinator for Distance Learning, for contributing to this story.
Photo credit: Shirley Anderson