Southern Connecticut State University will soon be the new home for over 3,000 photovoltaic solar panels. The culmination of over two years' planning, the renewable energy project will generate over a million kilowatt hours of electricity annually and will be installed with no capital investment or up-front cost by Connecticut taxpayers.
The Connecticut State Colleges & Universities (CSCU) has partnered with Current powered by General Electric and Connecticut Green Bank to install the solar energy system on the SCSU campus in order to decrease operating expenses. Construction is scheduled to begin in spring 2018.
Solar panels will also be installed at Manchester and Middlesex Community Colleges, with the goal of extending to other campuses including Central, Housatonic, Asnuntuck, Quinebaug, Tunxis and Western in the next two years. The solar energy initiative is funded entirely with private capital sourced by Connecticut Green Bank and once fully implemented is estimated to save CSCU more than $10 million within the first 20 years.
SCSU's panels will be installed in three arrays: as a combination ground mount and carport array in parking lot 9 near Brownell Hall, and a rooftop array at Wintergreen garage. The panels will help power the west side of campus, which largely comprises residential areas and business operations. Eric Lessne is the associate director for project management and engineering for the CSCU system, and has a long track record improving SCSU's energy efficiency. "This is a public-private partnership with Current, powered by General Electric, and the Connecticut Green Bank," Lessne says. "SCSU will purchase the electricity that the solar panels produce with substantial and immediate savings compared to our current utility rate. These solar panels will power about 4% of our electricity use as a campus."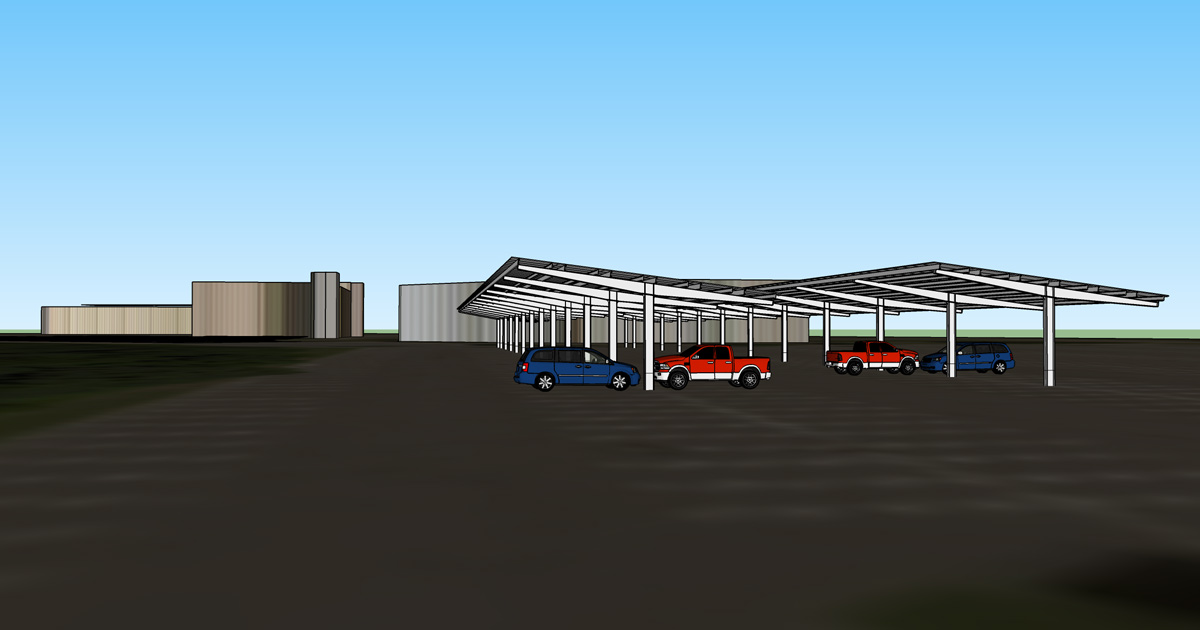 SCSU President Joe Bertolino, who in early summer 2017 signed We Are Still In, joining over a thousand business leaders, university presidents, mayors and governors to support climate action to fulfill the Paris agreement, is very pleased about the project. "Clean renewable energy and social justice go hand in hand," Bertolino says. "There was no question we wanted to do this. We're already planning a second project."
Robert Sheeley, SCSU associate vice president of facilities and capital budgeting, chairs the SCSU Sustainability Committee. "Our partnership with GE and CT Green Bank is a triple bottom-line win for the environment, our campus community, and for taxpayers," Sheeley says. "Ten years ago, we dreamed about projects like this. We're looking forward to breaking ground next year."
Suzie Huminski, SCSU's sustainability coordinator, explains, "We chose sites for this solar project that are best for maximizing energy production and don't compromise other potential land uses or ecological value. Even though our goal is to maximize solar installation, it is just as important to consider ecosystem and community value for potential sites as it is to consider southern sun exposure. We're proud to take such a big step forward with our climate leadership efforts."
SCSU students have been involved in the process as well. Huminski recalls that in 2015, four students worked with her as part of a fellowship funded by Energize CT. Together, the student fellows worked with consultants at Celtic Energy to conduct a campus solar feasibility study. The university was already in early stages of solar planning, and these students got a real-time firsthand view of planning a large commercial renewable project.
Of the four fellows, Huminski reports that Skyler Edmondson, '16, got a job working in the solar industry after graduation, and another fellow, Justin Lipe, M.S. Chemistry, '16, now works at Quantum Biopower, Connecticut's first anaerobic digester located in Southington. The facility converts food scrap to renewable energy and landscape products.
"Anything we can do to make our system and our planet more viable and sustainable in the future is a step we're willing to take," said CSCU President Mark Ojakian of the solar project. "I want to sincerely thank all our partners who worked hard to make this important project possible."
"The CSCU has shown tremendous leadership with this initiative," commented Connecticut Green Bank President and CEO Bryan Garcia. "The Connecticut Green Bank is thrilled to be supporting CSCU's efforts to go green. By not only installing solar energy systems across multiple campuses at once but using private capital to finance the projects, CSCU will be saving significant dollars for the State. And with a high-quality partner like GE overseeing the installations, there is little question these systems will perform and create a win-win-win for all involved."
"This project is a great representation of the potential of solar generation," said Amol Kapur, Current by GE's business development manager for the CSCU portfolio, "CSCU is demonstrating the value of bringing together engineering, technology and finance to support both business and sustainability goals."