It's the last Wednesday in May, and Jason Facey, '14, is flying out of Los Angeles to dance with Gwen Stefani — one of several pop star royalty headlining at Wal-Mart Stores' infamous annual shareholder meeting. As far as hump days go, Facey is having a good one, and his week will only get better. On June 2, more than 14,000 shareholders and guests will pack the Bud Walton Arena to cheer on Blake Shelton, Mary J. Blige, Ne-Yo, The Band Perry, and Stefani — the latter joined on stage by Facey, a lead dancer on her 2016 North American tour. "What kind of life is this! Performing for thousands," says Facey, a quick laugh punctuating his Jamaican accent.
His star is clearly on the rise. Soon after graduating from Southern with a degree in communication and a minor in theatre, Facey came to LA for an internship with the Hallmark Channel arranged by the university's Department of Communication. Since then his career has unfolded like the plot of a feel-good movie. It's a musical, one that begins in a small home in Saint Mary, Jamaica, where Facey was born in 1989. He elaborates: "I was born inside of that house not in a hospital. The entire house is about the same size as two dorm rooms put together. My whole family lived there."
Facey found his passion for performing at an early age. A DJ was playing at a community gathering, and the then 4-year-old talent was dancing his heart out. Gradually everyone stopped to watch. "I remember thinking, 'This is all right!'" he says, before turning serious. "Music and dance were our escape in Jamaica. It took us away from the poverty we were facing."
Facey came to the U.S. at the age of 11 with his older brother, joining family in Hartford.  "It wasn't difficult, but then again it was," he says, recalling efforts to downplay his Jamaican roots. He was held back twice in fifth grade while learning English, but took the momentary set back in stride. "If that hadn't happened, I would not be where I am today," says Facey, who opted to attend Hartford's Classical Magnet school. The challenging college-prep curriculum focuses on the classics and liberal arts in the middle grades and high school — and includes an award-winning theater program.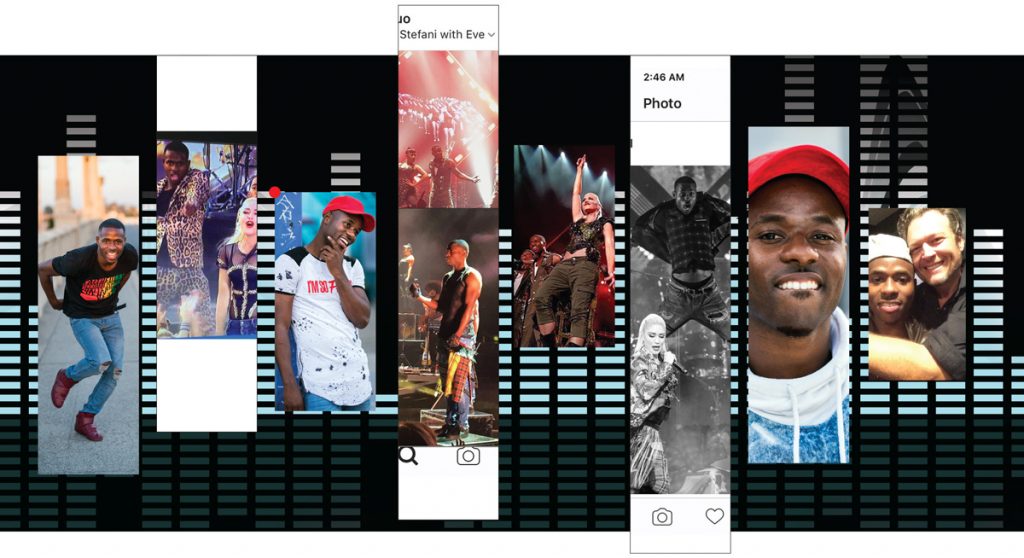 At Classical Magnet, Facey caught the attention of then eighth grade teacher Marydell Merrill, M.S. '08, who encouraged him to try out for the school production of "A Raisin in the Sun." "I tried out because of her, but only for the smallest role —  about five lines," says Facey, who has a speech impediment — a stutter. He got the role and Merrill also named him the understudy for the lead. When said lead was later kicked out of the production, Facey rose to the occasion. "On the day of the show, I figured it out. I don't stutter at all when I act," he says.
Soon after he landed the first of numerous roles in Hartford Stage's summer productions of Breakdancing Shakespeare, which combine the Bard of Avon's works with breakdancing and hip-hop.
Facey applied to Southern at the suggestion of his high school soccer coach, whose brother had attended the university. At Southern, he joined the Crescent Players and continued acting, his first role playing Cassius in "Othello."
Still something was lacking. "I was used to dancing every day, whether at a party or for Hartford Stage. I didn't know dancing was a career choice, but I knew I missed it," he says. In 2009, he teamed up with three other Southern students —Isaiah Lyte, '11, Jesse Kroll, '14, and Muonia Wiley —  to start the university's Symphonic Pulse Dance Company (SPDC). The group, which blends different genres of dance including hip-hop and street-style, is still going strong today.
Facey's internship with the Hallmark Channel was another college highpoint. "It showed me a whole new world. I learned what goes into making a movie — and I learned that acting is what I want to do," he says.
He stayed in Los Angeles when the internship ended, and was working at a city call center when he had an epiphany. "I remember thinking, 'What am I doing here. I have a college degree and I have talent.'" He drew up a list of goals: Get acting and dance agents; work as a motivational speaker; and build the 'So Facey' brand, playing off his surname.
"I see Facey as standing for 'Faithfully Accomplishing Challenges Every Year,'" he explains.
He also kept dancing, letting off steam at Federal Bar, a North Hollywood club that holds throw-back Thursday dance nights. Facey doesn't drink or smoke. He does, however, "dance like crazy," and at the urging of a club friend decided to try out for a video. Then fate stepped in. "The choreographer at the audition was Fatima. The. Legendary. Fatima. She has worked with everyone," says Facey of the famed artist who has collaborated with Jennifer Lopez, Gwen Stefani, Britney Spears, the Black Eyed Peas, Usher, Prince, Rihanna, Kendrick Lamar, Mary J. Blige, and others.
Fatima, named one of Entertainment Weekly's "100 Most Creative People in Entertainment," saw something in Facey, and gave him and the two friends he auditioned with roles in Pharrell Williams' "Freedom" video. It was Facey's big break. He was signed to a major agency; performed at the BET [Black Entertainment Television] Awards and the Video Music Awards; and booked a commercial for Comcast Xfinity.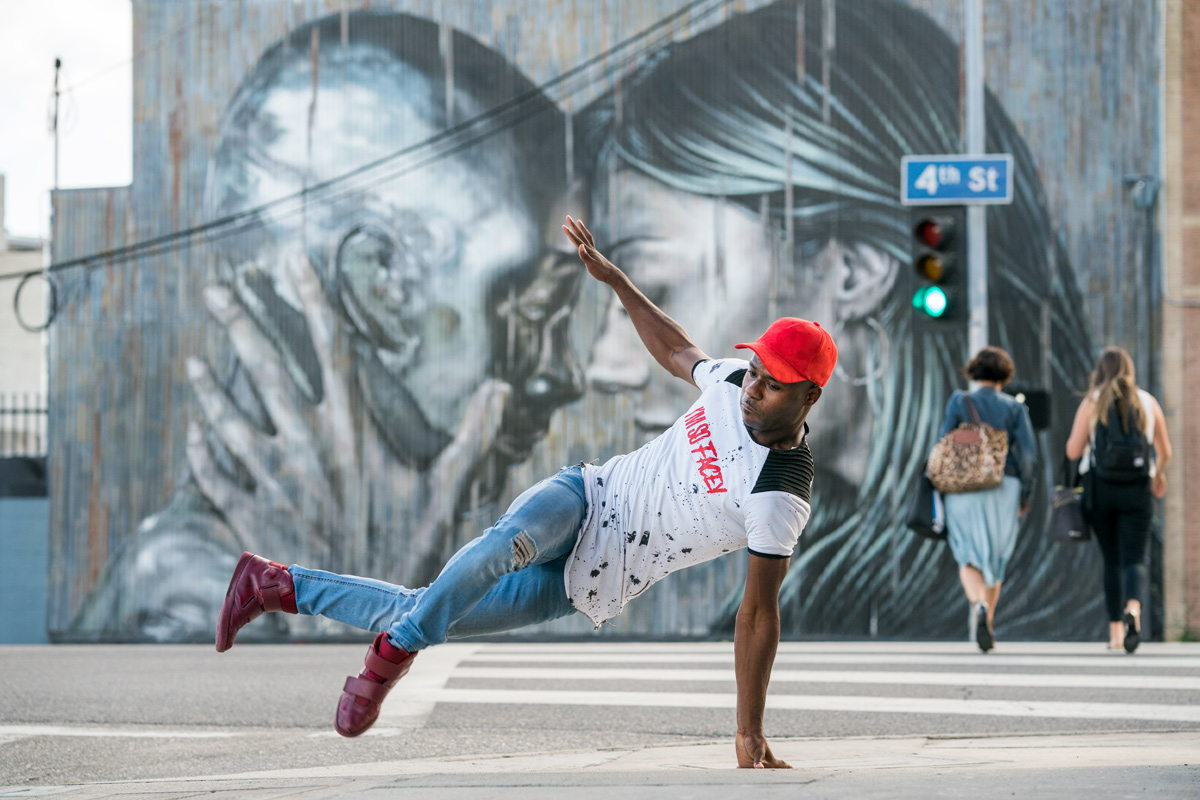 Then Gwen Stefani entered the picture. Facey was signed as a lead dancer in her "Misery" video, and went on to tour nationally with the star, traveling across the U.S. and Canada from July through November 2016. He continues to perform with her as needed and has nothing but praise for his experience on the road with Stefani: "She's an artist in the truest sense — awesome and adorable. She's very talented but also very down to earth. She has spent years working incredibly hard to be standing in the light she's in today," he says.
Facey's own light is shining brightly. In addition to dancing, he hopes to break into acting. "I've used skills gained at Southern in video production to promote myself," he says of a series of short comic skits he's produced. "I've had about 12 go over a million views," he says of the videos, many of which play on his Jamaican roots and dance talents. [Be warned, some are racy and include explicit language.]
He's also moved on to motivational speaking, incorporating dance in his presentations. "I love the idea of being able to inspire somebody the way that I was inspired . . . to do what Ms. Merrill did for me," he says of his former theater teacher.
Facey has reached another milestone, appearing in a national advertisement for Old Navy. In the spot, a traffic light is the site of an impromptu dance party. Facey kicks off the action, launching himself off the front of a car in to the street.
Meanwhile, he continues to dance. In addition to teaching classes, he is studying dance — something the self-taught performer hadn't done before coming to LA. And while nothing thrills like booking a performance with the likes of Alicia Keys, WizKid, and Major Lazer, he says he'll always dance for the joy of it. "I still love it," he says of hitting the club. "It is the only thing I can control 100 percent . . . where no one can tell me what to do. I was always a freestyler."