TEN QUESTIONS FOR: DEANNA SCOTTO, '18
Italian major Deanna Scotto was recently selected for a prestigious internship with the U.S. headquarters of the National Organization of Italian American Women. Scotto has been working this semester in their Manhattan office, doing social media marketing for them, and her knowledge of Italian language was instrumental in her selection for this valuable experience. Erin Larkin, associate professor of Italian, says that Scotto "is the kind of student we would all like to have and would be an excellent representative for SCSU."
We asked Scotto a series of questions about her internship, and her experiences as a student at Southern, and her career goals:
Tell us a bit about yourself.
I am a Junior Italian major (B.A.) with a minor in Communication. My hometown is Meriden, CT, and I attended high school at Mercy in Middletown, CT. At Southern I'm a member of the Honors College, Newman Society, Italianissimi Italian Club and I'm a tour guide!
Tell us about your internship.
I am a digital marketing intern with the National Organization of Italian American Women. While the organization is represented across the country, I work out of the main office in Manhattan, NY. I take the train into the city two days a week.
I first discovered the organization and internship during an assignment for one of my Communication classes, and this semester everything worked out really well with my class schedule so I applied! The internship lasts the semester, with is perfect because I am going abroad for the spring. Most of my work involves keeping our many lanes of communication updated: the website, mailing lists, Facebook, Instagram and Twitter.
How do you balance school and your internship?
I am very fortunate that three out of my five classes only meet once a week, and that all of my classes meet in the beginning of the week. I do most of my homework on the train rides. It's about an hour and 45 minutes each way, so I've got plenty of time to get things done.
What was it about this internship that made you want to apply for it?
I am of Italian descent, and I attended an all-girls high school, so I can really identify with the values of the  National Organization of Italian American. It also was a great way to bring together skills I've learned in my Italian major and in my Communication minor.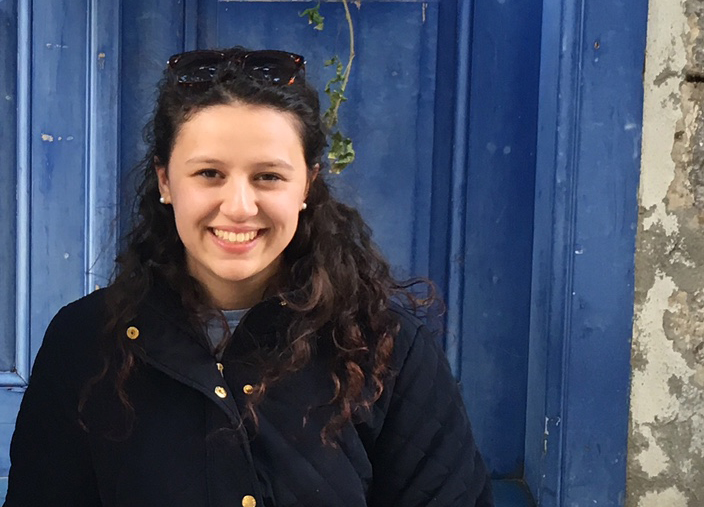 What was your experience with social media before applying for the internship?
Being the former president of the Italian Club on campus, Italianissimi, probably prepared me the most for this internship. Many of the goals of the Club and Organization are the same (although scale is pretty different). Through the club I already had practice engaging our followers and members on platforms like Instagram, Twitter and OwlConnect.
What do you enjoy most about your academic experience at Southern?
The Honors College has really enriched my experience at Southern. My favorite professors have been Honors College faculty, and I really enjoy being part of a tight-knit group of students. I also lived in the Honors College Living Learning Community my freshman year, and it made the transition to college really special.
Have you done any other internships or had any other professional experiences during your time at Southern?
I haven't had any other internships, but I would definitely be open to more opportunities later on. Right now, I'm focused on preparing to study abroad next semester, and beginning my thesis when I return.
What is the most important thing you've learned from your internship?
The most valuable thing I've learned through this internship is all of the resources focused on preserving Italian and Italian American culture. There are so many opportunities to connect with Italian heritage, particularly in the Northeast.  I also have really appreciated the overall professional experience and being the New York City environment.
How is doing social media professionally different from doing it in your personal accounts?
I've found that the primary difference is what type of response you're trying to get. In my personal accounts, it's more of a one-way communication. Professional accounts focus more on getting a response from followers and members and engaging them in comments, retweeting, etc. Your goal is to build a loyal community that with potential of becoming active members in the organization.
What is your ultimate career goal?
Ideally my dream job would be working for an Italian or Italian American cultural organization. I'm open to a lot of different things, maybe in the translation or tourism industries. At the end of the day, my passion is sharing my heritage and promoting Italian American culture.