As a Vietnamese-American whose family came to the United States as refugees when he was very young, Art Professor Thuan Vu knows what it means to be an outsider looking in. Born in Saigon, Vietnam, Vu settled with his family in New Orleans, La., when he was just two years old, and the thematic core of his work as an artist has always been the exploration of his identity.
"As a Vietnamese refugee, I grew up in New Orleans wanting to be a model American citizen," he says, adding that his "misplaced strategy" as a teenager was to absorb all things Western and American. "I was the surely the only 15 year old who was thrilled to learn about the art of Currier and Ives and Thomas Cole . . . and who could happily sing the Great American Songbook by 17 years of age," he says. His interest in the American canon, he says, reveals a love for tradition and its development, and he grew into his Vietnamese-American identity "through the acquisition of cultural knowledge: adopt the tradition, adapt it to my life, and use it to grow."
Vu's latest body of work – a series of paintings called "The New World" — is now on display at the New Haven Lawn Club, 193 Whitney Avenue, New Haven. The opening artist's reception took place at the Lawn Club on Tuesday, November 15. The exhibit is on display and open to the public through December 21.
The recipient of numerous awards and grants, Vu exhibits and lectures nationally. His research has taken him to Vietnam and Paris, where he studies Vietnamese communities worldwide.
"My drawings and paintings document how I grew into my Vietnamese-American identity," Vu explains. "In my work, I reflect on themes of growth, integration, and reconciliation. These paintings combine Eastern and Western traditions of depicting nature to describe a space that is as much emotional as it is physical. These spaces, created through a combination of memories, photographic references, and my own imagination, mirrors the refugee experience of re-creating a sense of home."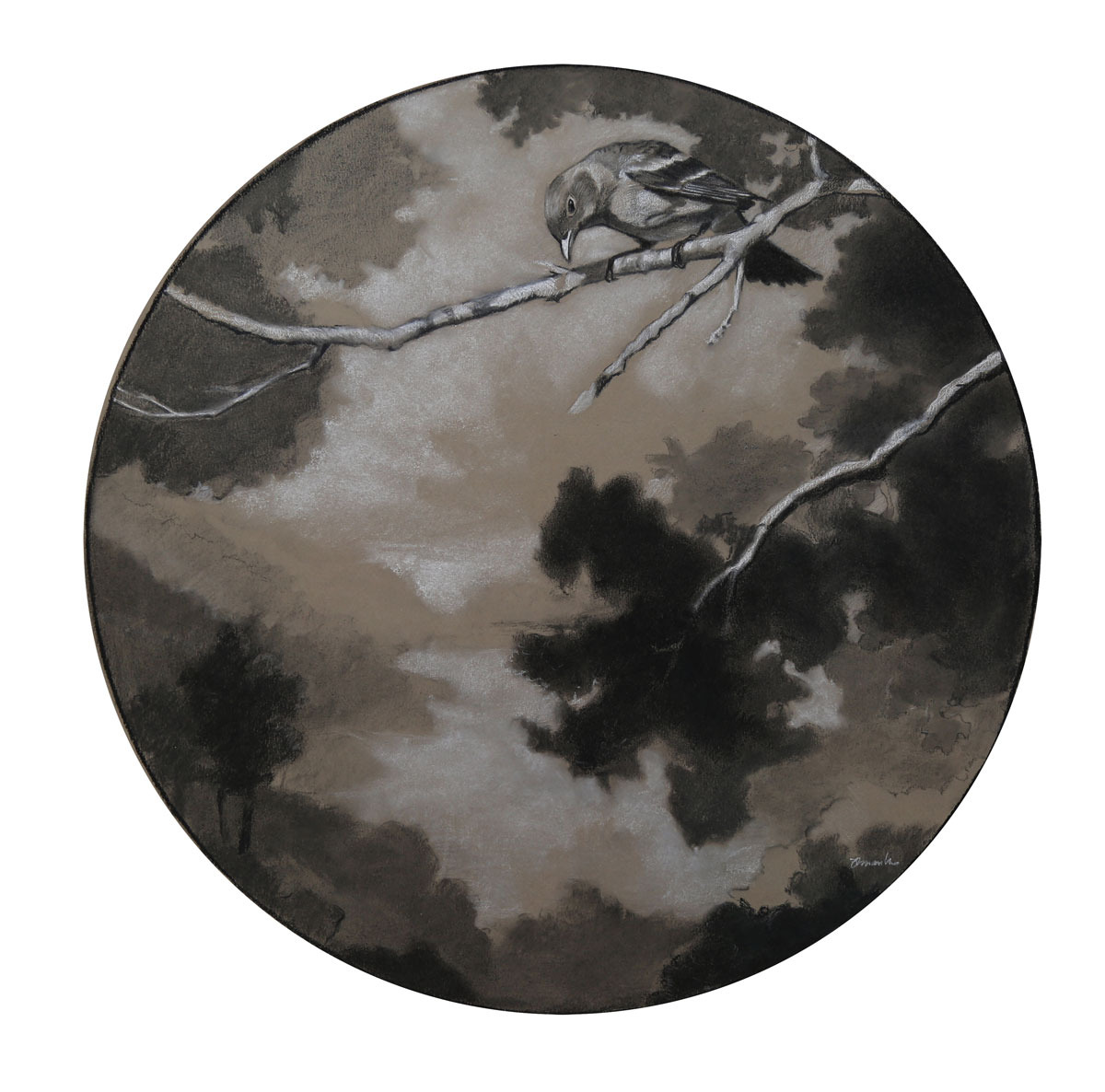 "The New World" is a series of paintings that he began in 2011 and is the latest manifestation of his life as an individual, an American, and an artist.
Vu explains that over his career, his art has traced his process of growth and integration, especially in the exploration of his ethnic heritage since he visited Vietnam for the first time in 2002, 27 years after his family fled the country. In the various series of his work, he has used different visual languages to express the specific thematic content. "I use the languages of the many cultural traditions that I studied in order to express how I navigate my identity," he says.
With The New World series, Vu says, he hopes to evoke the feelings involved in building a new life in a young and innocent America. "Contemplative and hopeful, these paintings share the emotive ethos of early 19th century American painters who went out to discover this new land. I correlate the American experience with that of my parents: Coming to America with seven of their eight children, I imagine their sense of awe, confusion, and hope. I feel their search for a ways to adopt, adapt, and grow. I can picture their appreciation for the opportunity that America represents."
Visually, the work combines Eastern and Western traditions of depicting nature. Elements of Romanticism and abstraction are mixed with an Asian sensibility to create an image meant for Zen-like contemplation.
"In this series," Vu says, "I chose to use nature as the universal constant, the one thing that affects all people, that can create a sense of awe, and that can inspire the mind to contemplation."
The series' name, "The New World," echoes the Vietnamese term for "new world" – "doi moi" — a term coined to describe a Vietnamese age of optimism and open trading in the mid-1980s after the Vietnam War.
"The term recognizes a turbulent history yet optimistically accepts change," Vu says. "In this series, I depict overlapping natural elements in ambiguous perspectives to create an unexpected space. This space — which is as much emotional as it is physical — can be at once thunderous, ethereal, and peaceful. It is the visual expression of the complicated, and often confusing task of building a new life faced by many refugees. Nature is used to mirror this journey and is depicted in numerous ways, from the sublime to the minute, from the literal to the abstract. In its variety, it expresses the non-linear task faced by us all in building a sincere sense of self and a true sense of home."