Lin Featured by National Women's Studies Association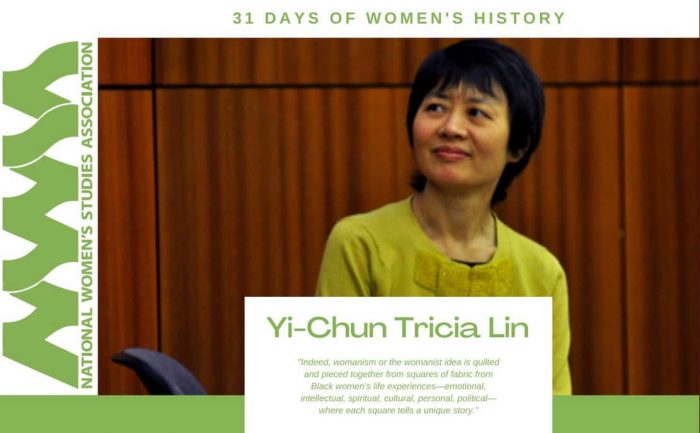 Yi-Chun Tricia Lin, director and professor of Southern's Women's & Gender Studies Program, has been honored by the National Women's Studies Association (NWSA) as part of its "31 Days of Women's History Month." Lin was featured on the NWSA's Facebook and Twitter.
A 17th-generation daughter of Taiwan, Lin traveled from her native island to pursue a doctoral degree in continental philosophy and theory. In the process, she found herself home in ethnic studies and women's studies. Her dissertation, a study of Asian American women's cultural and literary productions, was her first step away from her Euro-American-centered education. Since her doctoral days, her research and teaching have gone intensely ethnic, feminist, and post-colonial. Among her recent projects is a comparative cultural studies of Indigenous and diasporic women's writing from the Caribbean and Pacific islands. Before joining the Women's Studies faculty at Southern in 2004, Lin taught writing and literature and Asian American literature at City University of New York/Borough of Manhattan Community College from 1994-2004, where she discovered her passion for teaching for liberation of all minds and found her calling in struggle for peace and justice.
Commenting on the NWSA recognition, Lin said, "It's a tremendous honor, to be in the company of incredible feminists/warriors such as Grace Lee Boggs, Madonna Thunder Hawk, Angela Davis, Beverly Guy-Sheftall, Kimberlé Crenshaw, and Barbara Smith."