The National Science Foundation (NSF) has awarded Southern Connecticut State University a five-year, $3.2 million grant designed to recruit, retain, and graduate students currently underrepresented in science, technology, engineering, and mathematics (STEM) disciplines. Part of the industry-renowned Louis Stokes Alliances for Minority Participation (LSAMP) program, the goal of the award is to support efforts that diversify the nation's STEM workforce by increasing the number of STEM baccalaureate and graduate degrees awarded to students of color.
"Southern is a community of diverse scholars, both at the faculty and student levels, and our location in New Haven is one of the greatest cultural and professional hubs in Connecticut – especially for STEM careers," said Dwayne Smith, interim president of Southern. "We're very excited that this partnership will open so many opportunities for diverse scholars to continue in these fields, which will in turn serve critical regional and state workforce needs."
As the lead institution for the Nutmeg State LSAMP, Southern will partner with faculty at its three sister institutions – Central, Eastern, and Western Connecticut State Universities – to target the three major causes of attrition in STEM fields: success in mathematics and other gateway courses, financial need, and sense of belonging. Funding for the first two years of the five-year grant will be awarded October 1, 2023, and renewed annually in 2025, 2026, and 2027.
Robert Prezant, provost and vice president of academic affairs at Southern, is the project's principal investigator. Co-principals include Therese Bennett, professor of mathematics, and Klay Kruczek, assistant chair of mathematics, at Southern; Kim Ward, professor of mathematics at Eastern; and Steven Minkler, dean of the School of Engineering, Science, and Technology at Central. 
"Our collaborative team across the Connecticut State Universities knew what the goal was, knew how the award would assist tomorrow's STEM scholars, and worked diligently and with purpose in mind to ensure that the Nutmeg LSAMP would prove successful," said Prezant. "This grant will have a remarkable impact on hundreds of our student scholars, giving them opportunities to grow, explore, and learn and ultimately thrive in STEM careers." 
Southern is the third higher education institution in Connecticut to be named a principal investigator for an LSAMP award. In 2021, the University of Connecticut received $2.5 million, and in spring 2023, Housatonic Community College received $1 million as primary institutions for their respective alliances. An estimated $10 million is available for new awards from all LSAMP funding opportunities annually. 
"The LSAMP closely aligns with our university mission and is especially significant in the Mathematics Department, where we would like to increase academic supports to STEM students in their gateway courses," said Kruczek. "We are committed to assisting underrepresented minorities in the building of their sense of identity within STEM."
The NSF award is the largest collaboration in STEM to date among the four CSUs and has the potential to impact a large number of Connecticut undergraduate students, since the majority remain in the state after graduation, said Bennett.
"By collaborating and learning from each other, the CSUs can make faster progress towards implementing programs that work to retain and graduate students in STEM. Since this is also one of our goals at a system level, the award is a perfect fit," she said.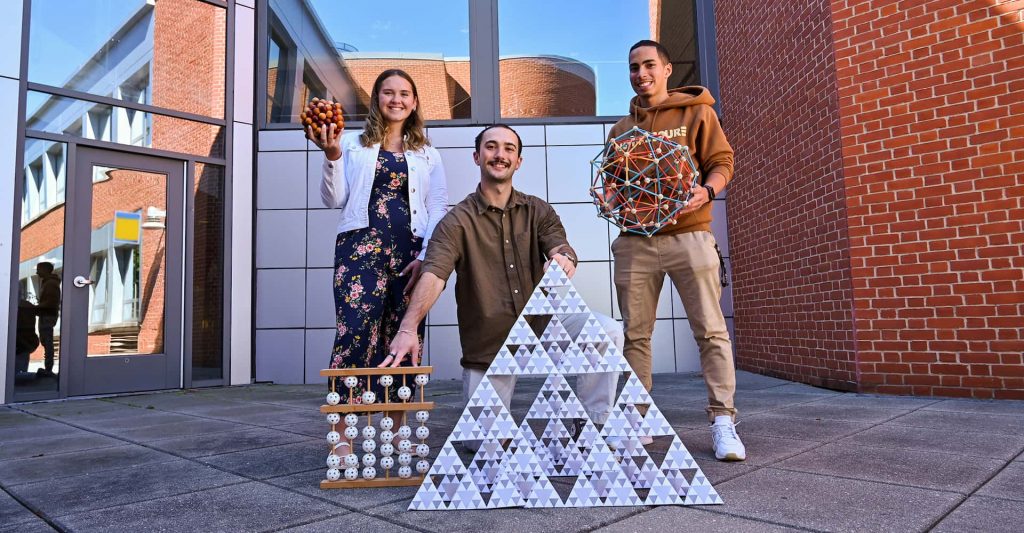 Each CSU has been charged with recruiting an inaugural cohort of LSAMP scholars to participate in a series of activities at their enrolled campus, including a two-week residential summer bridge program, a first-year seminar, faculty-student research, peer tutoring, and mentorship. Students will also be introduced to industry partners with a goal of being matched eventually to paid internships.
"I am so grateful to the faculty from across our system who came together for this initiative," said CSCU Chancellor Terrence Cheng. "I especially want to thank Interim President Dwayne Smith for his diligence and leadership. This NSF award recognizes the value and effectiveness of our system's efforts to expand education, especially for historically underrepresented students. We are proud that the work of our faculty and our institutions will help to diversify the nation's workforce in high demand STEM careers."
Program results will be shared with feeder community colleges and high schools to better inform and prepare students before they come to undergraduate STEM programs. Deb Risisky, professor of public health at Southern, will serve as the lead evaluator on the grant and will oversee the analysis and reporting of data for all four CSU campuses.