From playing in nearly empty rooms to gracing the same stage as iconic bands like the Red Hot Chili Peppers, the journey of Julai and the Serotones — a band formed at Southern — is nothing short of remarkable. Rhythm guitarist William Durant, '19; trumpet player Tom Pelton, '20; and tenor saxophonist Keegan Smith, '22, will be performing at the Sound on Sound music festival in Bridgeport, Conn., on September 30. The three alumni share their experiences, advice for the next generation, and what it means to represent Southern with pride. Their insights offer a glimpse into the world of college life, the pursuit of musical dreams, and the lasting impact of Southern on their lives. Another Southern alumnus, Pete McEachern, '19, also a member of Julai and the Seratones, was unavailable for this interview.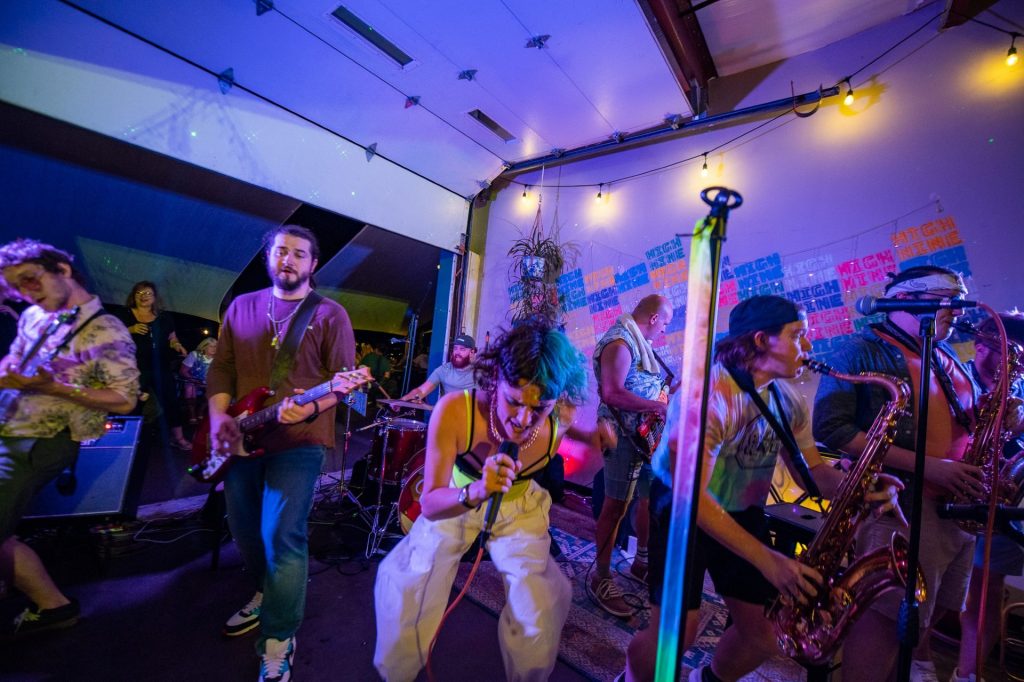 What does being a part of Sound on Sound mean to you?
William Durant: It means it wasn't about knowing someone but about the hours of dedication and hard work we put into our craft. We got this opportunity because we had worked with others in the past, showing up on time and fully prepared.
Keegan Smith: Well, what it means to me is that I'm surrounded by people that that really do value continued success and not being stagnant. And it just makes me immensely proud to be a part of this.
Tom Pelton: It feels like the last chapter of a book we've been writing for a long time, a culmination of hard work from everybody. We've had gigs where we have more people on stage than we have people in the audience, and that's changed so much since our college days.
How does it feel to share the same stage as legendary bands like the Red Hot Chili Peppers and other well-known artists at a major music festival?
KS: Sharing the stage with the Red Hot Chili Peppers is surreal. They're iconic, and it's an honor to perform alongside them. The festival lineup is stacked with amazing artists, making it even more incredible.
WD: It's surreal for me. I started playing bass because of bands like Red Hot Chili Peppers. They're icons, and it's a once-in-a-lifetime opportunity.
TP: It doesn't make sense, even after eight months of processing. I need more time to comprehend it.
How do you believe you represent Southern Connecticut State University well, and what values or experiences from your time at Southern have influenced you?
WD: I represent Southern through my values and actions. Southern's focus on social justice aligns with my geography background. Also, New Haven's cultural diversity and culinary scene make it a great place to represent.
KS: We represent Southern well through our diverse musical backgrounds and the cultures we bring to the group.
TP: I would say in terms of differentiating myself, like in terms of what I do, because when I first got to Southern I was very much like in my own box. So that encouraged me to take risks but also to go headfirst into it musically.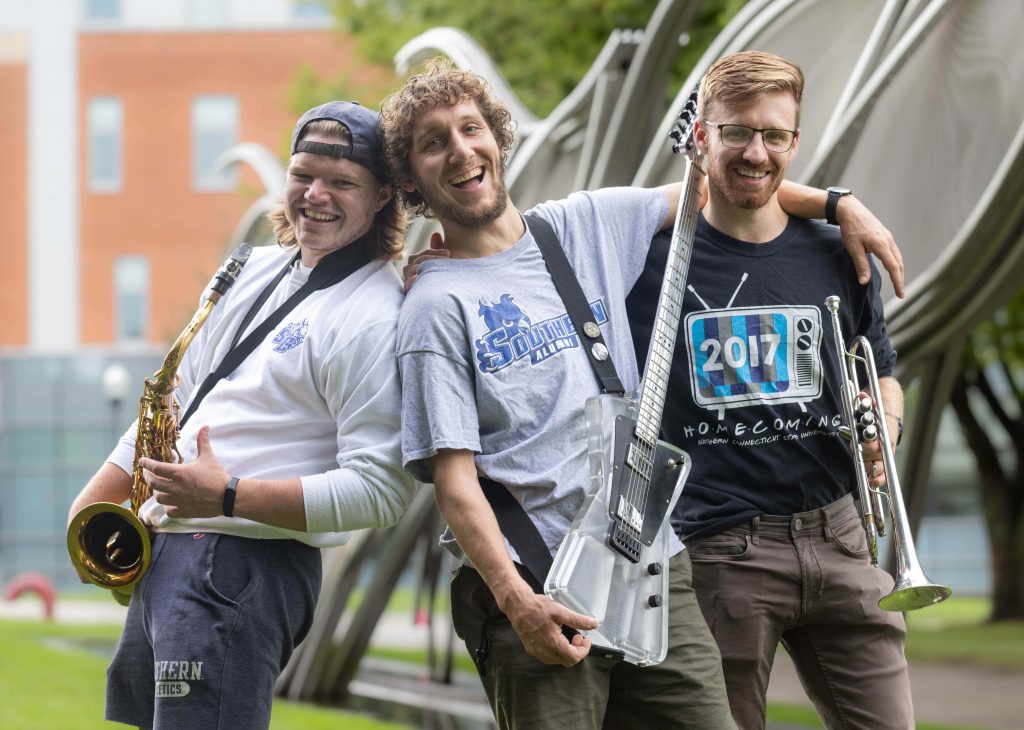 How would you say that Southern has prepared you for the future you have now? Whether it's in music or out of it?
TP: I owe a lot of who I am to Southern's fostering of all my interests, especially [Music Professor] David Chevan, who definitely deserves his flowers, because now doing the band, I can do music and I dance around on stage. And I bring a lot of my theater background to it. And that's the biggest thing that I contribute to the band is not the music but it's the watching and high energy, physical physicality.
KS: Shout out David Chevan. When I was nervous about auditioning for Jazz Band, he was like, yeah, just sit in and then we'll see. And I liked it, and I met Tom. And you know, the rest is history. So I have Southern to thank for this whole thing. Because they know this. It's because of this school that I met extraordinary people that I really enjoyed playing music with.
WD: The teachers in the Music Department surely having been gigging musicians themselves in one form or another, be it with like a comp, a music company, or just solo gigging– they would all be very helpful — especially David Chevan.
In conclusion, how would you like to inspire the next generation of students at Southern Connecticut State University?
WD: Inspire them to take their time, not rush, and enjoy the journey. College is a place of opportunities; if you're present and do things for yourself, those opportunities will come.
KS: Hold yourself to a higher standard but don't act like it. Strive for greatness, but have fun along the way.
TP: Encourage them not to judge their past and to keep an open mind. College is about growth, exploration, and embracing new experiences. Be excited about the journey ahead.
Chevan, commenting on the success of the three musicians, said, "I enjoyed teaching and working with Tom, Keegan, and Will while they were students at SCSU. They were all strong musicians and engaged with the SCSU ensembles." He added, "It was clear even then that they had a lot of potential and it's been great watching them as they've continued along this path well beyond graduation. What they're doing now with this group is just the beginning of what I hope will be three very fruitful musical careers."