When Madi Day learned they had received a Fulbright Visiting Student Researcher Scholarship, they knew that finding a university in the United States would be part of the plan. Day, a trans Murri scholar-activist completing their Ph.D. in coloniality, heterosexuality, and gender on Dharug Country, Sydney, Australia, ultimately chose to pursue their research while based in Southern's Women's & Gender Studies Department (WGS).
The Fulbright Program, a flagship international educational exchange program sponsored by the U.S. government, is designed to build lasting connections between the United States and people of other countries. Each year roughly 900 faculty and professionals from around the world receive Fulbright Scholar grants for advanced research and university lecturing in the United States.
"I am honored to have received the Fulbright Sir John Carrick Award for New South Wales," Day said. They are undertaking their Fulbright scholarship until December 2023 on the unceded lands of the Paugussett and Quinnipiac peoples, where the Southern campus is located.
Hailing from the Wallumattagal Campus at Macquarie University, Day explained how they came to choose Southern as their base of operations for their Fulbright research.
"I was invited to Southern by Dr. Yi-Chun Tricia Lin [WGS chair], who is a world-renowned transnational feminist famous for anti-colonial approaches and Indigenous solidarity," they said.
In addition to Lin's reputation as a women's and gender studies dynamo, Southern's long history in women's and gender studies also attracted Day, as Southern was among the first universities in the U.S. to offer a women's studies program, beginning in 1971.
"I was very attracted to women's and gender studies here because it's not often you find a gender studies department with someone from the Global South at the head of it," said Day.
Lin is equally pleased that Day has chosen Southern as their base during their Fulbright. She said, "Madi's presence signifies for us in every way Southern's work towards excellence, providing this beloved learning community with the gift of powerful Indigenous feminist energy for justice from some 10,000 miles away from New Haven. Their prolific activist scholarship about Blak politics and decolonization from a queer, Indigenous perspective speaks to Southern's aspiration to be a social justice institution."
Lin adds that "Madi's Fulbright echoes powerfully Senator J. William Fulbright's first articulation on the 'modest' proposal of establishing an international scholarship program, now known as Fulbright the world over," and goes on to quote Sen. Fulbright:
"'Fostering these – leadership, learning, and empathy between cultures – was and remains the purpose of the international scholarship program … '"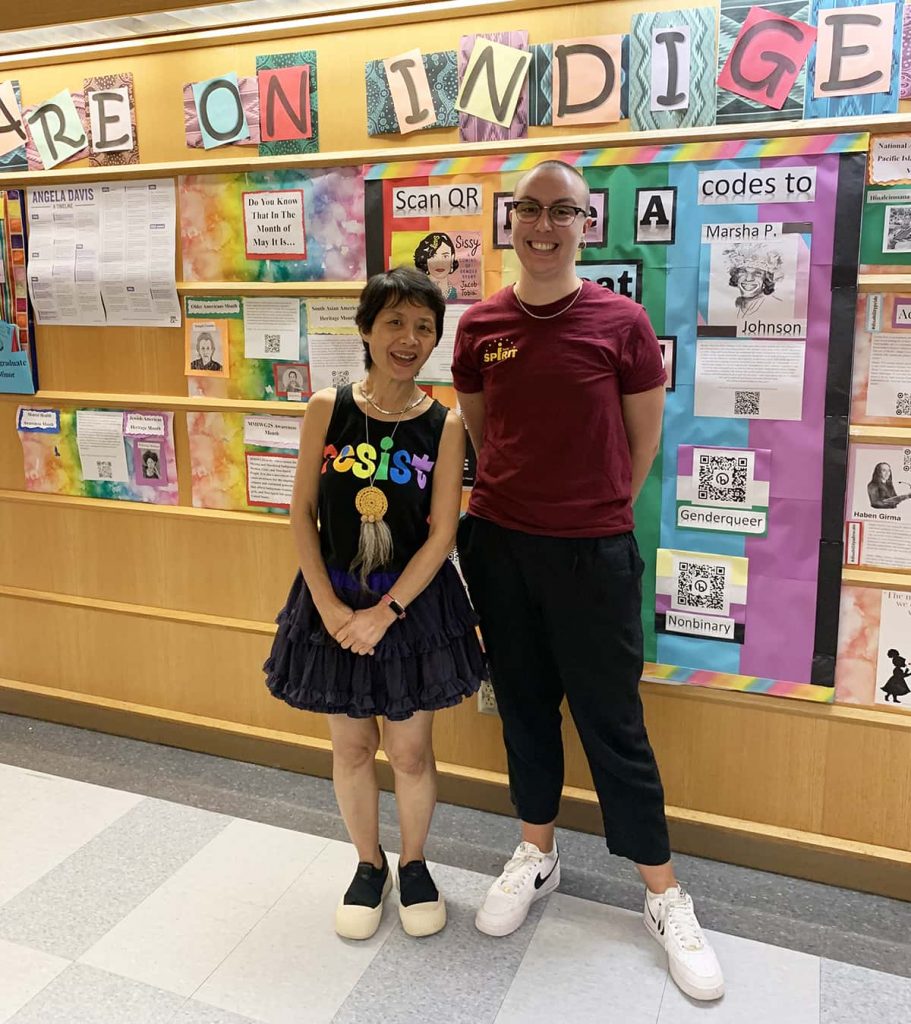 Indeed, Day hopes to enact change with their research by focusing on anti-colonial feminism and trans scholarship to serve Indigenous futures. According to Day, it is clear from ongoing political, environmental, and economic crises that settler governance and land management systems are not working, and the abolition of colonial systems and the harm they cause are the top priorities of this research.
Pointing to the work of their predecessors in the area of anti-colonial research, Day said, "My scholarship is an extension of the work undertaken by Indigenous feminist, trans and queer scholar-activists globally. Change is coming, and I adamantly believe in the power of anti-colonial education towards this end."
When describing how crucial SCSU is to their journey, Day illustrated how their way of thought has evolved thanks to the Southern community.
"Finishing my Ph.D. with the Women's & Gender Studies at SCSU under the tutelage of Professor Lin has expanded my scholarship to include great feminist thinkers from other occupied nations, including Native American, Black, Palestinian, and Native Hawaiian scholars," Day said, adding that they have learned much from WGS students, "whose passion and hunger for change, for a better, more just world will inspire me for the rest of my career."
Furthermore, Day's research is essential not just to women's and gender studies but also to Black and Indigenous Studies more broadly, especially since their community on Dharug Country, Sydney, Australia, inspired them to pursue this higher-education degree.
"I hope that my being here will be able to equip more Black and Indigenous students to think about Fulbright Scholarships," said Day.
So far, Day has enjoyed their time at Southern, as they have found it a warm and connected community, making it a delightful experience.
"I think I've so far been really charmed by the student population at Southern. It's so exciting to be in classrooms with students as they start to see their world open up when they see or hear new possibilities or when they learn about things like feminist theory or transgender activism, especially on a global scale," said Day.
Note: Day will give a public lecture to the campus community — entitled "Blak Thinking on Colonial Powers" — in Engleman C112 on October 19, 3-5 p.m., and a talk to WGS 500 — entitled "Feminist Theories and Practices" — in Engleman B118 on November 15, 5-6:15 p.m.