The university's celebration of its new School of Business building culminates in a ribbon-cutting ceremony on Friday, Sept. 15, 2023, at 10 a.m., with a keynote address and performance headlined by Jeffrey "Skunk" Baxter, Grammy Award winner and an expert on innovative thinking.
Located on the corner of Wintergreen and Farnham Avenues, the four-story, 60,000-square-foot structure will provide a launching pad for expanding the school's offerings and developing new partnerships with the business community.
"Our new School of Business building serves as an edifice of learning, scholarship, and innovation," said Dean Jess Boronico. "We nurture leaders for the future and embrace the wealth of collaborative learning spaces in the building that will facilitate and encourage this initiative."
In addition to amplifying offerings and partnerships, the new School of Business building serves as Connecticut's first net-zero structure in terms of carbon footprint – powered by energy from nearby solar panels. The building is heated and cooled by geothermal wells.
"Planning for the new School of Business building began with the master plan back in 2015 just as a conventional building," said Eric Lessne, associate vice president for capital budgeting and facilities operations. "Around 2018 it was determined that this building would be super energy-efficient and the decision was made that the School of Business should be net-zero."
A net-zero energy building produces enough renewable energy to meet its own annual energy consumption requirements, thereby reducing the use of nonrenewable energy, according to Lessne.
"Coupled with other energy-saving systems, we're proud to pioneer state-owned net-zero standards at Southern Connecticut State University," said Lessne.
"With AACSB accreditation, a premier mark of quality that is held by only five percent of schools worldwide, as well as this new state-of-the-art facility, Southern's School of Business is well-positioned to make an immediate impact, both academically and in the community," said Interim President Dr. Dwayne Smith, Ph.D. "I look forward to seeing students, alumni, and community and business leaders come together in this space to innovate, collaborate and work toward the betterment of Southern and the region."
The new building includes nine general classrooms, as well as several specialized classrooms and lecture halls.
It also features:
a behavioral lab area with an observation room
a community room that can seat 100 people
a large classroom and administrative suite for the MBA program
an area designated for financial market and data analytics.
"Here we celebrate the human endeavor to excel and make a difference," continued Boronico. "Preeminence, Distinguishability, and Inspiration. We will settle for nothing less, both for our community and our students, and this building defines one pathway towards this vision."
---
About Jeffrey "Skunk" Baxter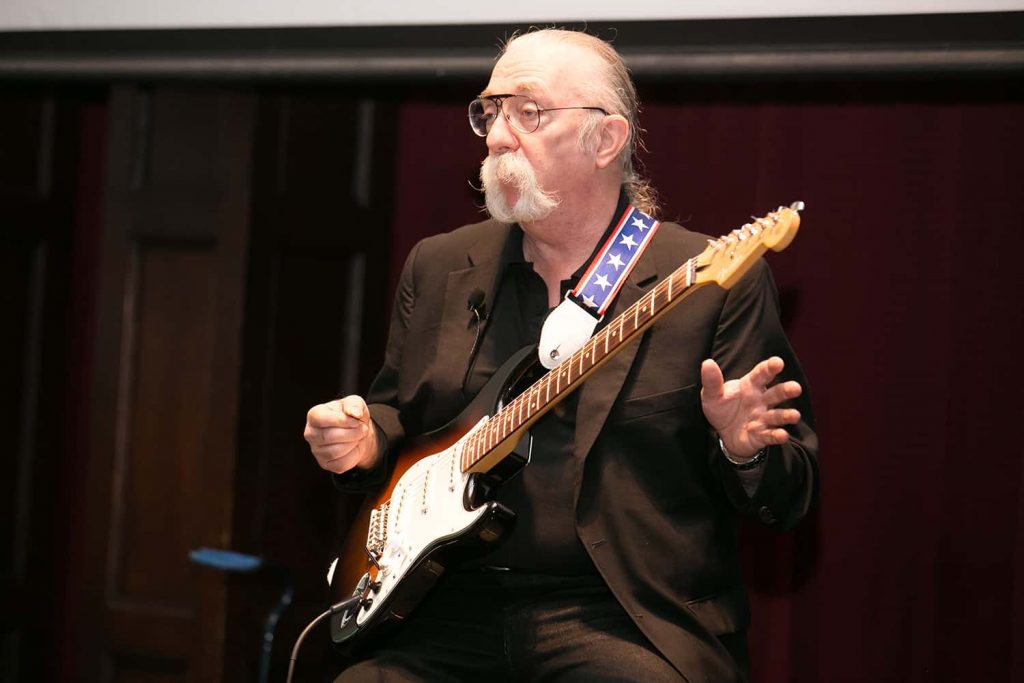 Jeffrey "Skunk" Baxter has had a long and successful career (18 Gold and Platinum albums, two Grammys) in the music and entertainment field as a founding member of the group Steely Dan; a Grammy-winning guitarist with the Doobie Brothers; as a record producer for such artists as Carl Wilson, Nazareth, and The Stray Cats; and studio musician for hundreds of recordings.
Baxter brings his creativity and passion for music to his work today, generating and crafting an unconventional set of ideas, concepts and methodologies that have been recognized as highly effective game-changers for the business and student groups that he advises.
He is a Senior Fellow and member of the Board of Regents at the Potomac Institute for Policy Studies, a member of the Director's Strategic Red Team at MIT/ Lincoln Laboratories, a consultant for the Global Security Sector of the Lawrence Livermore National Laboratory, and a Senior Thinker for the Institute for Human & Machine Cognition, as well as holding consulting agreements with SAIC, Northrop-Grumman, Parsons, RadiantBlue Technologies and PricewaterhouseCoopers.
He was a Specialist Reserve Officer with the Anti-Terrorist Division of the Los Angeles Police Department for 15 years and a founding member of the Terrorism Early Warning Group, Los Angeles Sheriff's Department. Baxter has appeared on CNN and Fox News and written on the subjects of national security and technology for the Wall Street Journal, Forbes, Wired, and Money magazines.
---
Construction Team
Architect
Oak Park Architects, LLC (OPA,llc), located in West Hartford, Conn., is a comprehensive architectural practice with projects in Connecticut, New York, and the Greater New England area. Founded in 1984, the firm has been offering a full range of architectural and planning services, including feasibility studies, architectural design, interior design, construction document preparation, budget preparation, and contract administration. The practice's 30-year portfolio includes housing, education, office, medical, commercial and industrial buildings and complexes.
Designer
For more than 60 years, Sasaki has brought together the best of architecture, interior design, landscape architecture, planning, urban design, civil engineering, graphic design, place branding, and data science to shape their clients' needs. Out of their Boston, Denver, and Shanghai offices they are defining the contours of place and redefining what's possible along the way. Today they are a diverse practice of 300 professionals who share a singular passion for creating spaces and places around the world that prove human potential.
Construction Manager
Founded in 1947, Jacobs Engineering Group Inc. of Wethersfield, Conn., is an American international technical professional services firm. The company provides technical, professional, and construction services, as well as scientific and specialty consulting for a broad range of clients globally, including companies, organizations, and government agencies. Jacobs has consistently ranked No. 1 on both Engineering News-Record (ENR)'s 2018/2019/2020 Top 500 Design Firms and Trenchless Technology's 2018/2019 Top 50 Trenchless Engineering Firms.