A cultural immersion and enrichment experience brought six students from Southern's University Access Programs (UAP), along with UAP Director Dawn Stanton, to Puerto Rico in January.
This trip brought students closer to centuries of culture and tradition in Puerto Rico, as well as beautiful beaches, incomparable ecosystems, and Creole cuisine.
Below is an interview with Valamae Jenkins, '23, a social work major who traveled with UAP to Puerto Rico.
What inspired you to take this trip?
I sat down with a few of my mentors and asked them about their experiences and how it changed their outlook on life and the world. Just hearing about their wonderful stories made me interested in studying abroad. Since I am a senior and I'm graduating soon and I'm a first-generation student, I wanted to experience the same thing and start my senior year with a bang. I am so glad I was awarded this opportunity and wish other students get the same chance.
What was your favorite part of the experience? What surprised you?
My favorite part of my whole experience was traveling through the largest block of public land in Puerto Rico. El Yunque National Forest is a tropical rainforest in northeastern Puerto Rico. I am a person that loves taking risks and enjoying new adventures, so the tropical rainforest was just right for me.
I was able to climb rocks in the rain and explore all that nature has to offer which was very amazing. The second part of the rainforest had us jump off a cliff, slide down a natural rock waterslide, and rope swing into the water. I told one of our tour guides, John, how I couldn't swim and he put a life vest on me and he made me feel very comfortable with holding my breath underwater. He guided me through the experience from beginning to end, he had me practice holding my breath underwater. Before this experience, I was scared of drowning and having water cover my face.
Having him and Dawn do the activity before me I was able to follow their lead and I felt comfortable with facing my fear. I am so glad that I went and I experienced that and I can't wait to go back again. I was surprised by how open I was to explore something new, for a long time I would find any excuse to not be in the water in a swimming capacity. I had a fear of water and wanted nothing to do with it. So just for me to jump into the water and not panic and be comfortable with change was such an eye-opener.
Is this the first time UAP has made a trip like this?

UAP hosted a trip in March of 2018 for 8 students to go to Bermuda. In 2020, a trip to Puerto Rico was planned, and the pandemic hit the day the group was supposed to leave. A third trip is planned for 2024!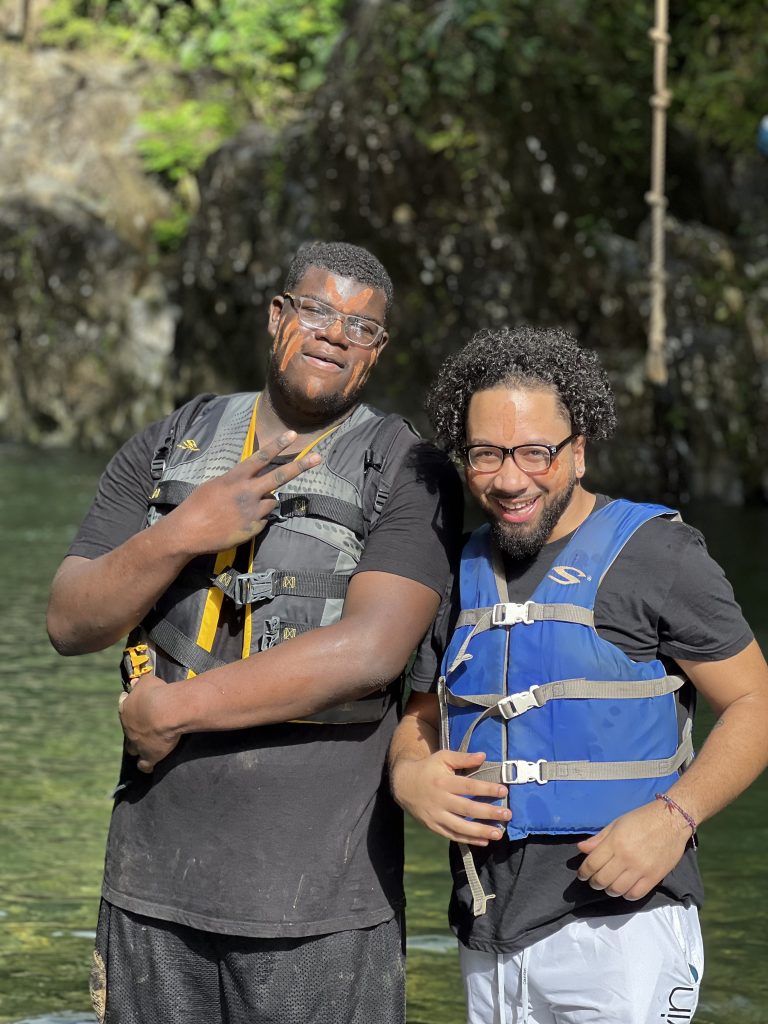 How did your major influence your decision to travel abroad?

I am a social work major so I was mainly focused on the well-being aspect of people in Puerto Rico. I had some questions about how families and individuals are adjusting post-pandemic. For example, in what ways have they been affected socially and emotionally? In what ways were college students affected? How were the elderly and small businesses affected during the pandemic?
When we went on a tour of the University of Ana G. Mendez they touched on how Hurricane Maria created a food shortage, and then three years later the pandemic hit, which increased their food shortage and left 63 percent of their population depending on services from the government.
What was involved in the prep for this trip? Did students have to fundraise?

We had a few meetings to discuss how the trip would go as far as the itinerary, what to pack and how to pack. We didn't have to discuss fundraising since the University Access Programs received a generous grant from a donor that covered our expenses such as flights, hotel, group dinners, and excursions. They discussed all the information with parents who wanted more detail about our trip.
Why should Southern students travel abroad and how has this experience changed you?
I believe this opportunity was such an amazing experience, every student should be able to see and travel the world and figure out what they want to accomplish, what they want to change in the world, and what they're most passionate about.
With this experience, I found out that I have fears that I want to conquer and that there are businesses that I want to start. I want to help students get the same experience and even more because I know how much this experience has made a difference in my life and the lives of my friends that experienced this journey with me.
***************************************************
Celebrating more than 50 years at Southern, The Office of University Access Programs (UAP) is responsible for the stewardship of key programs and services that increase access and the academic success of first-generation, low-income, and underrepresented students in higher education. Click here to learn more.