For the first time in two years, 37 Southern students expanded their horizons by spending their summer on faculty-led study abroad trips offered by the Office of International Education.
Like many colleges and universities across Connecticut, travel abroad opportunities are once again on the rise, especially as the United States and the world begin to emerge from the COVID-19 pandemic.
"This summer, we saw the return of many of our international faculty-led programs," said Michael Schindel, assistant director in the Office of International Education. "As the demand for international travel has returned, we are thrilled to once again be offering summer programs and semester exchanges."
As the risk of traveling abroad subsides, the Office of International Education ensures that students have a safe travel experience with the inclusion of masks and COVID-19 tests in their itineraries.
"Those health and safety protocols we have in place are standard to many current study abroad programs," said Schindel. "Southern has a really robust health and safety program to make sure every student who leaves feels adequately prepared."
This summer, Southern checks in with four study abroad groups, who reflect on their journey across the Atlantic.
ICELAND
Ian Bergemann, '21, M.S. '22, is just one of a small group of Southern students who spent part of June studying in Iceland. Bergemann, who is finishing his master's in environmental sciences this year, is no stranger to studying abroad with Southern, as he has traveled to both South Africa and Malaysia.
Bergemann actually wanted to travel back to South Africa after his first trip, but unfortunately, the COVID-19 pandemic interrupted his plans. Bergemann accepted that he may not be able to travel again.
When the Iceland program came around, Bergemann was extremely grateful.
"The fact that we could travel during COVID, that the university had policies in place that made me feel protected, that they handled it really well, " said Bergemann. "I think it definitely made it a lot more special."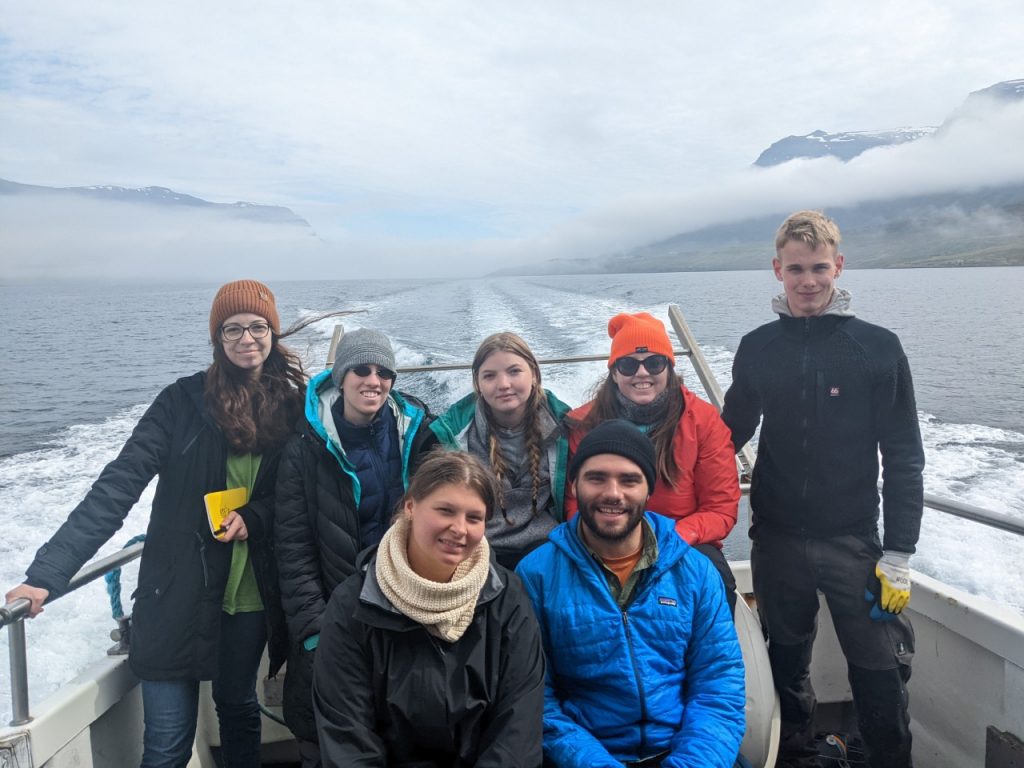 Iceland's environment compelled Bergemann, as most of the country's landmarks are natural, such as the Skógafoss waterfall and the Vatnajokull glacier. Getting the opportunity to experience nature in this way firsthand was a meaningful part of the trip.
"For my field, my major, we know that nature, the wilderness, and areas like that are dwindling," said Bergemann. "So to see something that might not be there in 10 years, it impacts you a lot, especially to see a glacier, to see a river running, to see it melting."
Many of Bergemann's favorite parts of the trip were spent out in Iceland's vast landscape – getting to hike glaciers, meeting an Arctic Fox, and even going out on a fjord to study evolving water quality.
Since Iceland was Bergemann's third time studying abroad with Southern, he wanted to share some advice with other students who are interested in taking similar ventures.
"I think that when you're looking to go abroad that you need to really think about the reasons why you're doing it," said Bergemann. "If you're going as a tourist, you need to really reevaluate yourself because it's not a vacation. It is the full immersion of a culture and an environment you've never been to, with the expectation that you're gonna learn something."
TUSCANY
More than 2,000 miles away, students experienced the Italian countryside through a viewfinder, living in Montepulciano, Italy, for the month of July – reflecting a more tranquil side of Italian culture.
Regina Misercola, '23 and James Olvera, '23, are two of three study abroad students making Tuscany their home this summer. Part of their study abroad program includes two classes – a digital photography and an Italian cities course, led by Professors Jeremy Chandler and Giuseppina Palma, respectively.
"The first thing I said when I got here and had to convince myself wasn't true, was that it felt like I was standing in a painting," said Misercola. "The further you go, and the more up the hills you go, there is so much more to see."
Dealing with the aftereffects of jet lag one morning, Misercola got up early to explore the city on her own, bearing witness to the sunrise against the Tuscan landscape.
"I couldn't think of a better place to learn, and also document it visually," said Misercola. "Learning how to tell a story through images is important and transformative."
"With the photography component, you look at the city a lot differently," said Olvera. "You notice a lot of nuances. Photography is writing in a visual sense."

There is flexibility in the program, including excursions to Florence and Rome, and the ability to explore the city and complete photo assignments. Students have grown accustomed to daily life in Italy, which includes a siesta period due to the extreme heat.
It was the inability to travel during the pandemic, as well as her Italian heritage, that inspired Misercola to expand her horizons and travel abroad for the first time.
"During the pandemic, I remember looking up study abroad opportunities and picturing myself being somewhere adventurous," said Misercola. "I didn't think it was a possibility before I graduated."
For Olvera, his travel when he was deployed with the Army National Guard didn't permit him to enjoy locations on a personal and cultural level.
"I'm a very movement-oriented kind of person, so COVID [has made traveling] a very stagnant situation," said Olvera. "This was my first opportunity to do both – stop stagnation and also do explorations in a very personal sense."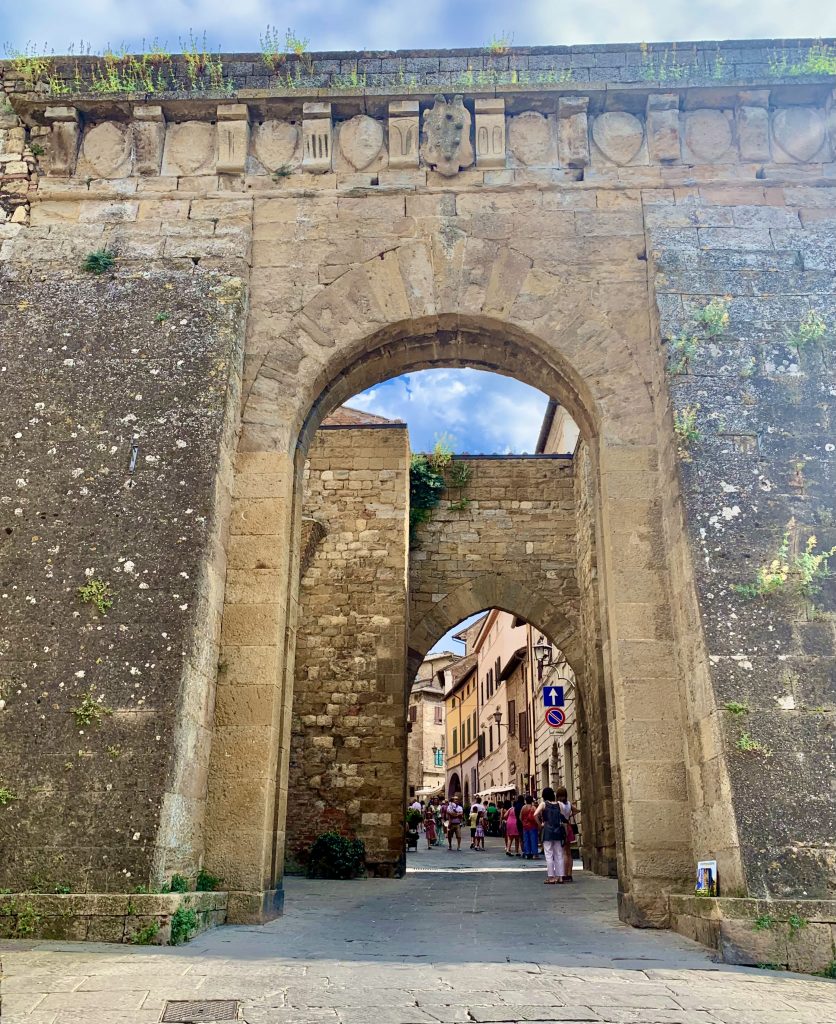 Both Misercola and Olvera have enjoyed the hospitality offered to them by locals in Montepulciano, and the sense of community that Montepulciano offers, even with the obvious difference in languages. 
"You notice that there isn't much difference in humanity and the way people process what they need," said Olvera.
"And there is a willingness for people to go out of their way to help someone," said Misercola, referencing how her landlord's father helped her learn how to use their coffee machine, as well as a neighbor who was excited to hear her speak Italian.
For both, the opportunity to expand their education through travel, photography, and language was plentiful.
"There's a lot to be learned beyond the classroom," said Misercola. "It's hands-on, on-the-ground learning [opportunity] that can't be replicated anywhere else. It's good to see things beyond your world view."
SPAIN
The summer program in Spain finds students exploring the cities of Salamanca, Andalucia, and Madrid, led by Miaowei Weng, associate professor of Spanish.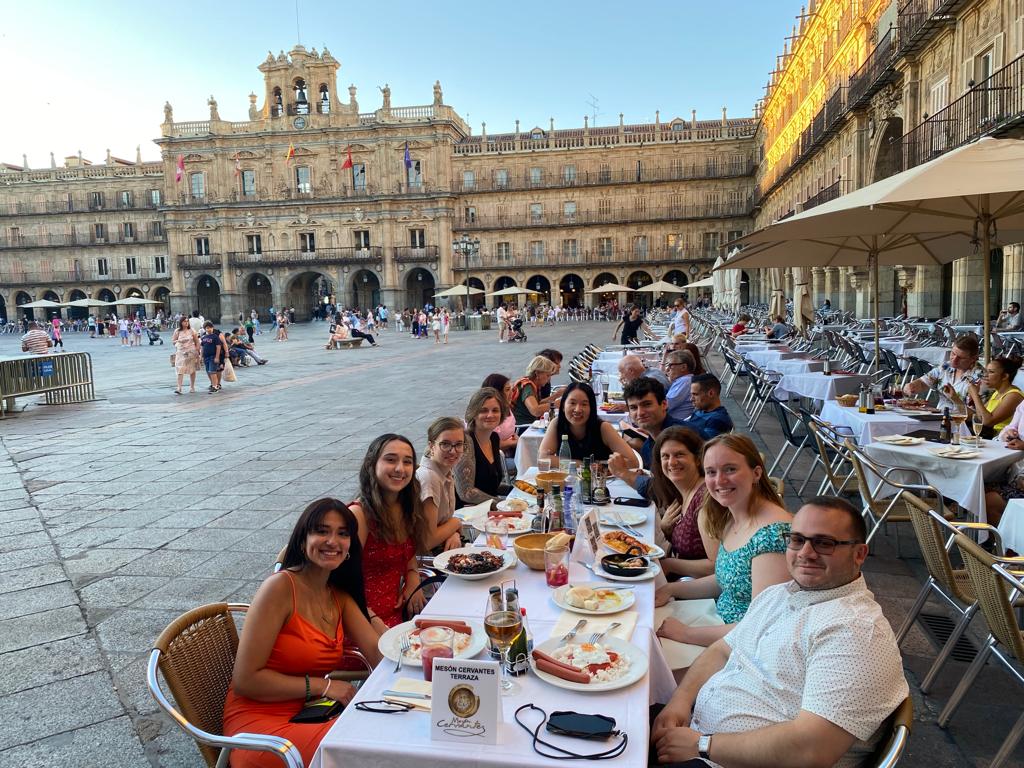 Gracie Marsh, '24; Elizabeth Kita, '23; and Jonathan Nazario, M.S. '22, were wrapping up their month in Spain, reliving an experience that went beyond that of a standard tourist trip.
"I think it's better living somewhere rather than visiting as a tourist," said Kita. "It was cool to do your job in the morning, studying, and then afterward have the afternoon for free time."
Eight undergraduate and graduate students are currently attending El Colegio de España, a language school in Salamanca and an affiliate of Southern. Many of the lessons there are applied in real-world "field trips," including rock climbing and an escape room where the challenge is Spanish is permitted during activities.
"They are a good opportunity to practice the language," said Kita.
Being in Spain was also a great opportunity to meet other students from different countries, including Canada, France, and Switzerland.
"So many students from all over the world are here to study, not just us," said Marsh, "We made friends with students from France and Switzerland. They were really good at Spanish and would yell at me if I spoke English [in class]; it made me better."
Students had to bear the brunt of both COVID-19 infections and an extreme heatwave, which saw temperatures reaching 125 degrees Fahrenheit at one point.
"Despite a few bumps in the road, we're doing okay," said Marsh.
Nazario, a music teacher at the International Dual Language School of Waterbury, where he works with bilingual students, is completing his master's degree this year in Romance languages. Nazario also completed a homestay in Spain, which included residing with a host family, to strengthen his speaking skills.
"[Through that experience] I got to communicate and learn the differences between Spanish of different countries – Spain, Central, and South America," said Nazario.
For every city Nazario visited with his study abroad group, he picked up a poster.
"As a teacher this coming year, I wanted to hang posters around my room," said Nazario. "Since I teach a bilingual school, I wanted to give them a multicultural experience."
FRANCE
Samuel Martin, '23, and Sydney Manzo, '23, spent the month of July in Paris. Besides hitting up popular tourist attractions such as the Eiffel Tower and the Arc de Triomphe, they say their study abroad opportunities are pushing the idea of what learning is.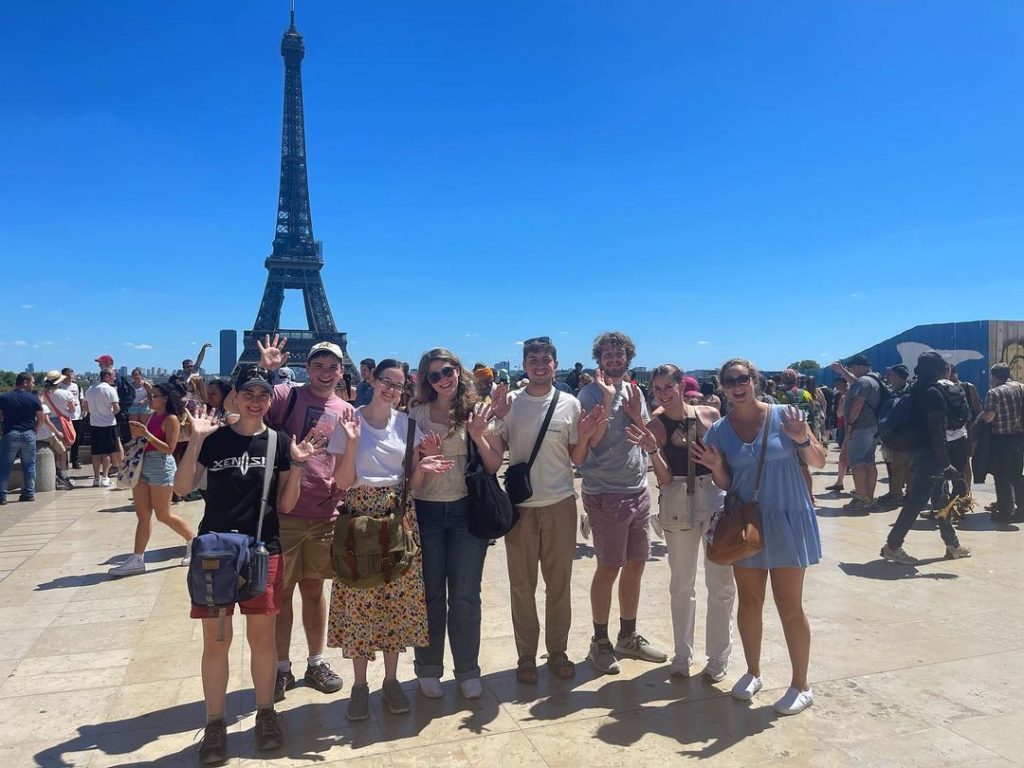 "Here, every opportunity is learning," said Martin. "Like, how do I learn how to ask for something when we don't speak French, how to take the Metro when it's like a giant spider web, how do I interact with people in my group when I never met them?"
One of the things they've enjoyed during their first few weeks is the camaraderie formed with fellow group members. Slowed-down dinners and a calm city environment are a contrast to the busy schedules the students have at home.
"When we go out to eat it takes so long, the European and French culture treats it like an event," said Manzo. "We all sit down, relax, and debrief. We all rush, eat, and go-go at home."
At the beginning of their trip, students are asked to do a series of pre-departure meetings to prepare and keep journal entries. In lieu of pen and paper, many students have set up Instagram accounts and TikTok posts which chronicle their day-to-day lives in France.
Learning opportunities are on the go, as well. Associate Professor of French Luke Eilderts hosts portable lectures that take place on the Metro and in the Paris Opera and the Louvre.
"You kind of forget you're in class in the best way," said Martin.
For Manzo, despite feeling trepidation at the thought of leaving home, she said her study abroad opportunity has left her with no regrets.
"I wouldn't do anything different," said Manzo.
* * * * * * * *
Southern's Office of International Education is a central hub to promote study abroad opportunities, welcome our international students, and support our international faculty. Learn more about upcoming study abroad programs and faculty-led trips for Southern students: https://inside.southernct.edu/international/study-abroad