Southern's teacher preparation programs received a boost when Governor Ned Lamont and Connecticut Education Commissioner Charlene Russell-Tucker announced new investments to defray certification-related testing costs for aspiring educators in Connecticut at a June 2, 2022, press conference in Buley Library.
A total of $2 million dollars of federal, state-level reserve American Rescue Plan Act, Elementary and Secondary School Emergency Relief (ARP-ESSER) funding is being dedicated over a two-year period: $750,000 in year one and $750,000 in year two. The remaining $500,000 is being set aside for educators of color and other educators who will be completing their student teaching in urban school districts.
"Our administration has made it a priority to ensure that we maintain and continue to recruit a high quality and diverse educator workforce in Connecticut," Lamont said. "This investment will ensure more aspiring educators – especially minority educators and educators who strive to work in our urban districts – are able to pursue lifelong and rewarding careers in education."
While managing standard tuition and fees proves challenging for most students, teacher candidates bear an additional burden based on the licensure assessments and testing measures required for obtaining initial educator certification, said Stephen Hegedus, dean of Southern's College of Education.
Costs associated with teacher certification include, but are not limited to: basic skills assessments such as Praxis Core, culminating content assessments (Praxis II, Early Childhood, Foundations of Reading), state certification application fees, background checks and fingerprinting fees, and performance assessments (edTPA portfolio submission.
While these costs can average between $1,000 and $1500 per student these fees are not limited to one-time payments. Re-testing and re-submission can mean individual students are paying far more than those estimated minimum costs, Hegedus said.
At a time when there are many stressors on the education system and there are personnel shortfalls in crucial areas including special education, "Now, more than ever, we need to find ways to get skilled, passionate teachers into our classrooms," he said.
The new state funding will be dispersed to each of the Educator Preparation Programs across the state that opt into the program, including Southern. This program will be administered by the Connecticut State Department of Education's Talent Office.
The Connecticut State Department of Education is committed to ensuring all federal and state funds are properly used to serve the education community and has set up a thorough accountability process, Commissioner Russell-Tucker said. Each grant will be monitored to ensure that expenditures align with the activities in their approved application. Information on individual grants can be publicly accessed online through the department's Electronic Grants Management System, which is available at connecticut.egrantsmanagement.com.
"This investment will provide financial support to our aspiring educators currently enrolled in Connecticut Educator Preparation Programs on their paths to obtaining their certification," the commissioner said. "These funds will alleviate some of the financial barriers that may prevent, or delay needed educators from entering the profession."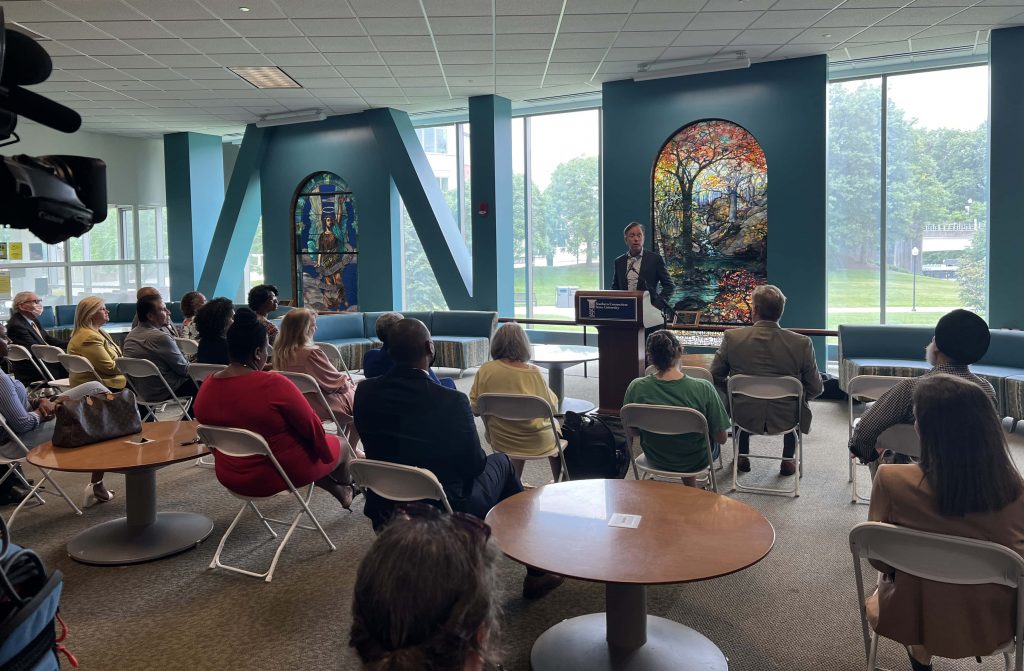 Southern has been the leading producer of teachers, principals, and school administrators in Connecticut since its roots as a two-year teacher-training program in 1893. The College of Education, with over 2,000 students through the doctoral level, recently went through a highly successful accreditation review of its teacher and administrator preparation programs.
"Southern's performance was assessed against nationally recognized standards by the Council of Accreditation of Educator Preparation and approval was gained with zero conditions attached – an outstanding testament to our commitment to providing the best academic experience we can for our future teachers and school leaders," said Provost Robert Prezant, during welcoming remarks.
A few weeks previously, Southern celebrated the ribbon-cutting for a new building on campus: the Barack H. Obama Magnet University School – the result of a signature partnership between the university, the City of New Haven, and the New Haven school system.
"In this school setting, our education students and faculty are able to investigate best practices, conduct research, provide and obtain in-classroom experience, and promote innovation and learning for the 400 or so Owlets in their early grades," Provost Prezant said. "And I assure you that the elementary students who attend the Obama School are receiving an excellent education essentially on the same college campus where we are confident they will enroll a few years from now!"
"Partnerships such as this occur more regularly in the private sphere," he said, adding that "we are hoping that this will be a successful model for other public institutions and school districts nationwide."