Four Southern seniors who've demonstrated a strong commitment to leadership, academics and community engagement are this year's recipients of the Henry Barnard Distinguished Student Award.
Each year, 12 seniors are chosen by the four Connecticut State Universities – four each from Southern and Central, and two each from Eastern and Western. It is considered among the university's most prestigious student awards. Criteria include a 3.7 GPA or better and having demonstrated significant participation in university and/or community life.
The 2022 Barnard Scholars are Greta Brunello, Dominique Dickenson, Sarah Gossman, and Sydney King.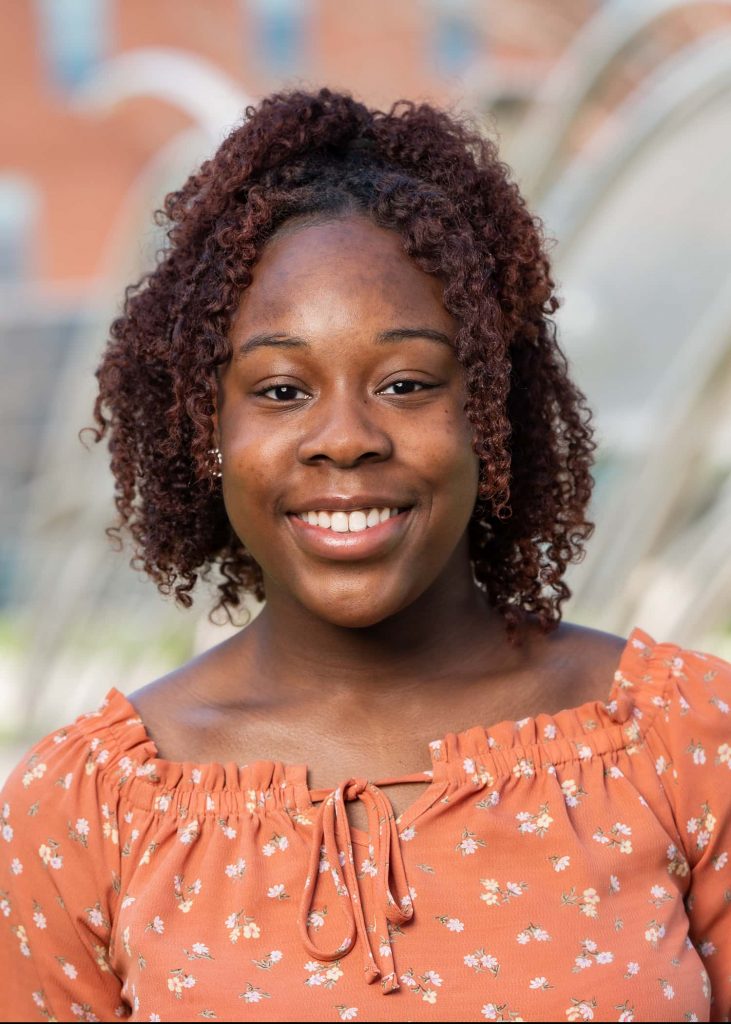 Dominique Dickenson, originally from Middletown, Del., is a psychology major with minors in Spanish, biology and Honors Transdisciplinary. She has made the dean's list every semester since freshman year.
An active member of the Southern community, she's served as an RA since August 2020 and as secretary for the West Campus Hall Council Office between August 2019 and March 2020. In addition, she has been a member of the university cheer team since August 2019 – serving as team captain since June 2021.
Dickenson joined the cheer team her freshman year, transitioning from 10 years of practicing gymnastics. Despite the switch, Dickenson has remained involved in the sport, working alongside and volunteering support as a gymnastics coach and camp counselor — teaching ages as young as three.
"Working with these kids gave me a joy like no other, and it was one of the factors that drove me to realize I wanted a career that would allow me to work with kids," Dickenson said.
Her passion for helping others extends beyond her community and into the classroom, where she's conducted student and community-focused research in the sports and health disciplines.
"Dominique has set out to study the mental and emotional challenges facing student-athletes, especially football players, and then develop a way to address these challenges," Associate Professor and Assistant Chair for the Philosophy Department Chelsea Harry wrote. "Dominique is not only a gifted student; she is working at every turn to apply academic lessons to social causes."
After graduation, Dickenson plans to take two years to build experience in the medical field, travel the world and experience new cultures, and study for the MCAT exam – a requirement for attending medical school. If accepted, Dickenson plans to specialize in pediatrics, a passion in line with her volunteer work at Nemours Children's Hospital in Wilmington, Del., where she volunteered on the nursing floor.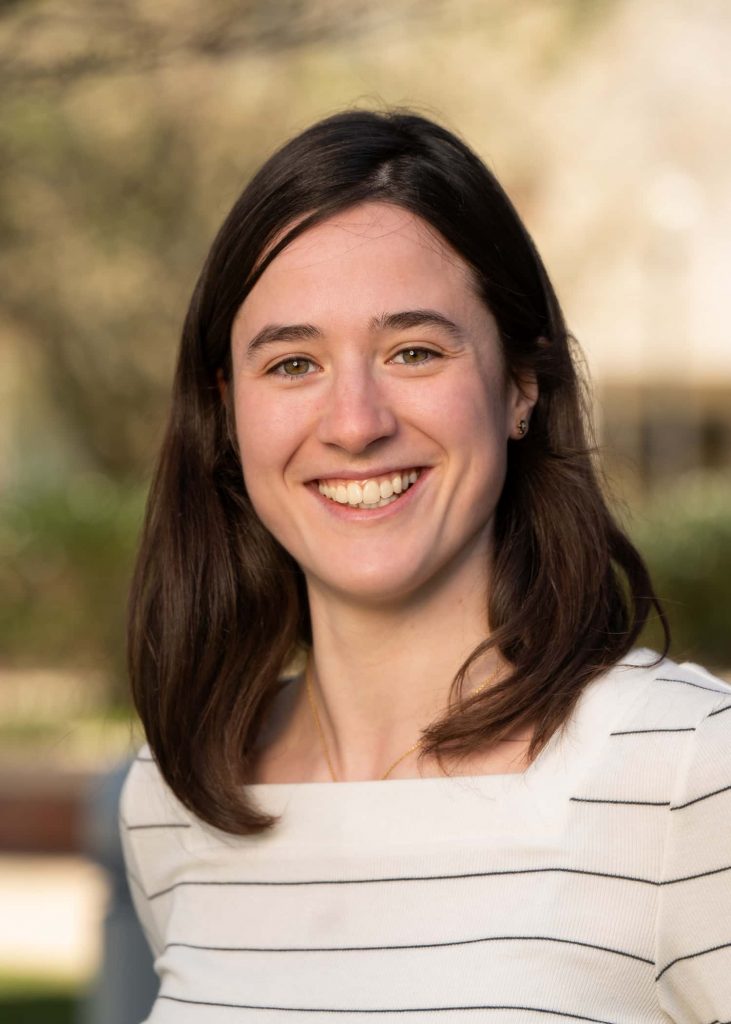 Greta Brunello, an exchange student from Carisolo, Italy brought her love for soccer to Southern when she decided to pursue a major in exercise science with a concentration in human performance. In addition, Brunello will also graduate with a minor in psychology. Dedicated both on the field and in the classroom, Brunello maintained a 3.98 GPA at Southern and made the dean's list every semester since her freshman year.
She is the recipient of a full undergraduate soccer scholarship, an opportunity Brunello has used to enrich her teammates and provide guidance and support across the Athletics Department and the Southern community throughout her undergraduate studies. For her commitment, she was recognized by the Southern Athletics Department for her excellence in both academics and participation and community enrichment.
Growing up a passionate young soccer player in a small town, Brunello faced challenges of equality and access to the sport she loved. Up to the age of 15, Brunello had to play on the boys' soccer team due to there being no women's team for her to join in her small town of just 1,000 people.
"Growing up in Italy, no one believed that girls could compete against men in soccer, but I was determined to follow my dream and show them that nothing is impossible," Brunello said.
Eventually, Brunello was able to join a women's team – approximately two hours away from her home. Undeterred, Brunello made the trip with her sister for each practice and home game, overcoming geographical challenges to continue playing the sport she loves while serving as a role model to her community.
Following her high school graduation, Brunello enrolled in Southern on a full athletics scholarship. Although she found the transition difficult, she quickly immersed herself in the community. She served as an Italian tutor all four years, joined the Physiology Club, and worked on the athletics and transfer student offices staff.
Beyond the classroom, Brunello is a member of the Global Brigades, which combines her love of travel with community service by holistic aid to international communities.
In 2019 she traveled to Ghana to assist in installing bio-digestive toilets. In 2020, she traveled to Panama to help provide medical and dental care to isolated communities. She also aided in installing water pipes to provide remote villages with easier access to clean water.
"Greta Brunello is an intelligent, inquisitive, responsible, and altruistic humanitarian with a student maturity of which Henry Barnard would be proud," professor of Exercise and Sport Physiology and Nutrition William Lunn said. "Her motivation derives from gaining the ability to assist those in need."
Following graduation, Brunello hopes to pursue a doctoral degree in physical therapy.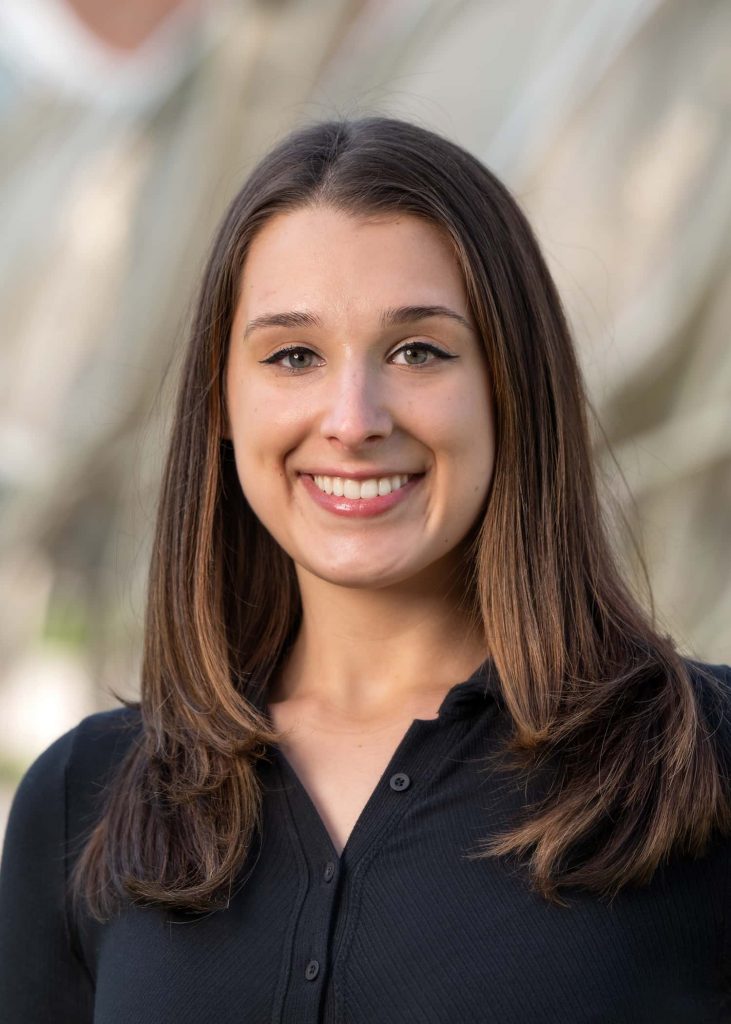 Sarah Gossman's leadership in the Student Government Association and executive board for the class of 2022 enabled her to find her voice while empowering her peers to do the same.
A history major pursuing a minor in English literature and social media, Gossman, who is from Trumbull Conn., has held multiple positions in Southern's Student Government Association – including the role of representative at large, vice president of the board of academic experience, and, most recently, president of the association.
In addition to student government, Gossman served all four years as an elected official on the executive board for the class of 2022 — serving her first two years as president and now her second as vice president.
"My goal while serving on the executive board was primarily to create a welcoming environment for the class of 2022. My main goal was to establish unity until graduation, where we will celebrate and highlight the accomplishments of our class," Gossman said.
Gossman has won multiple awards for her service, including for outstanding freshman, sophomore, and junior. She is also a member of the Omicron Kappa Delta and Phi Alpha Theta since 2021.
Gossman was also the recipient of an undergraduate research grant, which she used to pursue research on her undergraduate thesis entitled "Student-Led Activism for Curricular Change in Higher Education: An Examination of General Education and the Student Voice Historically from the 1930s to Today."
"Sarah stands out amongst her peers as a competent scholar, leader, and a contributing member to the Southern Connecticut State University community," Christopher Piscitelli, associate dean of students, said. "She is an adept listener, constantly taking inventory of those around her and finding ways to recognize their contributions. She models patience, respect, and kindness in all aspects of her life," Piscitelli said.
Gossman hopes to continue her drive toward bettering the educational field by pursuing her master's program in higher education following her undergraduate studies.
"Above all else, my goal is to empower future students to pursue research they are passionate about and feel confident to use their voice throughout their collegiate journey," Gossman said.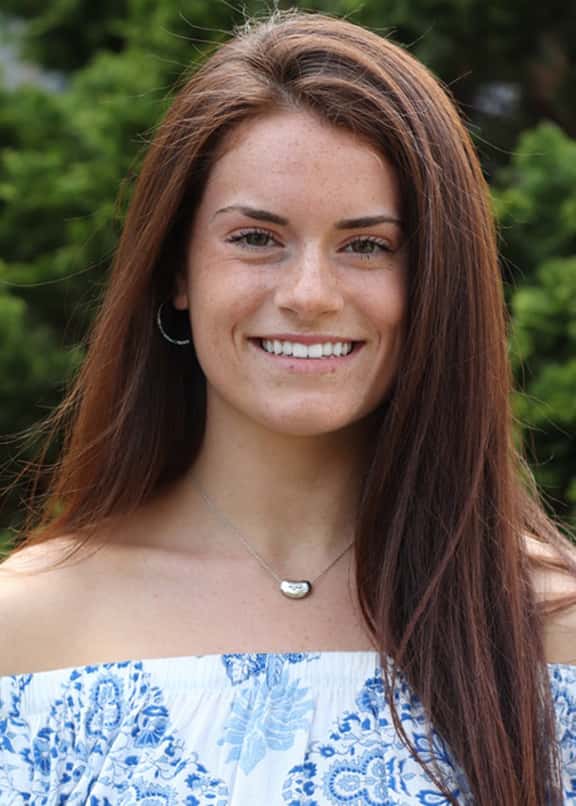 Sydney King, a Milford, Conn., resident majoring in cultural anthropology and minoring in Spanish, has centered her focus around social justice and community outreach – making it the priority of her time at Southern.
King's passion for service started when she was 14 years old, when she began participating in faith-led mission trips through her church. During these trips, King would spend two to four weeks every summer volunteering her time on the Pine Ridge Reservation in South Dakota – home of the Indigenous North American Oglala Lakota Sioux Tribe – one of the poorest in the Northern Hemisphere.
During her time there, King helped to teach summer school to children living in the Red Shirt village. She credits her mission trips to Pine Ridge as a turning point in high school.
"I had developed an anxiety disorder in the fall," King said. "Most of my anxiety stemmed from a lack of purpose or a feeling of inadequacy. I did not believe that the track I was on to attend a prestigious college and obtain a high-paying job would conceive anything but material comfort."
In addition to volunteering at Pine Ridge, King took a year off between high school and college to join the AmeriCorps NCCC program. She traveled to California to help teach underprivileged students and rebuild homes lost to the devastating Northern California wildfires.
King's academic adviser, Kathleen Skoczen, professor of anthropology, highlighted King's focus on social justice and its impact on King's decision to attend Southern and continue her work to change communities.
"Over the last three and a half years, Sydney has become a role model and leader in qualities that define public service at SCSU," Skoczen said. "[Sydney] is an enthusiastic, energetic, thoughtful activist who will certainly bring forth a more just world."
King has extended her commitment to service by studying abroad in Chile. She is currently spending the spring semester immersing herself in the culture to learn the Spanish language further. With plans to pursue a master's degree following her graduation, King hopes to expand her knowledge and reach to help more lives.
"My time at Southern Connecticut State University provided me with an innovative and diverse environment to learn from people's real lives," King said. "As I move forward in applying for fellowship and graduate school, I am looking to experience the inner workings of political and social change."