More than 147,000 coaches regularly assist with Special Olympics North America (SONA) — including Jennifer LaCapra, M.S. '07, who was recently honored as the organization's first-ever "Outstanding Unified Champion School® Coach of the Year."
The Special Olympics Unified Sports® program unites people with and without intellectual disabilities on the same team. It's offered in more than 4,500 schools in the U.S., with LaCapra leading the charge at Oxford High School in Connecticut. In addition to being head coach of the program, she is a wellness teacher and department chair as well as the adviser to the Best Buddies club. (The latter is dedicated to ending isolation among people with intellectual and developmental disabilities.)
LaCapra launched the Unified Sports program at Oxford High 10 years ago. The school's unified teams now compete in soccer, kickball, basketball, volleyball, and, most recently, flag football. There are 63 students participating this year, ranging in age from freshmen to students in the "Career Exploration" program for 18- to 21-year olds. The athletes gather four times a week, during first period when Trumbull High offers the program as an elective.
"It's the best way to start my day. I love seeing the smiles on the faces of my students/teammates when they are working with one another — creating memories and friendships that may or may not have formed without Unified Sports," says LaCapra.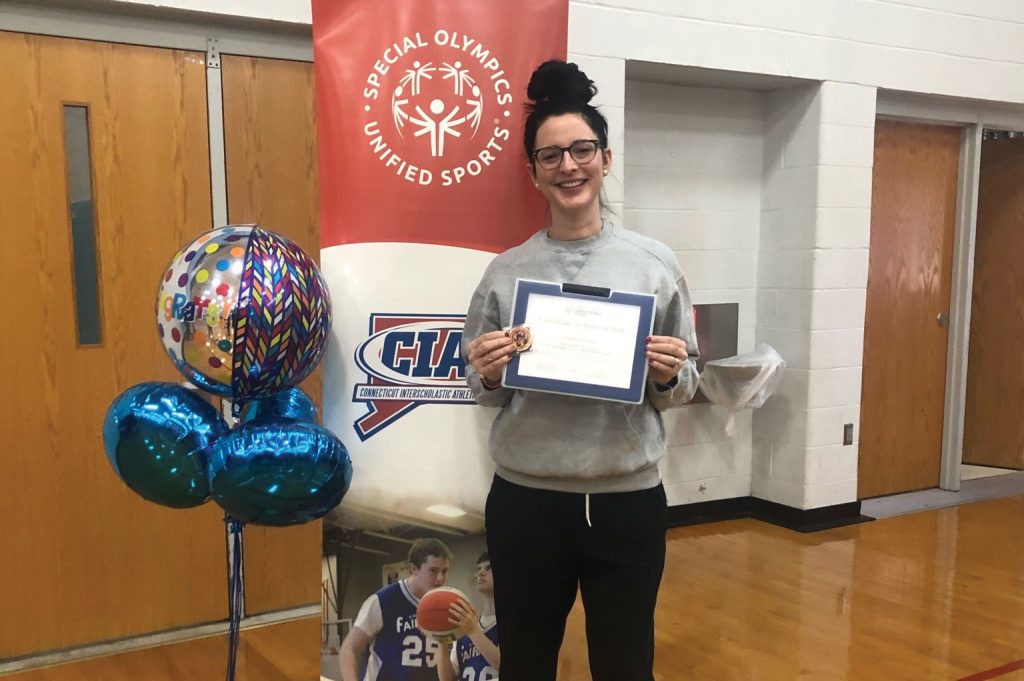 She comes by her love for the education field naturally. Her parents — Janet Behr, '74, M.S. '81, and Raymond Behr, M.S. '76 — are retired teachers and Southern graduates.
"They always spoke highly of the university, and they were happy I decided to go there for all of my graduate work," says LaCapra, who majored in special education as an undergrad at Central Connecticut State.
At Southern, she earned cross endorsement in physical education as well as a master's degree in health education. She credits her dad with introducing her to Special Olympics decades ago. He first invited his then 8-year-old daughter to volunteer at an annual basketball event he organized. "I went every year, and I was always beyond excited to attend," she says.
That commitment has never wavered. Asked to describe her coaching style in one sentence, LaCapra answers easily: "Show empathy, passion, structure, and dedication." It's a winning formula. Last spring, Special Olympics presented the coaching award at a surprise ceremony at Oxford High. LaCapra was leading the first-period class when one of her favorite songs — Positive Vibration by Bob Marley and The Wailers — began playing over the loudspeaker.
Her husband, son, and other family members entered the gym, followed by colleagues from Special Olympics who announced the award. They spoke about her accomplishments, then invited her to address the crowd. "I barely got my words out," says LaCapra of the emotion-packed celebration, "but pretty much talked about how grateful I was to be part of something so special and that brings me so much happiness."