An expansive four-year partnership between the Yale New Haven Health System and Southern will double the number of B.S. nurses graduating from the university within the next four years, helping to address a critical nursing shortage in Connecticut heightened by the COVID-19 pandemic.
The YNHHS grant provides Southern's new School of Nursing with staff resources, clinical placements, and financial support to boost enrollment in both the established and highly regarded BSN and Accelerated Career Entry programs, which both boast long-standing NCLEX first-time pass rates ranging from 95% – 100%.
In a bid to boost diversity in the nursing ranks, the grant also funds two new initiatives providing nursing education and career growth opportunities for certified nursing aides and high school students, respectively. These strategies will gradually increase Southern's nursing graduate numbers from a current average of 100 annually, to 205 by 2026.
"This groundbreaking partnership with the Yale New Haven Health System will further enhance the university's mission of access, social justice, and service for the public good," said President Joe Bertolino. "It will enable us to double the number of students who graduate with a nursing degree, and also offer excellent teaching and training facilities in the new Health and Human Services Building opening on campus later this year."
"More than 85 percent of our graduates stay on to live and work in the state, so this investment will positively impact both the capacity and diversity of Connecticut's nursing workforce," Bertolino said.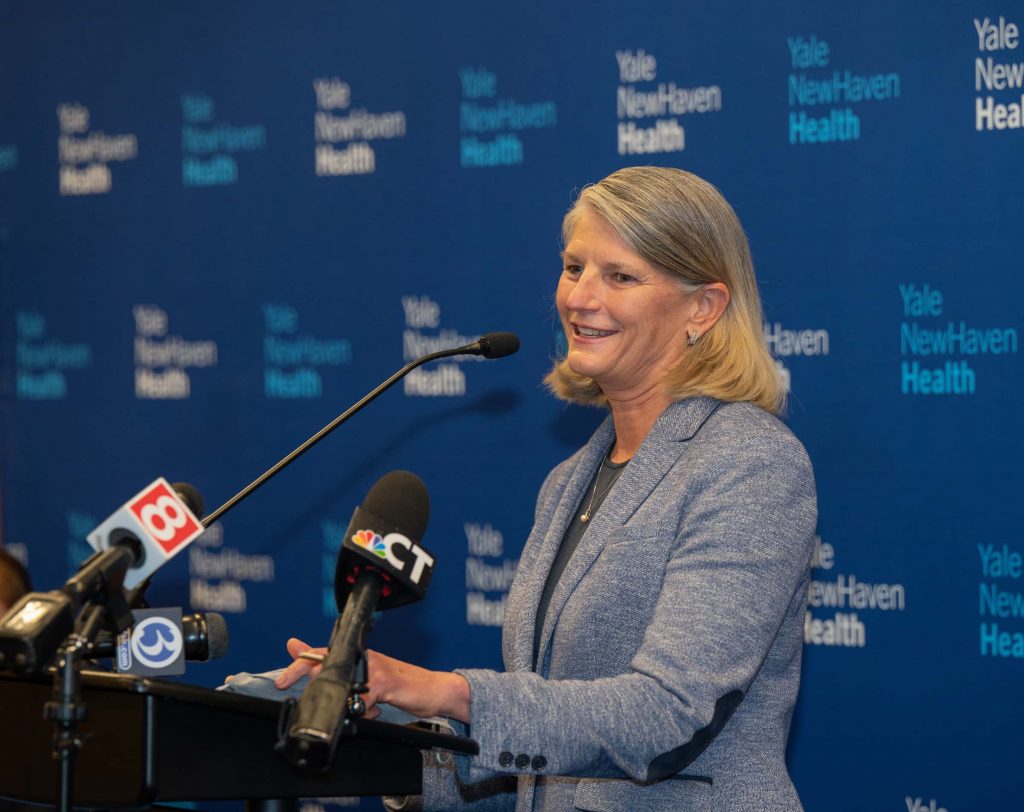 Under the agreement:
· The Traditional BSN program will be expanded from a baseline of 90 students per year in 2021 to 100 students in 2022 and 120 students per year in 2023.
· The Accelerated Career Entry ("ACE") 1-Year Nursing program, for students who already hold a BS or BA degree, will double in size. The existing summer cohort of 36 students will be supplemented by another 36-strong winter cohort by 2023.
· A part-time, 3-year program for working professionals will be established in August, 2022, with classes available on evenings, weekends and on-site at YNHHS facilities.
Admitting up to 24 students per year, it will provide a career path for those now serving as certified nursing aides in retirement communities, hospices and other healthcare facilities.
· An Accelerated High School Nursing Scholars Program will also be offered, providing students with the opportunity to complete one year of nursing prerequisite courses in high school and then completing their BSN at Southern in 3 years. Five students will be admitted in 2022 and 12 in subsequent years.
"Southern is uniquely positioned for a successful partnership with YNHHS due to the diversity and local residence status of its student population; shared values of patient-centered care, respect, and compassion; and the strong history of YNHHS employing its nursing graduates," said Sandra Bulmer, dean of the College of Health and Human Services.
Students recruited for the various programs will be chosen based on interest in a career at Yale New Haven Health, Bulmer said. And YNHHS will serve as the primary clinical education partner, providing placements across eight different clinical courses (Gerontology, Adult Health I, Mental Health, Adult Health II, Maternity, Pediatric, Community Public Health and Capstone).
To increase the availability of nurse educators for the joint initiative, the university and YNHHS will develop and launch an accelerated MSN Clinical Educator program tailored to YNHHS BSN prepared nurses who are interested in working as future clinical faculty. The parties will also collaborate to develop a Patient Care Technician Certification course for students admitted to nursing and healthcare studies degree programs.
"This is a true partnership in every sense of the word," said Beth Beckman, chief nursing officer, YNHHS. "We are solving two main challenges – adequate student clinical placement and ample faculty to oversee their clinical learning.
Both parties also commit to increasing the diversity of BSN students at the Nursing School and collaborating on efforts to admit and retain diverse students that reflect the patient population served by YNHHS.
"The City of New Haven is 51 percent diverse, so having someone taking care of you that understands you and knows what your struggles are is very important," said Maria Krol, chair of the School of Nursing. The new part-time program for working professionals will mean that people of color will be able to climb the career ladder in nursing even as they hold down a job and care for families, she said.
New nursing majors will arrive at Southern at an opportune time. The university will open its new, 94,000 square-foot Health and Human Services building in fall 2022, with about one-third of this space allocated to greatly expanded nursing facilities and equipment, including:
· Four large nursing labs each of which include six hospital beds with hospital headwall systems, six exam tables, a teaching station for 18 students, medium fidelity manikins, and other essential nursing lab equipment.
· A hospital simulation center that includes six hospital simulation rooms with adjoining control/observation rooms and high-fidelity manikins, medication room, and nursing station.
· Four standardized patient exam rooms with a patient actor green room and control room.
· A fully functioning home simulation studio apartment with control/observation room.
· Two debriefing rooms for simulation learning.
· Two, 60-seat classrooms that can be combined into one 120-seat classroom.
· A School of Nursing Office Suite with reception and offices for 33 faculty or staff.
"We have worked very hard to open up multiple pathways, not just to bring more nurses into the workforce, but to address the lack of diversity in healthcare," Bulmer said. "We can all be proud that Southern is responding to the nursing workforce shortage in ways that are meaningful to our community."
"Yale New Haven Health partners with local universities to help solve nursing shortage," WTNH, March 31, 2022
"New YNHH Partnership With Area Schools Boosts Nursing Programs," New Haven Independent," March 31, 2022
"Yale New Haven, four schools aim to increase nursing ranks by 550," New Haven Register, March 31, 2022
"Hospital, college partnership plans to fight nurse shortage," WFSB, March 31, 2022