Students who study the arts and humanities hear it all the time: "What can you do with an English major — teach?" or "What are you going to do with that art history degree?"
Now, a dynamic new interdisciplinary minor in Arts Administration and Cultural Advocacy offers an introduction to careers in arts administration, the public humanities, and non-profit cultural institutions. The program will, its coordinators say, train a new generation of student leaders to make a difference across the broad range of the creative industry — theaters, museums, music, libraries, archives, arts education programs, and more.
The minor's diverse curriculum ranges from fine arts to the humanities, and from marketing and management to grant writing and graphic design. Associate Professor of English Joel Dodson co-coordinates the program with Mike Skinner, associate professor and chair of Theatre. Dodson says the minor began with the faculty's desire to give students a new answer to the old question of what they could do with an arts and humanities degree.
Unlike other areas of study, he says, success in these fields is all about combination: how you combine a deep knowledge and passion in the arts with other hands-on skills – accounting, grant writing, or even event planning – in order to prepare for those unique roles that make up careers in the creative and cultural sector.
The new minor is designed to help students make those unique combinations through coursework and internships during their time at Southern, so they can find their own professional voice in the process. "We don't just want to help students find a job," Dodson says. "We want to help students change the face of arts and culture."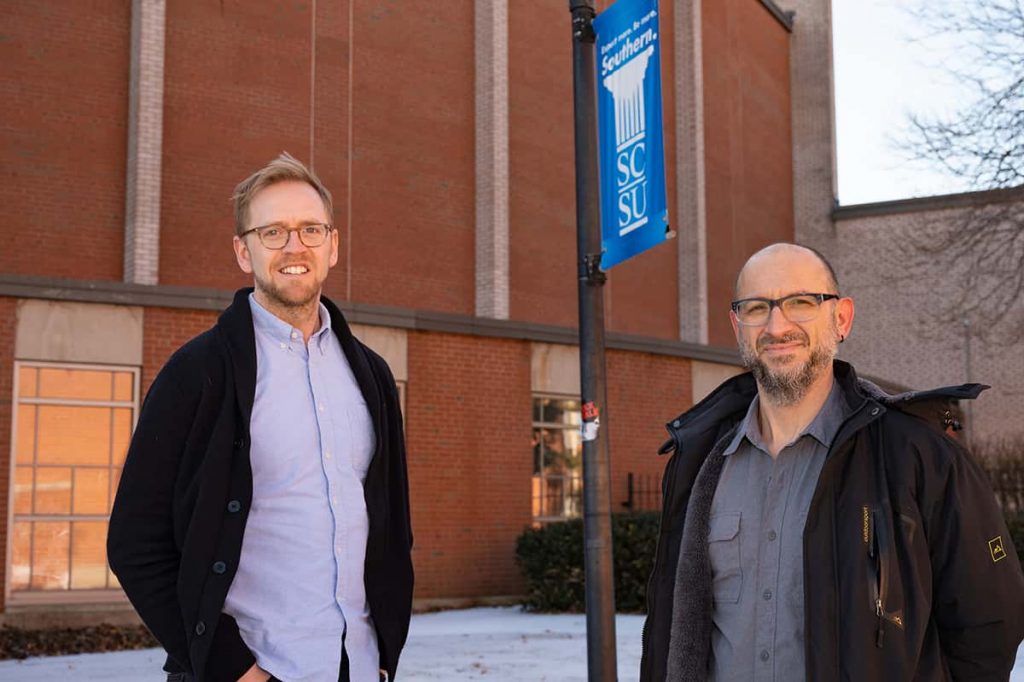 Those involved are especially excited about launching this minor in New Haven, Dodson says, adding that more than any other city in Connecticut, New Haven is the right place to experience the variety of careers in the arts.
"As one of the coordinators of the minor," he says, "I've loved spending the past year cultivating long-term partnerships and internships with Arts and Ideas, the New Haven Symphony Orchestra, Yale Libraries and Museums, Long Wharf Theatre, and many others. Often, the most interesting work at arts and cultural organizations is about having a network. We want current and prospective students to know that, at Southern, we're here to help them create that network, no matter their background — whether they've just discovered a passion for theater or libraries, or they're the first in their family to attend college."
The 19-credit minor is particularly ideal for Art, English, History, Music, or Theatre majors, interdisciplinary students, and those hoping to add an arts-related focus to another professional discipline. Students enrolled in the program take a 3-credit introductory course — AAC 200 Topics in Arts Administration and Cultural Advocacy — and 12 credits of area electives, followed by a 4-credit Field Internship Capstone. The minor takes, on average, 2-3 years to finish, depending upon how a student combines it with their major. For the internship capstone, a variety of standing internships exist in the New Haven area, along with other opportunities with community partners: the International Festival of Arts and Ideas, the New Haven Symphony Orchestra, Yale libraries and museums, and more.
The AAC minor is open to all majors at Southern, and students are encouraged to declare the minor early in their time at Southern, from freshman year through the beginning of your junior year, to give them enough time to complete the requirements.
Dodson is enthusiastic about the possibilities the new minor opens up for students in the arts and humanities. "With Southern's new Arts Administration and Cultural Advocacy program, we're looking to become a regional leader for career preparation in the arts and humanities," he says.
Learn more about the Minor in Arts Administration and Cultural Advocacy