Southern can train the next generation of nursing students using a healthcare simulation center that will closely mimic a hospital floor and enable students to visually review how they handled themselves in treating "patients."
That will be among the highlights of a new College of Health and Human Services building scheduled to be completed by fall 2021.
A ribbon-cutting ceremony was held Friday, March 6 in the construction area, which is adjacent to Pelz Gymnasium.
"This state-of-the-art facility will provide greatly enhanced, research and experiential learning opportunities for our students and faculty in the health-related fields," said SCSU President Joe Bertolino.
"We are gaining the physical resources to prepare our students for success in a knowledge-based workforce, he said. "And by producing more graduates with much-needed expertise in health and human services, Southern will continue to be a key player in Connecticut's economic revival."
The four-story, 94,750 square-foot brick building will house most departments within the College of Health and Human Services. These include the departments of Nursing; Communication Disorders; Health and Movement Sciences (formerly Exercise Science); Public Health; and Recreation, Tourism and Sport Management.
The building will provide students and faculty with additional classrooms, state-of-the-art teaching and training spaces, lecture halls, increased office space, collaborative spaces, a demonstration kitchen and modern human performance labs. It also will feature an abundance of natural light.
When completed, the total cost is expected to be between $53 million and $56 million — paid for through state bond funds, according to Robert Sheeley, SCSU associate vice president for capital budgeting and facilities operations.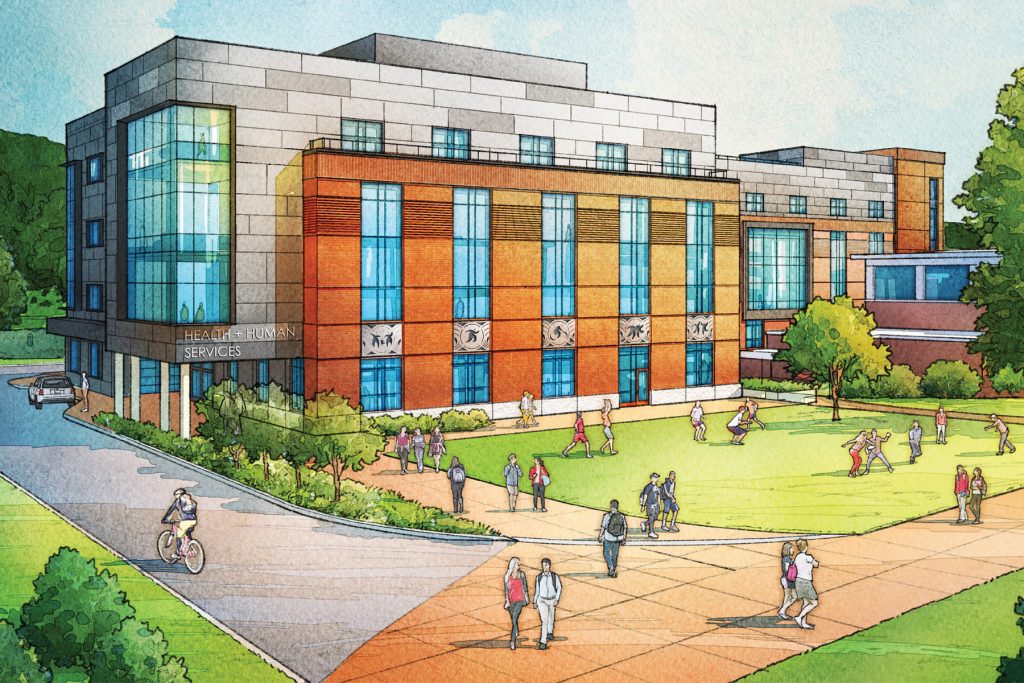 Mark Ojakian, president of the Connecticut State Colleges and Universities, said the current healthcare challenges posed by the Coronavirus underscore the importance of having top notch facilities to train our students. He said today's students will be on the frontlines of addressing health care challenges that arise in the future.
Sandra Bulmer, dean of the College of Health and Human Services, said she is excited about the opportunities that await students and faculty. "Our programs train the workforce of the state," she said.
Other speakers included:
Christopher O'Connor, executive vice president and chief operating officer of the Yale-New Haven Health System Marian Evans, SCSU assistant professor of public health; Peter Simmons, project manager for the state Department of Construction Services; Kevin McGinniss, graduate program coordinator for the SCSU Department of Recreation, Tourism and Sport Management; Kevin McNamara, director of the SCSU Center for Communication Disorders Clinic; and Melquicedex Hernandez, a sophomore nursing student at Southern.
Among the highlights of the building will be:
a home simulation apartment to train students from multiple professions in home care.
expanded facilities for the Communication Disorders Clinic that will be able to serve more clients and train more graduate speech-language clinicians.
a human performance facility that will house Southern's Running Injury Clinic and include labs for testing health and fitness, metabolism, neurophysiology and biomechanics. This includes a high-tech Bod Pod to measure body fat composition through air displacement, rather than having to be underwater. It also includes a biomechanics lab with motion capture technology, a high-tech treadmill and use of force plates for movement analysis.
an athletic training teaching lab.
a center for individuals with different abilities to have recreational opportunities that are supervised by recreational therapy students.
two 60-seat lecture halls that can be joined together to form a large auditorium.
a demonstration kitchen classroom that seats 40 students and will be used by the Public Health Department for teaching nutrition, food safety and healthy food preparation.
a business presentation and collaboration classroom that seats 25 students.