The SCSU Police Department is happy to welcome its newest member to the force. Officer K9 Jules, a two-year-old black Labrador Retriever and ADA Certified Service Dog, arrived on campus on Jan. 24, 2022.
At eight weeks old, Jules began his training with Puppies Behind Bars, a program developed nearly 25 years ago at Bedford Hills Women Prison in New York. Today, the program operates in five prisons across New York and New Jersey, with inmates successfully training over 2,500 dogs who are then adopted by veterans and first responders.
According to Police Chief Joseph Dooley, Officer Jules will serve alongside Sgt. Cynthia Torres. While his primary job will be to assist in officer wellness, he will also serve as a community liaison and comfort dog, helping to provide a calming presence to those experiencing emotional distress on campus.
"He knows over 50 commands and can use them to help bridge the communication gap between humans and animals, making individuals feel more comfortable," says Torres.
While Jules is a highly trained service dog, community integration will be an important aspect of his role at Southern.
"Anywhere there is a program happening that we might be able to attend, we will drop in. We will be doing a lot of walkthroughs at the Student Center… students can also come in and see him at he police station as well for a one-on-one visit."
For those eager to learn more about our newest Owl, here's a peek at his dossier!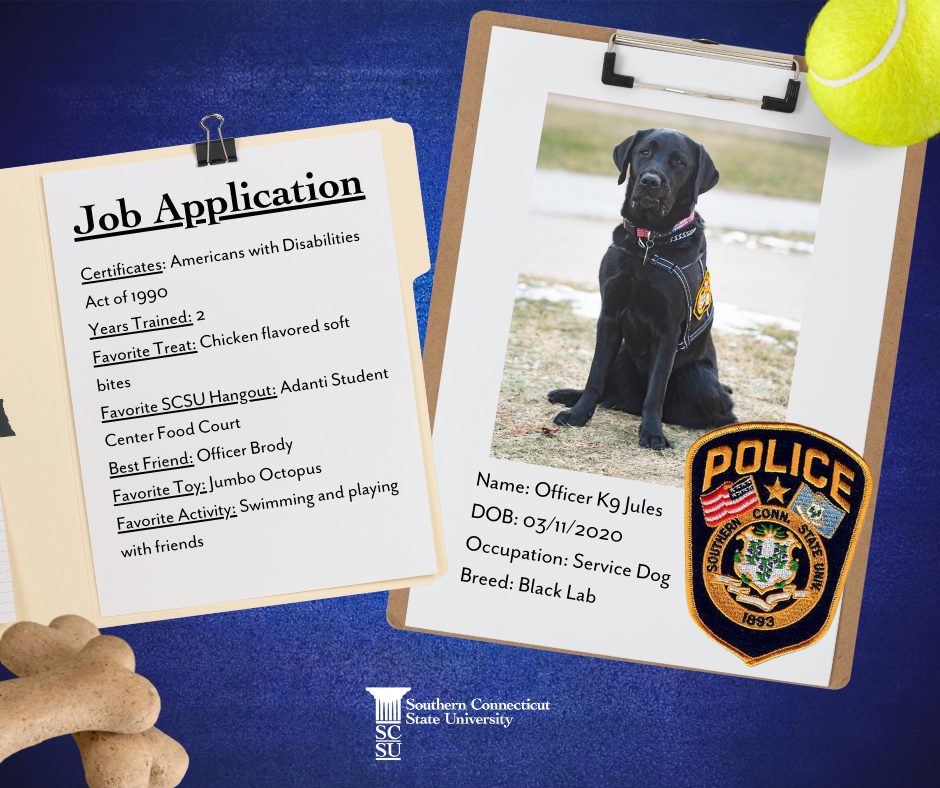 View a gallery of Jules photos
Read the New Haven Register article, "SCSU police department's newest member is known for his 'sensitivity' and tail wagging" (Pam McLoughlin, Jan. 31, 2022)
Read the WSHU story, "It's the paw patrol! Comfort dogs join the ranks at three Connecticut police departments" (WSHU, by Brian Scott-Smith, Feb. 11, 2022)