A complete set of illustrations by famed surrealist artist Salvador Dalí (1904 – 1989), part of the university's art collection, is now on view in a Buley Art Gallery exhibition, "Salvador Dali Illustrates The Divine Comedy."
Art Professor Cort Sierpinski, who manages the gallery, explains that the story behind the illustrations' origin is as curious as the images themselves. In 1950, Dalí was commissioned by the Italian government to illustrate The Divine Comedy by Dante Alighieri, the country's most famous poet. An odd choice for the project, the Spanish painter found himself at the center of controversy and the commission, deemed blasphemous by those in parliament, was canceled. Dalí, who had a deep affinity for Dante's work, was undeterred. The artist continued the journey Dante began in the 1300s, following the epic poem's narrator through his descent into Hell, ascension to Mount Purgatory, and his ultimate arrival in Paradise. Dalí worked with French publisher Joseph Forêt to have 100 wood engravings made after his own watercolors; the engravings were completed and published in 1963.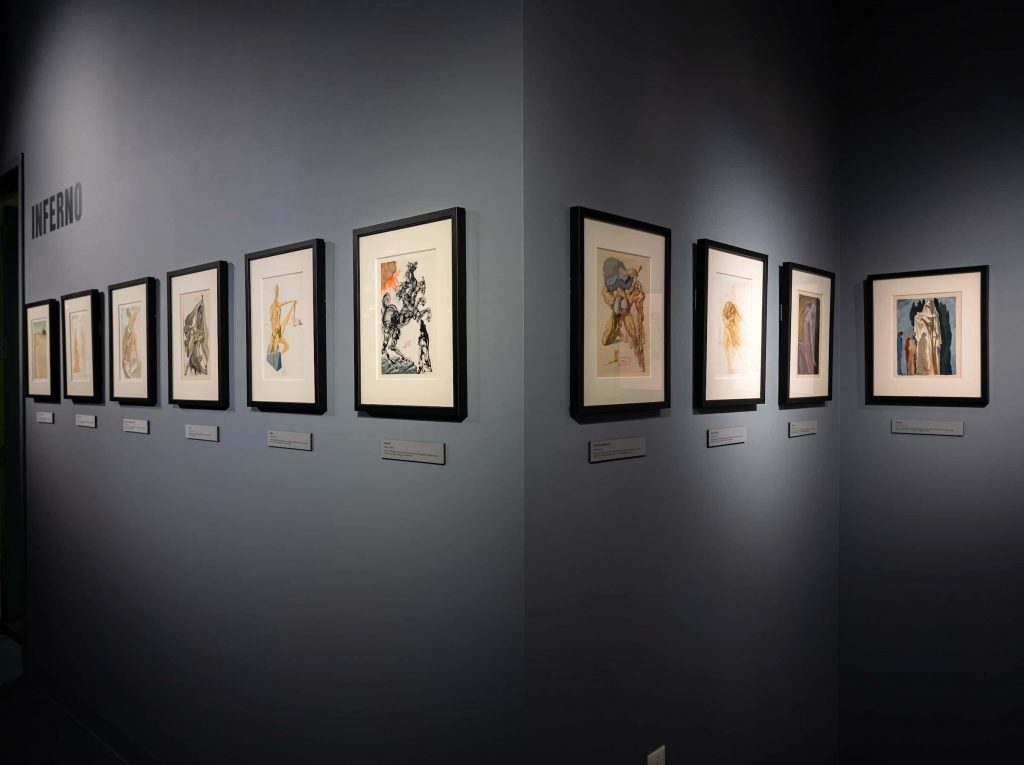 The works on view in the Buley Gallery come from the 1974 German edition of The Divine Comedy, of which it is believed only 382 copies were ever produced. Widely considered to be his most creative body of work, the Divine Comedy illustrations are uniquely Dalí and were thought by the artist himself to be his most important undertaking.
The set of illustrations was acquired in the 1970s by a former Southern art professor, Olafs Zeidenbergs, who purchased a number of pieces for the university's art collection during his time at Southern. In 2007, the art collection was damaged when the lower levels of Buley Library where it was stored sustained a flood after a water main broke during construction on the library's new addition. But luckily, says Sierpinski, the Dalí illustrations managed to survive with only slight water damage.
He came across the illustrations a couple of years ago when he was unpacking art works that had been sent away to be restored following the flood. He spotted what looked like Dalí's signature and did some research and then "realized what we had." Sierpinski says it is "very hard to find complete sets of these images," and the set owned by the university is "in almost pristine condition" and has never been displayed, prior to this current exhibition.
The set contains 100 illustrations, and the set on display in Buley is numbered 68 out of 382 existing copies.
The illustrations are on view through April 7, 2022. Gallery hours are Monday through Thursday from 11 a.m. to 4 p.m. For more information, contact Cort Sierpinski at Sierpinskic1@southernct.edu.
Read "Rare Salvador Dalí illustrations on view at SCSU after surviving flood" (by Keith Loria, New Haven Register, March 3, 2022)