Fresh out of Pepperdine University's Law School in 1984, Mike Arias, '81, landed a plum position as a defense attorney with a prestigious New York firm. But his work on an aviation disaster case quickly soured him on the job. "I was sitting there trying to make arguments about why this person's life wasn't worth what people were arguing it was worth, and I thought, 'I'm on the wrong side here,'" he says. "I didn't want to defend corporations. I wanted to advocate for people."
And that's what he's been doing for the last 35 years. Today, Arias — the founding and managing partner of Arias, Sanguinetti, Wang & Torrijos (ASWT) — is recognized as one of the top plaintiff lawyers in the country. He's led numerous class actions and other lawsuits against some of the nation's largest corporations and institutions, including sexual assault cases against major universities, the Catholic Church, and the Boy Scouts of America.
In March, Arias helped obtain a record $842.4 million settlement in a high-profile sexual abuse case filed by more than 700 women against the University of Southern California (USC) over allegations against its longtime campus gynecologist Dr. George Tyndall. It's believed to be the largest personal injury settlement ever against a university and the largest known settlement in a sexual abuse case in U.S. history. (By comparison, Penn State shelled out $109 million in the Jerry Sandusky sex abuse case, while Michigan State settled with victims of former university physician and USA Gymnastics doctor Larry Nassar for $500 million.)
Combined with an earlier class-action lawsuit, USC's total payout is more than $1.1 billion — a historically high figure that further illustrates the significance of the aforementioned $842.4 settlement reached by ASWT and co-counsel. Consider the figures outlined by ASWT in a news announcement about the victory. A separate class-action settlement, negotiated by other law firms on behalf of more than 18,000 women, resulted in a $215 million settlement. In its news release, ASWT estimates those victims who sought compensation in the highest tier will receive a "paltry $96,000 on average." In contrast, those represented by ASWT and co-counsel — the 700-plus women who opted out of the class-action lawsuit — will be entitled to an average recovery of $1.2 million.
Arias counts the case as one of the most impactful of his career — and not just because of the jaw-dropping payout. "I think it's going to be life-changing for many of these women," Arias, 62, says during a Zoom interview last spring from his home in Playa del Rey, Calif. "As I've learned in many of these sexual assault cases, the experience doesn't go away. It lingers with you for the rest of your life. But what I think helps is when there is an open understanding of what happened. When there is an ability to say something about it," he says.
Arias was one of two lawyers appointed by a judge to coordinate and litigate the case against USC, which involved multiple law firms around the country, including his Los Angeles-based firm. His firm represented 138 of the women.
His advocacy for the victims began even before the case went to trial. Arias successfully pushed for a state law that temporarily lifted California's statute of limitations on sexual assault lawsuits, clearing the way for more of the women to sue. "Some of these victims were from [incidences that took place in] the 1990s, so many were facing that statute of limitation defense," he says.
He says unlike victims in other types of crimes, sexual-assault survivors often stay quiet about their abuse out of shame or embarrassment. "They hold it within themselves, and it can be devastating," Arias says.
The lawsuit alleged USC knew about problems with Tyndall for years but mishandled the complaints."People would report things, and it wouldn't work its way up the chain of command, or it was just ignored," he says.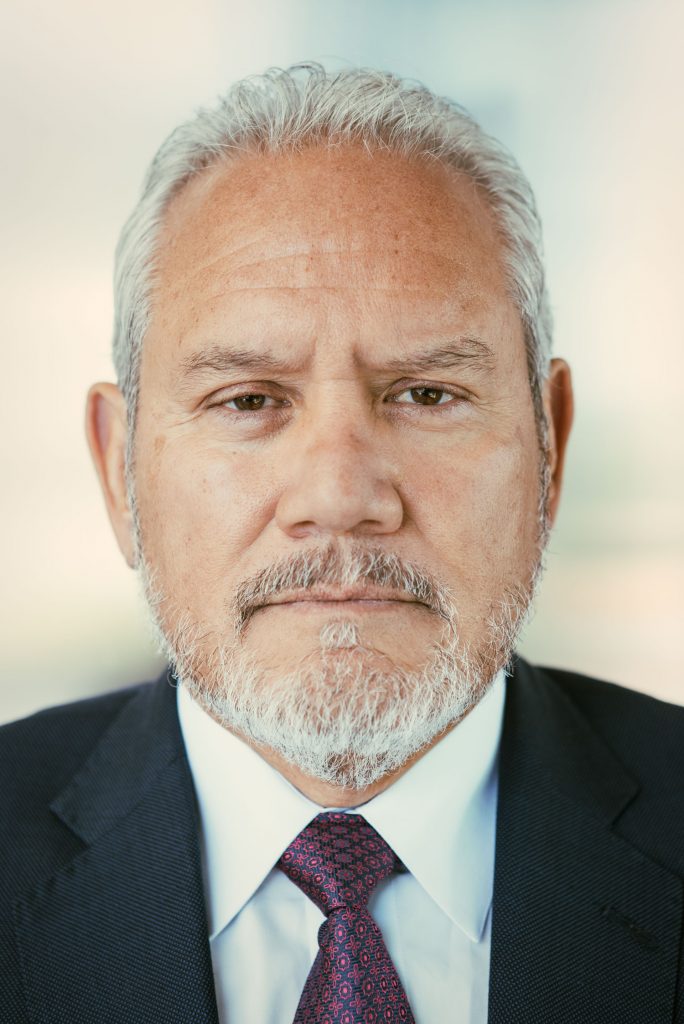 Makings of an advocate
Arias attributes his success in the courtroom to a knack for strategy and problem solving. "I'm not a book-smart person," he insists, degrees and accolades notwithstanding. "People come to me with a situation, and I find a way to get through it. And I think it all comes from my life experiences," he says.
The oldest of five siblings in a blended family, Arias was born in San Diego and never knew his father. He was raised by two stepfathers (both good Navy men, he says) and a mother who worked full time at a bank to help provide for the family.
The military lifestyle meant moving often, so Arias learned early on to rely on himself. When he was 12 and living in Key West, Fla., he talked his way into a job on a shrimp boat — despite being too young to work legally — because he wanted to make his own money.
After stops in Florida, Virginia, and South Carolina, the family moved to Groton, Conn., during Arias' junior year of high school, when his stepfather was assigned to the Navy submarine base there. Arias initially stayed behind, living for several months at the home of his high school football coach. "I was so tired of moving. I told my parents, 'I'm sorry, I'm not going with you,'" he says, although he ultimately boarded a bus and headed north to rejoin the family.
Arias says he started to flourish once he arrived at Southern, where he majored in business administration with a concentration in economics. He played football for the Fighting Owls freshman year, but when knee problems dashed his athletics aspirations, he threw himself into a new passion: school politics. "I ended up running for class president my sophomore year [and won], and then I got involved in the Student Council," says Arias, who also managed the student union and was president of the Alpha Gamma Chi service fraternity and the People-to-People Club, which supported Southern's international students and explored life abroad.
When state budget cuts to higher education threatened numerous faculty layoffs, Arias lobbied lawmakers and staged a "death of education" rally — complete with casket props built by the Department of Theatre — that landed him on the local TV news. Legislators later reinstated funds, saving jobs. "Somebody needed to speak up and do something," Arias says.
He planned to enter the military after graduation, but the late Southern economics professor Walt Ryba, who was also a lawyer, saw the makings of an advocate in Arias and set him on a different path. "He said, 'Mike you should think about being a lawyer. There's this test called the LSAT. You should go take it. Let's just see what happens,'" Arias recalls.
He scored well and applied to law school, with Ryba mentoring him through the process. "I remember sitting in his secretary's office filling out all this stuff," he recalls. "At the time it was like $50 or $100 [per application], and I didn't have that kind of money. I was barely making it. He said 'Don't worry.' He had his secretary sit with me and help me type out fee-waiver applications."
After earning his law degree, Arias worked for a couple of law firms before hanging out his shingle in 1989. He would go on to launch two more firms, including his current one in 2015, where he specializes in product liability, toxic torts [when the plaintiff alleges exposure to some dangerous substance caused an injury or illness], consumer and environmental issues, personal injury and wrongful death, and sexual abuse and harassment.
In recent years, he held leadership roles in numerous trial lawyer associations, including stints as president of two of the largest in the country, the Consumer Attorneys of California and the Consumer Attorneys Association of Los Angeles. He also sits on the executive committee of the American Association of Justice. In 2020, The National Law Journal named him a "Plaintiff Trailblazer," and he has been singled out as one of the "Top 500 Leading Plaintiff Consumer Lawyers" by the trade publication Lawdragon for the last two years.
Fighting for change
As for the historic USC case, Arias says a point of pride is negotiating the settlement without a confidentiality agreement. He wanted the victims to be free to tell their stories. Tyndall, the only full-time gynecologist in the campus health center from 1989 to 2016, has given up his medical license and is awaiting trial on dozens of sexual assault charges, to which he has pled not guilty.
The settlement brought about policy changes at USC, but Arias is counting on it having a broader impact. He hopes publicity around the record-setting sum will encourage other schools and large institutions to examine their sexual abuse reporting procedures. "There are a couple of ways you change bad systems," Arias says. "You can try to legislate. Or you can teach them a lesson." ■
Max S. Gerber photos
Read more stories from the fall 2021 issue.