It's a sky-blue spring day — May 26, to be exact — and Asma Rahimyar, '21, is at a crossroads. A week earlier, she spoke at the College of Arts and Sciences commencement ceremony, one of the first public events held on campus since the COVID-19 pandemic. Rahimyar, then a teaching assistant and tutor at Southern, was grading papers hours before taking the stage to address her socially distanced classmates, a surreal experience charged with "so many different emotions," she says.
"When I enrolled at Southern four years ago, I had difficulty holding my head up. I mean that literally, but I also mean that figuratively — the way I felt about myself and my aspirations. I had these really big dreams, but I thought that I wasn't positioned to obtain them," she says.
It doesn't happen often, but Rahimyar was wrong. Instead, she left Southern among the academic elite — the first in university history awarded a Rhodes Scholarship to the University of Oxford, the top-ranked institution of higher learning in the world.* Rahimyar was one of only 32 Americans chosen for the honor out of a pool of more than 2,300 exceptionally talented applicants, including many with an Ivy League pedigree. The scholarship covers full tuition/fees, airfare, and a stipend, and will enable Rahimyar to pursue two graduate degrees. She'll begin with forced migration and refugee studies, likely followed by criminology.
The Rhodes Scholarship is one of many accolades bestowed on Rahimyar, who also received a Harry S. Truman Scholarship, the premier graduate fellowship in the United States for those pursuing careers as public service leaders. Once again, she was the first Southern student so honored, as well as the only student from the entire Connecticut State Colleges and Universities (CSCU) system to ever receive either award, widely regarded among academia's most prestigious. For the record, she also graduated summa cum laude and was named a Henry Barnard Scholar by the CSCU.
But the Rhodes Scholarship is in a league of its own. Its alumni include Nobel and Pulitzer Prize winners, heads of state, university presidents, high court judges, and leaders of major organizations such as Greenpeace and Amnesty International. So, amid the pandemic, Rahimyar found herself in the limelight, interviewed close to 20 times by media, ranging from the Hartford Courant to National Public Radio to TOLOnews, tagged as Afghanistan's first 24-hour news and current affairs network.
The resulting story each told is riveting. It's also one Rahimyar has documented since childhood. "Those are all of the journals I kept as a kid," she says, pointing to the bottom shelf of a bookcase during a Zoom interview. "Even before I knew how to write in complete sentences, I was writing my thoughts about the world," she says.
Then and now, those thoughts often include Afghanistan, her parents' homeland. During the Soviet occupation, they fled to Pakistan as refugees and emigrated to America in 1997. Rahimyar has heard their stories, which initially centered on life during peacetime. The excitement of Kabul. Visiting with nomads among stunning mountain vistas. But as she grew older, their memories took a darker turn. While her father studied medicine, half of his classmates disappeared: fleeing the country, abducted, or killed. "The person who was sitting next to you on Tuesday, wouldn't be there on Wednesday," says Rahimyar.
Her mother was a second-year university student when she fled overnight. "That was five years before going to school was mandated a crime in Afghanistan for women," says Rahimyar, reflecting on the challenges her mother, who did not speak English, faced as an immigrant. "She often tells me that I will live out the dreams she couldn't," she says.
Even as a child, Rahimyar would juxtapose her parents' experiences with what was reported by the media, many of the headlines "reductionist in so many ways regarding Afghanistan and the Afghan experience," she sums. "It created such a confusion in me," she says. "But also, a sense that something needs to be done in response to the injustices — the unaddressed actions and the unaddressed crimes. That has been a part of who I am for as long as I can remember, and I think an awareness of injustice is bound to have a formative impact."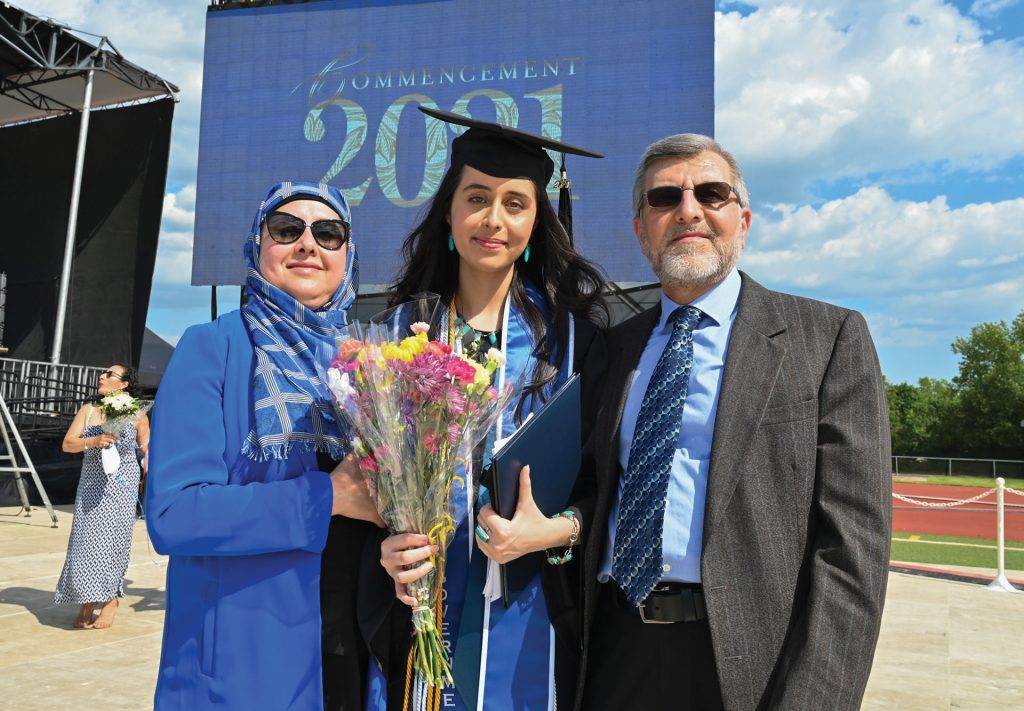 An Education
Rahimyar is her parents' first American-born child, raised to view education as both a gift and a driving force. From a young age, she'd roam the shelves of the local library, reading her selections to her mother. The family debated mathematics, history, poetry, and philosophy over dinner, often in multiple languages. "We call ourselves the Vienna Circle, my brothers and I," she says, with a laugh.
Those three brothers were drawn to scientific pursuits. One is earning a doctorate in mathematics, another studied computer science, and the youngest is interested in engineering. "We're not an overt family of poets," Rahimyar says with a smile. The family did, however, provide inspiration for Rahimyar's writing. "These are my grandfather's poetry books," she says, gesturing once more to the bookcase behind her. Among them is the work of renowned Persian poet Rumi. Faced with the oncoming army of Genghis Khan, he fled with his family from what is now Afghanistan, Rahimyar explains.
She proudly notes that her father graduated at the top of his class in medical school, and Rahimyar initially thought she'd major in biology and become a pediatric oncologist. But politics, a long-held interest, held sway. "I remember sitting in my first political science courses and thinking, 'This subject has the room for my anger built in,'" she says. In contrast, philosophy was a revelation. "I can never properly articulate what philosophy has done for me, aside from saying that it undergirds everything I do, including my work as a writer, a political scientist, and as a human being," she says. Ultimately, she majored in both subjects, and minored in English, which was "inevitable," she notes.
But for some, Rahimyar's decision to attend Southern was anything but inevitable. She has always been "bookish," a sky-high achiever. Folks repeatedly asked, why wasn't she "at the school three miles down the road?"
The more sensitive asked a second question: what was she learning at Southern that she wouldn't have elsewhere? Rahimyar continues to answer with stories. There are exceptionally talented classmates, often first-generation college students, holding down several jobs and raising families. There are students she tutored through Southern's Center for Academic Success and Accessibility Services, including some immigrants.
"I saw the ways their hands trembled as we started our appointments because they were embarrassed about their accents. But as we went on, I noticed that the trembling stopped . . . And I was also able to see a perseverance that I think defines what education can be at its best in our country — which is empowering those who feel that their voices are not heard," she says.
Rahimyar thrived at Southern, where she was president of the Muslim Students Association and a representative on the Student Government Association. "I found myself speaking to diplomats at the United Nations or hearing my voice on the loudspeaker across campus," she says. She held other leadership positions as well and received Southern's Provost's Award for Excellence in Research.
Rahimyar's senior thesis shows her propensity for inquiry. She studied the extent of human rights violations within Soviet-occupied Afghanistan and the response, or lack thereof, from the international community. Her research draws on eyewitness reports held in the archives of the Afghanistan Center at Kabul University. These reports are devastating. There are deaths, burnings, chemical weapons. Women and children. Sons and daughters. Often, there are no marked graves.
Rahimyar spent the summer between her sophomore and junior years sorting through thousands of pages of these human rights violations, at times, "falling asleep in the midst of names of people who are no longer here," she says.
She carefully wrote each name by hand. She also developed a workable database of some of these lives lost to illuminate trends. "Does this constitute genocide? Why hasn't international law been able to respond to atrocities of this scale? What can we do moving forward?" she asks.
These questions will drive her academic and professional pursuits. For the summer, this meant focusing on justice issues. Building on a previous internship, she was a grant writer with Elena's Light. The organization provides home-based English as a second language classes as well as health education to refugee and immigrant women and their children. Rahimyar also was an intern with Refugees International, working virtually with the Washington, D.C.-based advocacy group "dedicated to improving the lives of displaced people around the world."
In the meantime, there is Oxford. Rahimyar recalls close friends breaking down in joyful tears when they heard the news. "I hope you know what it means to know that a Southern student can go toe-to-toe with students from Yale, Harvard, Princeton, and Stanford," one told her.
The Rhodes Scholarship lets her continue this journey. Ultimately, she hopes to attend law school, ideally through a combined J.D. and Ph.D. program. Her goals: to become a practicing lawyer with a specialization in immigration, refugee law, and asylum while also focusing on legal scholarship. There are, she says, questions in need of answers: How do we define genocide within international law? If not genocide, then what weight do designations such as democide and politicide have? What impact does conferring impunity upon perpetrators of human rights violations have on governmental legitimacy?
She also remembers those times of doubt when her selection as a Rhodes Scholar seemed an impossibility. The application process was different this year, the first time the final interviews were conducted virtually due to COVID-19. But it remained justifiably thorough, requiring, for example, eight formal letters of recommendation. After the initial interviews, some applicants received a callback. "The assumption is that you left a strong enough impression. That you are part of a narrower pool," says Rahimyar. And, so, at the appointed time, she sat in her brother's bedroom, the quietest spot in the house, waiting to be called for the all-important second interview. Rahimyar's mother brought tea and waited beside her. But as the third hour approached, Rahimyar became convinced "it wasn't happening." She remembers urging her mother to leave and curling up on the bedroom floor in disappointment. Three and a half hours had passed when the Rhodes Scholar selection committee finally reached out. Her callback interview would be the final one. "They got me in a very uncurated head space. So, I went in, and they asked me very personal questions. What would this mean if you won? What would it mean for your family? What would it mean for your university? It was a very vulnerable conversation," she says.
Her interview lasted about 20 minutes. Five minutes later, Rahimyar was announced among the Rhodes Scholars for 2021. She recalls a moment of pure joy and shares what happens next. Picture Rahimyar, dark hair flying, running to the opposite side of the house where her parents and brothers wait, and she collapses, enveloped in the outreached arms of her ecstatic family. ■
* Times Higher Education World University Rankings 2021
Read more stories from the fall 2021 issue.