The New Haven Mayoral Archive, housed at Southern near the Special Collections section in Buley Library and accessible online, includes material from former New Haven mayors Biagio DiLieto (1980-1990), John Daniels (1990-1994), John DeStefano (1994-2014) and Toni Harp (2014-2020).
Now, a new exhibit based on the collection — "Righting Urban Renewal: Four Mayors Grapple with the Legacy of Urban Renewal in New Haven" — will be on display in the Lyman Center Lobby Gallery, kicking off with an opening reception on October 28.
A panel discussion about the collection will take place on November 10, 1-2 p.m., in the Charles Garner Recital Hall (EN C112). Panelists will include Dr. Bruce Kalk, dean, College of Arts & Sciences; Dr. Jonathan Wharton, associate professor of political science; associate dean, School of Graduate & Professional Studies; Dr. Theresa Marchant Shapiro, professor of political science; Dr. Clara Ogbaa, director, Hilton C. Buley Library; Mr. Patrick Crowley, metadata librarian for cataloging and digital projects; Ms. Jackie Toce, head of Technical Services, Buley Library; Ms. Emily Raymond, student curator; graduate student in Information & Library Science; and Ms. Daniella Occhineri, student curator; major in history and anthropology.
The Lyman Lobby Gallery features a permanent display of sculpture and a rotating exhibit of visual art by local artists, students, and art organizations. The gallery is free and open to the public during normal business hours.
The mayoral archive exhibit — and much of the collection itself — would not be possible without the generosity and vision of attorney and author Neil Thomas Proto, '67.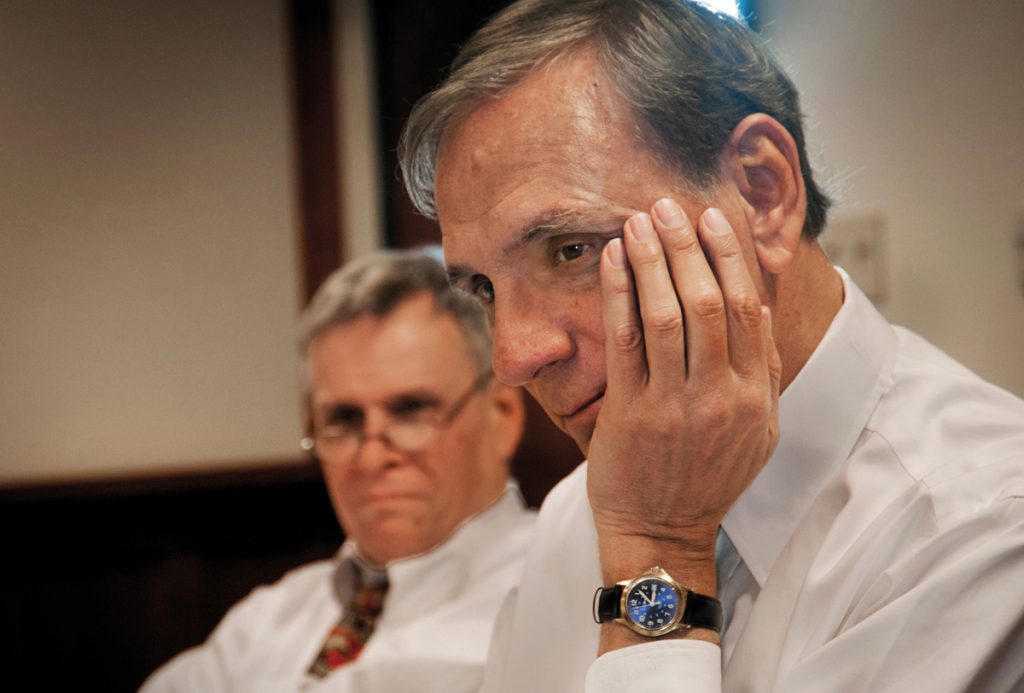 View a video introduction to the archive, presented by SCSU President Joe Bertolino and others involved in the collection.
DeStefano – whose papers were the first of the mayors to be housed at Buley – said his collection includes nearly 100,000 documents and a wide variety of other artifacts.
"Nothing was held back and together the collections represent a rich source of research opportunities," DeStefano said. "What better location than New Haven's premier education institution for these documents, which ultimately belong to the public?"
He added that Southern's commitment to digitalize the collection, which provides the public with online access, convinced him it would be the right decision.
The New Haven Mayoral Archive is becoming a veritable treasure trove for professors, students and history buffs who wish to delve into modern New Haven history.
"Our political science and history students have already been using it," said Jacqueline Toce, head of technical services at Buley and has played an integral role in setting up the archive.
"We've supervised interns from those departments and we have had one student use the papers for his thesis," she said. "Since there are so many different aspects of city government covered in the archive: economics, education, arts, etc., it could be used across more disciplines, too. We've also had quite a few non-Southern students and researchers use the digital archive."
Bruce Kalk, dean of the College of Arts and Sciences, pointed out that after DeStefano donated his papers to Buley a few years ago, SCSU alumnus and author Neil Proto endowed a fund for a mayoral archive.
"Neil's vision has been to make Southern a destination of choice for the exploration of New Haven's recent past," Kalk said. "The collections cover the full range of mayoral activities, from community policing to economic development to the city's enormous school rebuilding program."
Patrick Crowley, metadata librarian for cataloging and digital projects at Buley, said the papers are part of an "uncommonly interesting archive."
"They bring together official and personal papers across multiple administrations," Crowley said. "The strong core of official mayoral papers has attracted (other) papers that are more personal and are outside of what state archives are legally required to retain."
He pointed out that in addition to paperwork representing the day-to-day operations of local government, the archive also includes "more personal insights into the individuals governing, including aides, who defined New Haven public policy."
DeStefano said the archive will include the successes, failures, controversial decisions, points of pride and background of the various administrations.
He said the creation of the New Haven Resident Card for undocumented immigrants, public school reform and New Haven Promise were among the highlights of his administration.
On the other hand, he said the decision to demolish the New Haven Coliseum was one of the least popular of his tenure.
"It was not a popular decision – but one which the public finds interesting, probably because we imploded the building and the fact that so many folks in Connecticut went to their first concert or circus in the building," as well as attending hockey games at that venue.
But DeStefano believes it is important to include his entire record, and those of his fellow former mayors. "Southern has committed to transparency and staff resources to support academic research from which everyone can draw their own conclusions," he said.
DiLieto was a former chief of police in New Haven before entering into politics. Daniels was the first Black mayor of the city. DeStefano served for 20 years, the longest mayoral tenure in city history. And Harp became the first female mayor of the Elm City.