Oghenefejiro "Fejiro" Onakpoma, '21
Interdisciplinary studies major (concentrations in exercise science and nutrition)
Track and Field, competing in the triple jump
Hometown: Naugatuck, Conn.
The best: Onakpoma won both the 2021 New England and Northeast 10 (NE10) outdoor championships in the triple jump. He finished second at the NCAA Div. II Outdoor Track and Field Championship.
He's also a: Four-time NCAA Div. II All American * Three-time U.S. Track & Field and Cross Country Coaches Association East Region Field Athlete of the Year * Two-time NE10 Conference Field Athlete of the Year.
It begins: A star basketball player at Naugatuck High School, he turned to track and field for conditioning while a high school junior.
His event is? Onakpoma's high school coach tested him in a variety. "We didn't know if I was going to be a sprinter or a jumper," says Onakpoma. He was the latter; a standout in the triple jump, he won the event at the Class L Open State Championship.
A family tradition: "My pop did track and field when he was in college and high school. He used to compete for Nigeria," says Onakpoma.
I came to Southern because [fill in the blank]: "They believed in me more than I believed in myself. When someone believes in you that much, you've got to go hard," says Onakpoma.
What makes him excel: "Fejiro knows his value, and he fights very hard to be competitive. . . . His mindset, work ethic, and the way his brain operates are on a much higher level than most. He maximizes his abilities," says head coach John Wallin, '00, who has received numerous coaching honors. Most recently, Wallin and his coaching staff were honored with the "NE10 Coaching Staff of the Year" award. 
Competition delayed: In March 2020, Onakpoma was among the qualifiers in Birmingham, Ala., for the NCAA Div. II Indoor Track and Field Championship when the competition was canceled due to COVID-19.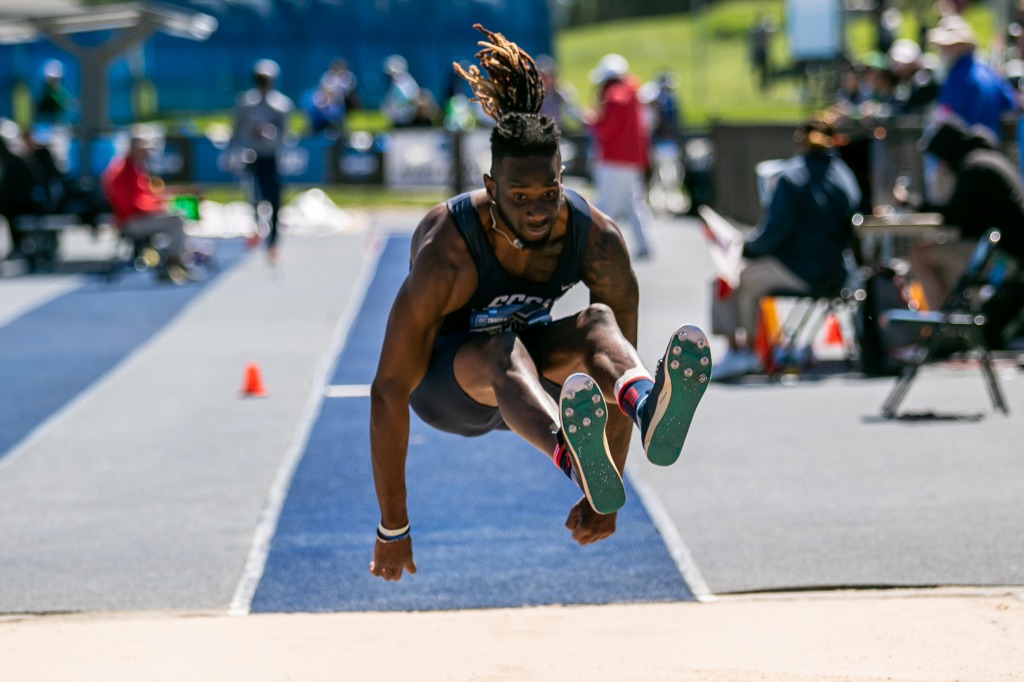 Returning to competition: The team won its fourth consecutive NE10 Outdoor Championship in 2021. Fejiro says it's one of his proudest achievements. "It's a confidence boast for the team. We walk around with that alpha pride that comes with being a Southern Owl," he says.
He's also proud of: "Making All American [four times]. I've faced a lot of adversity, including injuries. There is a huge mental aspect to track and field, and I am proud that I stuck with it and went as far as I needed to go to succeed," he says.
Final thoughts from Coach: "Fejiro is one of those guys who does everything right. He works his tail off. He's kind, thoughtful, polite. A great human being — the kind of athlete we should be building up. At the same time, I don't think he is concerned with being built up, which is why he is so good. He's focusing on trying to improve," says head coach Wallin.