The SCSU President's Recognition Committee proudly presents our fifth group of SouthernStrong awardees. These awards shine a light on faculty, staff, and students who are lending a helping hand, with acts of kindness large and small, not only for their fellow Owls, but also for friends, neighbors, and strangers.
We recognize and celebrate Noelle Brideau, Trever (Charles) Brolliar, Derek Faulkner, Lisa Kortfelt, and Jackie Scott for their commitment to making a difference and stepping up during the pandemic crisis. Their acts of kindness are making a positive impact during this difficult time.
Do you know an unsung hero who's been making a difference during the pandemic? Please nominate them so their kindness can be celebrated!
Noelle Brideau

Noelle Brideau, a student, was nominated by a faculty member. Brideau was enrolled in this professor's HON 300 course, Introduction to Service Learning, this semester, a course that focuses on food insecurity in the community. Because of COVID-19, the class's planned community service projects fell through, and students had to develop new projects that could be accomplished while most students were living off campus and social distancing. "Not even a week into quarantine," Brideau's nominator wrote, "Noelle reached out to me to see if we could organize donations to send to a fellow SCSU student who spoke to our class earlier in the semester about her struggles with food insecurity. Noelle's leadership helped us raise money to send to this student." Her nominator continued, "A few weeks later, while our class was meeting over video chat to discuss service options, Noelle announced that she had already been serving the food insecure during the pandemic, volunteering to grocery shop for individual elderly members of her community. She asked if this work could count for her service requirement in our class. I said: of course!! We all then gave her a round of applause, as she is obviously a leader in more ways than one. I'm very impressed with Noelle's quick action-minded thinking that has benefitted a number of people during this difficult time."
Trever (Charles) Brolliar

Trever Brolliar, director of academic technology, was nominated by a faculty member. His nominator wrote that this semester she was chairing a faculty search committee for Curriculum and Learning in the College of Education, and when the university closed, she was charged with conducting virtual campus visits (multiple interviews and presentations) for candidates but had very little idea of where to start. She wrote that she was referred to Brolliar, who "got in touch with me immediately and walked me through setting up WebEx meetings (approximately 15 meetings in all). I was so concerned about getting this right," she wrote, "especially because it involved so many people — candidates from the outside, SCSU faculty and students, and our Dean and Dept. Chair. At one point, a candidate was having a lot of trouble with her audio and Trever worked with her to fix the issue so she could do her teaching and research presentations. His patient, generous support were key to a successful week of virtual campus visits that presented SCSU and the College of Education in a positive light. We can't thank him enough!"
Derek Faulkner
Student Derek Faulkner was nominated by a member of the staff, who described him as "an outstanding student leader who goes above and beyond when it comes to the Southern community." When the University needed to close due to the pandemic, Faulkner worked with Chartwells to recover food off the line and at all of the retail locations across campus. The day after the University closed, he returned to campus to work with Chef Ernie Arroyo to clean out the refrigerators and deliver the food to St. Ann's Soup Kitchen and Food Pantry.
At the end of March when the residential students moved out of the residence halls, Faulkner returned to assist with the nonperishable food donated during move out. With the help of the Facilities Operations Grounds Crew, he managed to get the food boxed up and stored in the warehouse. Faulkner coordinated with the nonprofit organization Haven's Harvest to pick it up and deliver it to area food pantries in New Haven, his nominator wrote.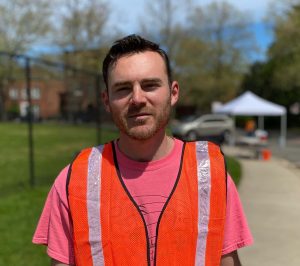 Lisa Kortfelt

Lisa Kortfelt is director of environmental health and safety for the entire SCSU campus. Her nominator, a colleague, wrote that "whenever you have a question or issue she is there ready to help you and will help you. She has bi-weekly safety meetings for us trade guys and training on equipment and other things." When COVID-19 happened, Kortfelt's nominator wrote, "she sent out a training booklet about the procedures we should be following on campus while we are still here working. She also handmade about 30 mask for us and dropped them off (she lives over an hour away). I haven't talked to her about what she has been doing at home for her community and family. But if she is doing stuff for us workers I'm sure she is doing stuff at home too. Great lady, glad to have her on my team!!"
Jackie Scott

Jackie Scott, an SCSU alumna who will begin her PhD program at Southern next month, was nominated by a fellow student. Scott happens to supervise her nominator at Recovery Network of Programs, a non-profit substance use treatment agency in the greater Bridgeport area. "Jackie has taken on so many new roles since this pandemic hit," her nominator wrote. "She has been on the front lines, every day, working with the most vulnerable populations. She has been assisting clients in applying for basic needs, getting them phones to engage in telehealth, volunteering at local food banks, gathering food for the homeless, and helping our clients resolve their anxieties and traumas on a daily basis. All the while, Jackie has remained not only my boss, but my mentor. She calls me every single day just to 'check in.' If I start talking about work, she quickly diverts my attention back to "whats really important", and that is my own personal struggles and progress during this trying time. Jackie has helped me to make important decisions about my college career, and she was one of the biggest reasons I chose Southern! Jackie is a perfect example of #SouthernStrong."