Southern's English Department and its creative writing program, as well as the university in general, have turned out a number of successful writers over the years. One such Owl alum, whose 2018 debut novel has been enjoying critical acclaim, will bring her talents back to campus to kick off the university's celebration of the Master of Fine Arts (MFA) in Creative Writing Program's 10th anniversary.
On March 7 at 7:30 p.m., alumna Xhenet Aliu, '01, will read from her novel, Brass, followed by a Q & A and refreshments. The reading, which will take place in Engleman A120, is free and open to the public.
Aliu graduated magna cum laude with a B.A. in English and went on to earn an MFA from the University of North Carolina Wilmington and an MLIS from The University of Alabama. A native of Waterbury, Conn., she was born to an Albanian father and a Lithuanian American mother. She now lives in Athens, Ga., and works as an academic librarian.
Her debut fiction collection, Domesticated Wild Things, and Other Stories, won the Prairie Schooner Book Prize in Fiction, and Brass was published by Random House in spring 2018. Her stories and essays have appeared in Glimmer Train, The Barcelona Review, American Short Fiction, and elsewhere.
English Professor and Creative Writing Coordinator Tim Parrish was Aliu's thesis director. He says, "Xhenet Aliu is a fantastic writer who perfectly exemplifies the exceptional quality of authors coming out of Southern's undergraduate and Master of Fine Arts' Creative Writing programs."
The MFA program is a full-residency, terminal-degree program, preparing students for careers as publishing writers, teachers, editors, and professionals in the publishing world. While the curriculum focuses heavily on the writing workshop and the creative thesis, the MFA also requires students to study literature at the graduate level and provides opportunities for students to train for teaching collegiate-level writing, and in some cases to teach their own courses. The year 2019 marks the program's 10th anniversary, which will be celebrated over the course of the coming year, culminating in a weekend of special activities in October.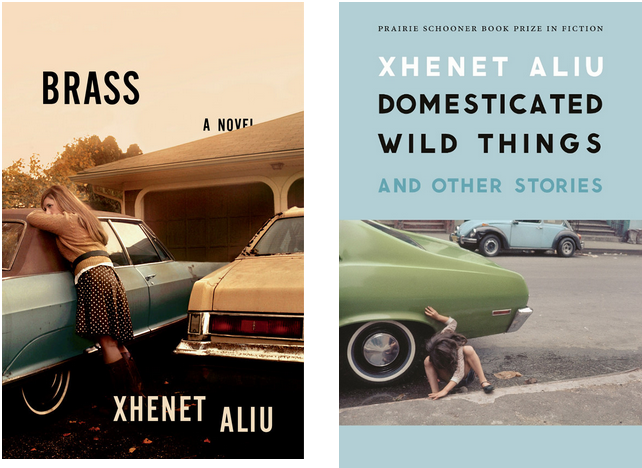 Since its publication in early 2018, Brass has received the following honors, among others:

One of Entertainment Weekly's "10 Best Debut Novels of 2018"
A San Francisco Chronicle Top 100 Book of 2018
Named a "Best Southern Novel of 2018" by Atlanta Journal-Constitution
One of Bustle's "31 Debut Novels from 2018 That You Seriously Shouldn't Miss"
Named a "Best Book of 2018" by Real Simple
A Spring 2018 Barnes & Noble Discover Great New Writers selection
Starred reviews from Kirkus, Booklist, and Library Journal
New York Times' Book Review Calendar of "Must-Know Literary Events in 2018"
Elle's "21 Best Books of 2018"
Southern Living's "Books Coming Out This Winter That We Can't Wait to Read"
Huffington Post's "60 Books We Can't Wait to Read in 2018"
Book Riot's "101 Books Coming out in 2018 That You Should Mark Down Now"
Elite Daily's "2018 Book Releases That'll Make Reading More Your New Year's Resolution"
Bookish's "Must-Read Winter Books 2018"
The Millions' "Most Anticipated: The Great 2018 Book Preview"
Christian Science Monitor's "5 New Titles to Check Out in the New Year"
Kirkus Review's "11 Debuts You Should Pay Attention To"
From reviews of Brass, which is set in Waterbury, Conn.:
"Lustrous . . . a tale alive with humor and gumption, of the knotty, needy bond between a mother and daughter . . . [Brass] marks the arrival of a writer whose work will stand the test of time." — O: The Oprah Magazine
"Aliu is witty and unsparing in her depiction of the town and its inhabitants, illustrating the granular realities of the struggle for class mobility." — The New Yorker
"Brass simmers with anger — the all too real byproduct or working hard for not enough, of being a woman in a place where women have little value, of getting knocked down one too many times. But when the simmer breaks into a boil, Aliu alchemizes that anger into love, and in doing so creates one of the most potent dramatizations of the bond between mother and daughter that I've ever read. . . . I left this book with the sure sense that the characters were alive beyond its pages, though I wouldn't dare try to guess what they are up to — Elsie and Lulu are too real for that." — The New York Times Book Review