With the help of her daughter and Southern Connecticut State University graduate students, Associate Professor of Communication Disorders Kelly Mabry is addressing an international epidemic and helping to bring medical attention to an underrepresented group: thousands of children — and even adults — worldwide who are unable to smile because of a facial deformity like a cleft palate.
A cleft palate happens when the roof of the mouth contains an opening into the nose. These disorders can result in frequent ear infections and feeding, speech, and hearing problems. Each year in the United States, about 2,650 babies are born with a cleft palate and 4,440 babies are born with a cleft lip with or without a cleft palate. Worldwide, it is estimated that a child is born every three minutes with a cleft — about one in 500-750 births. Left untreated, the consequences of cleft lip or palate can be devastating.
Mabry, who has taught at Southern since 2011 and is a craniofacial speech pathologist at Connecticut Children's Medical Center, has been passionate about craniofacial disorders for decades. She began her education at Southern in 1982, earning undergraduate and graduate degrees in communication disorders. In 1989, she took a position on the Cleft Palate Team at Newington Children's Hospital; she's been there ever since. In 1996, she was the director of the team when they moved to Hartford as Connecticut Children's Medical Center, and six years later, Mabry went on her first medical mission to the Congo with Operation Smile.
In her words, "My passion for international cleft care only increased."
When Mabry started teaching at Southern, she advocated for an Operation Smile Club, which was realized in 2012 (she is still the club's adviser). She continued her international efforts, traveling to Bolivia with Operation Smile in 2015. She joined Global Smile Foundation (GSF) that same year and traveled through the organization to Ecuador in 2016 and 2018, where she met patients and conducted speech evaluations. GSF is a non-profit organization that provides cleft care throughout the world; it helps those living where the incidence of cleft is often higher than average and the access to cleft care is very limited.
"I love traveling and getting to know the culture and communities that I visit," Mabry said. "We are definitely not visiting tourist locations, and that is what I love. The relationships that I have developed with community providers and families are amazing."
Last March, she was able to bring two Communication Disorders graduate students and her 13-year-old daughter, Teagan Mabrysmith, with her through GSF to Guayaquil, Ecuador, on a 10-day humanitarian outreach trip.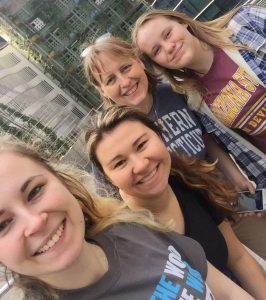 "Southern's Communication Disorders department takes pride in involving both graduate and undergraduate students in research opportunities and field experiences," Mabry said. "My students in Communication Disorders are always eager to hear about these missions, and I try to involve as many students as I feasibly can during a busy mission. I am working on developing a course where I can bring more students and piggyback off of missions so that we can do speech camps for a few weeks. The feedback I had last year was so affirming — the students loved the experience. So much so that they both joined GSF upon graduation and are coming back with me this year as veterans!"
Her daughter, also inspired by her mother's outreach, recently launched a Save-a-Smile campaign to raise $35,000, which GSF can use to cover the expense of a Nasendoscope, a scope used to observe the closure of a patient's palate. GSF currently does not own its own portable scope system.
On March 8, Mabry, her daughter, two current students, and two graduate students in the Communication Disorders program returned to Guayaquil, again through GSF. Mabry is conducting research during this mission, and her students are directly involved.
"I am more passionate about international medical opportunities in craniofacial disorders every time I go abroad," Mabry said. "I am very fortunate that my experience in the field affords me the opportunity to work with some of the best surgeons in the world who volunteer vast amounts of time for this cause. I am working collaboratively with the GSF team to develop standards of care for children in underdeveloped nations so that all children with craniofacial disorders can be guaranteed quality treatment."
Now that is something to smile about.