"It's all for Lotus," says Sterling White, referring to his young daughter. White graduates this month with his M.S. in sociology and says his daughter has been his main motivator behind his academic success. Of Lotus, he says, "she is going to have a better life due to my time in grad school."
White has made the most of his time in graduate school. In addition to his scholarship, he has been an active member of the Southern community, as well as a driving force for students on campus. He wants to help undergraduate students not make the same mistakes he says he made during his college years, and his passion for guiding students to make good decisions is what has informed his work in student affairs. White served as a graduate intern in New Student & Sophomore Programs (NSSP) this year and prevously had worked as a graduate writing tutor in the Academic Success Center. "It was an awesome experience, helping students," White says, adding that he has increased the scope of his interactions with students over his three years at Southern, and "it's been a great progression of experience."
As a NSSP graduate intern, White managed enrollment for orientation and transfer orientation. He also served as adviser to the sophomore class and did some success coaching with students. Cassi Meyerhoffer, assistant professor of sociology, who worked closely with White when he was her graduate assistant, says he made a real contribution to students' success. "I think Sterling benefited from working closely with students as he clearly has a passion for teaching," she says. "His work in the student success center was incredibly beneficial for our students—I consistently had students from my classes comment on his help with their writing."
As a sociologist, White's research interests include sociology of education; sociological theory; race and ethnicity; urban sociology; gender; and race and class. Yet his involvement in the Southern community characterized his graduate school experience as much as his academic work. Among his significant activities on campus were his roles as president of the Graduate Student Affairs Committee (GSAC), co-chair of the Graduate Student Research and Creative Activity Conference Organizing Committee; chair of the Social Functions Sub-Committee of GSAC, and a member of the Presidential Inauguration Committee, the Newtown Screening Planning Committee, the Provost Search Committee, and the President Inauguration Celebration Committee.
"It's been phenomenal here," White says. "I'm so grateful for all the opportunities I've had at Southern. GSAC opened a lot of doors to me." One significant legacy White leaves at the university is the Graduate Student Research and Creative Activity Conference. He and Graduate School Dean Christine Broadbridge came up with the idea of letting students showcase their work, and thus was born the conference, which was held for the second time this spring.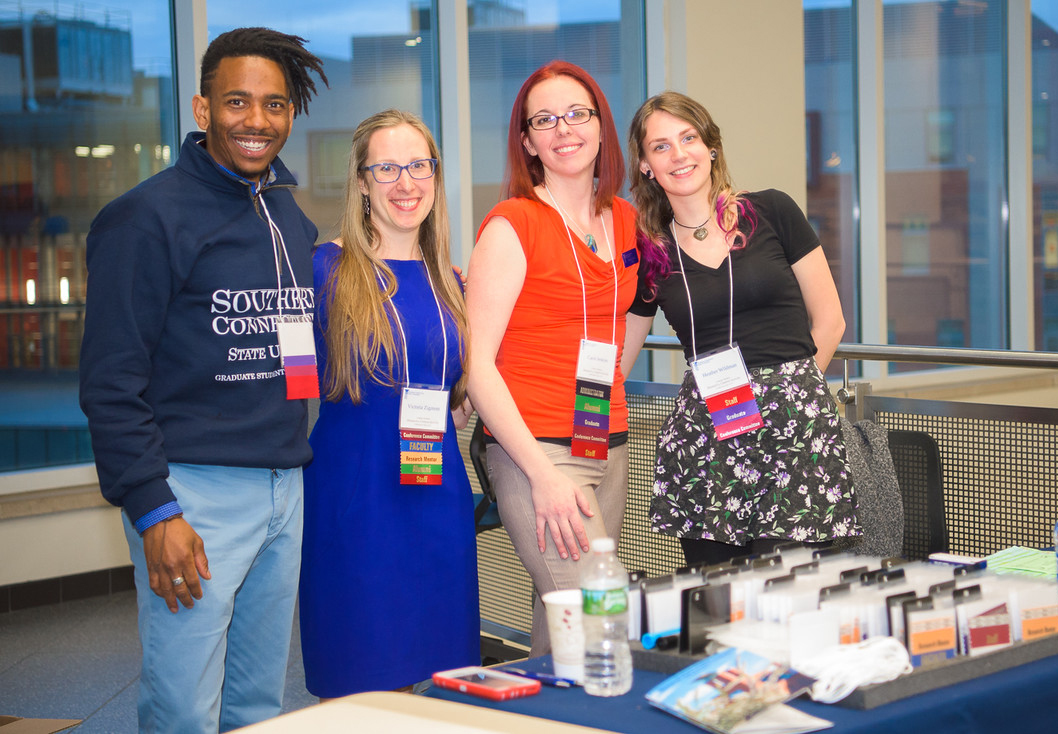 White gave a number of campus and conference presentations, both on student success and on his research interests. His work with Meyerhoffer resulted in a presentation he gave with her at the 2016 Annual Meeting of the Eastern Sociological Society in 2016: "Colorblind Racism, Social Desirability and Neighborhood Preferences."
Color-blind racism, he explains, is when people say they don't see color in others of different races. "They're ignoring systemic racism," he says. Meyerhoffer's and White's research looks at the idea that people want to live around people who look like them and are like them. That's not always true, White says. Their research seeks to understand why people live in certain areas.
White's undergraduate research also explored race: during his senior year at CCSU, his thesis was "African-American Masculinity – A Health Crisis," which looked at food behaviors within African American men's households. As an undergraduate at CCSU, White majored in sociology with a minor in psychology. But, he says, he wasn't always the kind of student he has been at Southern. He played soccer and "came into the university as a student athlete, so I only knew other athletes. I didn't have a friendship network to support me academically. It's why I wanted to work with sophomores – I want to help students not make the same mistakes I've made."
In addition to working in NSSP at Southern, White gave a talk entitled "A Tale of Perseverence – Creating Support Systems and Self-Efficacy" at the 2017 Annual Meeting of the Eastern Sociological Society, at a session geared to undergraduates. "I wrote a paper on how I created my own support systems," White says. "But it also has helped me to believe in myself and believe that I'm able to do graduate work." He wants to go on to earn a Ph.D. in sociology.
White grew up in Middletown and still lives there with his wife and daughter. "My wife has been awesome in helping support me during my school," he says. He counts himself lucky to have an amazing family to support him in his academic achievements and goals. "I never thought I'd be doing the things I've been doing," he says.