Among the 11,000 students who are members of the American Marketing Association (AMA), graduating business administration major Julia Rotella is a standout, finishing second in the organization's 2017 Student Marketer of the Year competition. "It was really amazing to see my name up on the screen," says Rotella of the honor, which was sponsored by Northwestern Mutual and announced at the AMA's International Collegiate Conference in New Orleans in March.
The Monroe, Conn., native has always been drawn to the world of business. "I knew I wanted to be a marketing major since I was very young. As a kid, I actually had an eBay account and would sell things," says Rotella. She also assisted her mother at craft fairs — learning about trade shows and how to best display products. "I enjoyed the satisfaction of selling things — being able to see the results of marketing. . . . Of course, I didn't know that it was called marketing at the time," she says with a smile.
That changed in Rotella's sophomore year at Masuk High School in Monroe, Conn., when she enrolled in a marketing class. "I remember thinking, 'Yes! This is what I want to do,'" she says. A gifted high school student, she took Honors level and Advanced Placement courses — and was an ideal candidate for very selective colleges and universities. After considering tuition costs, she chose Southern where she was accepted in the Honors College and received a Presidential Scholarship, a merit-based award that covered her full in-state tuition and fees for four years.
Choosing to commute to campus, Rotella made the most of her Southern experience, joining Southern's collegiate chapter of the AMA, now known as SUMA — SCSU Undergraduate Marketing Association. As a sophomore she became president of the organization, a post she held until graduation. "SUMA has really helped me to become rooted here, to feel like I am part of a community," she says.
It's a community marked by achievement. In 2017, SUMA was a semifinalist in the AMA's prestigious Collegiate Case Competition, finishing among the top 17 colleges and universities. (Semifinalists and finalists were listed in alphabetical order within each category without a specific ranking.) Southern was the only institution of higher learning in Connecticut to reach this level — and joined Providence College as one of only two in all of New England.
The competition — open to AMA's 370 collegiate chapters — challenged teams to develop a comprehensive marketing plan for e-commerce giant eBay. Southern's chapter tackled the assignment admirably. "The students were thrilled. They deserve a lot of credit for finishing in a group that included representatives from some very prestigious schools," says Randye Spina, assistant professor of marketing and SUMA's faculty adviser. SUMA also received the AMA's award for outstanding chapter planning.
Looking forward, the group hopes to build on its success under the leadership of Jennifer Bucci, incoming SUMA president. Among the organization's greatest challenges — obtaining funding to attend the AMA's international conference. "They are going to make finals," says Rotella, who is seeking a position with a marketing agency. "I am not going to be a part of it. But I will be watching from the outside. It's going to be amazing."
*********************************************************************************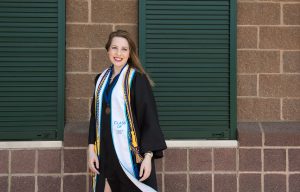 Passing the Torch
More from recent graduate Julia Rotella, '17, including a few of her tips for current and future Owls.
Self-Motivated: As a sophomore, Rotella launched her own company, JR Marketing. She's created websites, logos, brochures, social media posts, and more for numerous clients, including the Monroe Youth Commission, the Monroe Economic Development Commission, Alcohol and Drug Awareness of Monroe (ADAM), and others.
Scholarship support: In addition to the Presidential Scholarship, Rotella received the Eleanor Jensen Endowed Scholarship and the Anthony Verlezza Endowed Scholarship.
Advice to Honors College students: "Push through it. At times, the work load is very strenuous. But if you are in the Honors College, it's because you can handle it."
One recent honor: Southern's Scholastic Achievement and Leadership Award in Marketing in May 2017
Real-world experience: Rotella had marketing internships with TeamDigital Promotions; GoECart, a provider of on-demand ecommerce solutions; Talking Finger, a social media marketing agency; and ASSA Abloy, an international company offering a complete range of door-opening products, solutions, and services.
On building relationships: "Talk to your professors. If I had a question about a paper or an assignment, I'd meet during their office hours. . . . Having those conversations helped me a lot."
Get involved: "College is what you make it. If you are motivated . . . a go-getter who is going to make things happen, then you are going to enjoy your experience. I enjoyed my years at Southern because of SUMA Marketing."