Theatre Department Presents "Higgins in Harlem"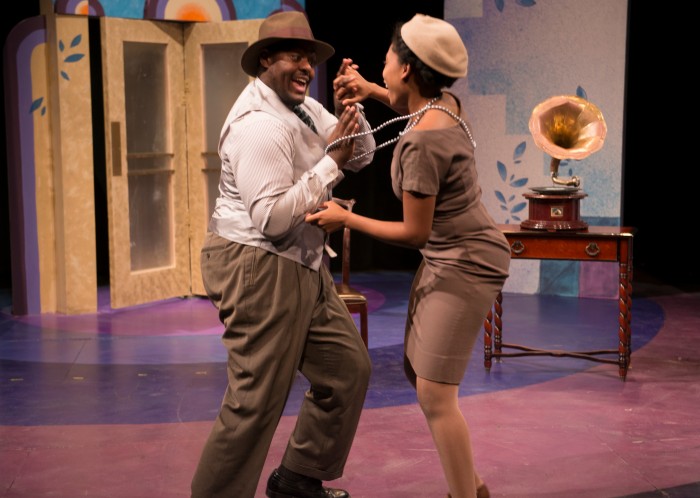 The Department of Theatre presents "Higgins in Harlem," Lawrence Thelen's adaptation of George Bernard Shaw's "Pygmalion." The production is directed by Sheila Hickey Garvey. Performances are Dec. 3, 4, 5, 6 at 8 p.m. and Dec. 6-7 at 2 p.m. in the Kendall Drama Lab in Lyman Center.
"Higgins in Harlem" is a charming adaptation of Shaw's "Pygmalion," re-set in New York City during the Harlem Renaissance — a time when the affluent Black society of Sugar Hill found itself at odds with the uneducated Blacks of Harlem struggling through the Great Depression. The story begins outside the Apollo Theatre where Henry Higgins discovers Eliza Doolittle. When she arrives at his Sugar Hill home in search of a better life, the sparks evident during their initial encounter reignite and burst into this very clever version of the classic Pygmalion story.
The play is one of many versions of the beloved Greek myth about a sculptor named Pygmalion who finds all living women flawed and thus revolting. To remedy his disillusionment, Pygmalion fashions a statue of his ideal woman, a creation he begins to love as it reflects his idea of womanly perfection. This year marks the 100th anniversary of Irish playwright Shaw's adaptation of the Pygmalion myth. This popular play was adapted by Lerner and Lowe into the British musical "My Fair Lady," which made its American premiere in New Haven's Shubert Theatre in 1956.  Thelan's adaptation of the Pygmalion story closely follows Shaw's storyline; however, Thelen strongly amplifies Shaw's progressive approach to the mythic tale and resets the story in Manhattan during the Harlem Renaissance (1920s to WWII).
The cast includes Eric Clinton (Henry Higgins), Jacob Santos (Conrad Pickering), Jessica Myers (Eliza Doolittle), Jyreek Ellerbe (Alfred Doolittle), Noah Bishop (Freddie Hill), Olivia Cintron (Clara Hill), Chastity Holloway (Mrs. Hill), Camisha Farquharson (Mrs. Higgins), and Jasmine Jones (Mrs. Pearce). Other members of the creative team include John Carver Sullivan (scenic design, costume design), Jiyoun Chang (lighting design), Michael Skinner (sound design, production manager, technical director), and Larry Nye (choreographer).
A post-show talk-back with Thelen will take place immediately after the Dec. 7 matinee performance. Tickets are $10 and may be purchased at tickets.southernct.edu or by calling (203) 392-6154.